All lives matter. If all species had equal rights and co-existed in harmony, the world would be a much happier place. Could we reach it?
According to Gola Hundun, an Italian artist who works at the intersection of art and environmental activism, everyone has an important role to play in making a difference.
It is incredible how small actions can have a great impact on the entire economic system, which is actually what defines the socio-political system of our time. With a small act such as the decision on what diet to follow, a single individual can help reduce overexploitation of natural resources and living beings. I think that the role of art is to speak to the soul but also to share beliefs and to educate, and I try to do my best to share some of mine.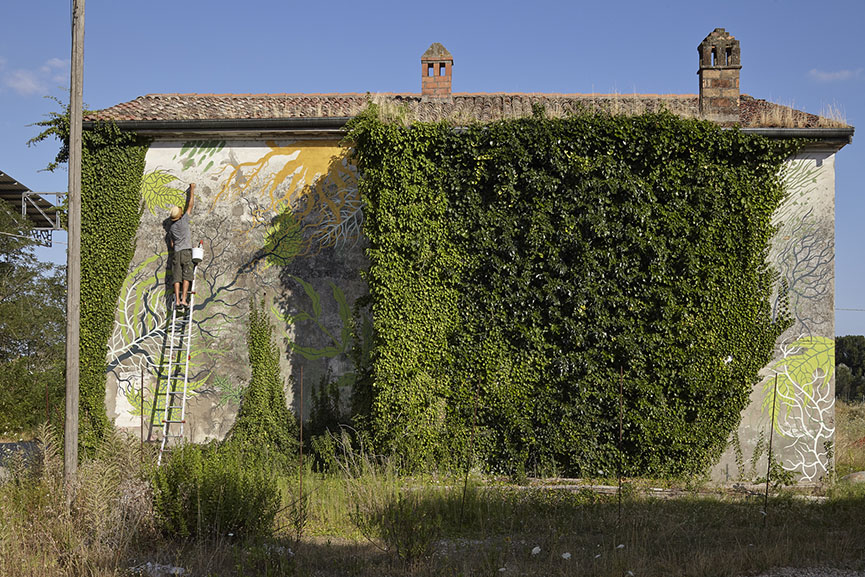 Gola Hundun's Art of Awareness
Mostly active in installation, land art, mural art, painting, drawing, and performance art, Gola is one of iazzu's most prominent ecological artists. Inspired by nature and at the same time deeply concerned about it, Gola creates ecological and socio-politically motivated works which are so powerful in their symbolic and immediate, lively character.
One of the main features of his art is that he uses living things, plants and animals, as his medium.
"Especially in public productions (installations and murals), I work with living plants that help me speak about the importance of green initiatives. It also gives the work a special 'work in progress' character because as the plants grow they change the aesthetics of it. I also introduce different kinds of habitats/shelters for animals, bird's nests, beehives, bat houses, etc. This way I try to give back a small portion of what we take to build our human world to nature, and to draw attention to the importance of creating habitats for micro/macro wild and urban fauna. I like to think I am creating living art, or at least inhabited," explains Gola.
All the elements that make Gola's work have symbolic meaning, including colors. He amazes us with the eruption of different shades of green, combined with bright, warm colors like magenta, yellow and orange, and flashes of gold representing light.
I try to give my work a strong effect when viewed from afar. The first impression has to be immediate for the viewer, then through the details, I try to intrigue the audience and bring them closer to the piece to get lost in the details.
A collection of details that he treats with so much love and care to raise awareness about environmental problems our planet faces and send a message of equality and co-existence of species.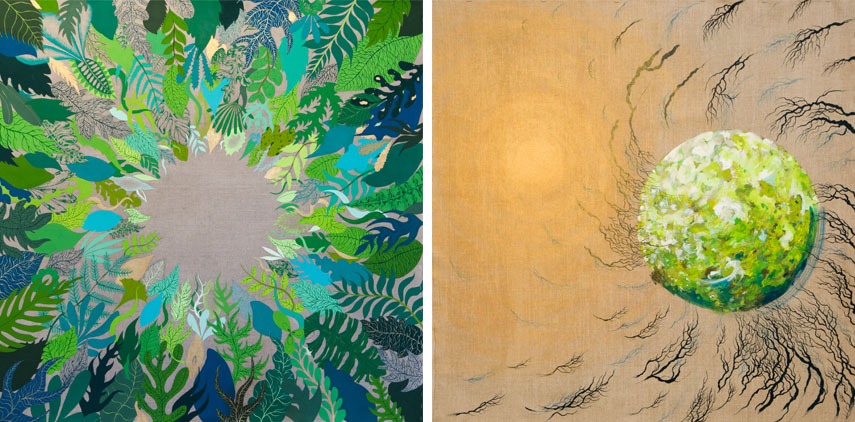 The Importance of Coexistence
With his latest solo show at 19 Karen gallery in Australia, 7.6 Billion & Still Growing (the title refers to the number of human beings that inhabit the Earth today) Gola calls to our commitment and responsibility as human beings inhabiting this planet by looking at concrete and fundamental moments in our history, such as: agriculture, animal domestication, the industrial revolution, the exploitation of fossil energy, the transformation of macro-geography, the use of chemicals in crop production, breeding and intensive farming, alteration of the hydrologic cycle, just to name a few.
Gola's art is inseparable from his social and political beliefs in which he invests his entire heart and mind.
My goal is to speak about the importance of co-existence of all forms of life on the planet.
We need more inspirational and enlightened artists like Gola to remind us not to take this planet for granted. We make the world a better place and remember, every single thing we do makes a difference, no matter how small it seems. Activism is the key.
Featured image: Gola Hundun, Causa Prima, ULB, Brussels, Belgium 2017. All images courtesy iazzu and the artist.