When his plan to travel the world fell through in the last minute, a then 23-year-old Nikola Zecevic decided to spend his summer holiday in Belgrade, Serbia. Being half Serbian and half Dutch, The Hague born student of Multimedia Design was visiting his father's home country while he was growing up, but this time the trip seemed as a good idea to 'reconnect with his roots', start learning Serbian and get to know its culture even better: "During those months in Belgrade I suddenly saw so much stuff happening all around. I was immediately inspired and everything clicked. I witnessed a web of people working day and night to create something out of nothing. When I got back to Holland I realized that this was my chance to show the world the Belgrade that nobody saw and to make a fucking movie." He was introduced to a small, but inspiring community of young people and decided to show Belgrade he loved to the world through his first feature-length documentary called Gold Along the Banks.
Art As An Escape
After years of isolation, sanctions and terrible economic and financial situation the country was going through, there wasn't much to do. But, as in all the bad there is the good, this created a generation of creative and enthusiastic young people who decided to take things into their own hands and not become as media manipulated and indifferent as their parents. In the 90s, a new wave began to arise as a result of Milosevic's politics and the war happening in Bosnia. Caught in the madness of the current situation, most of the people were unaware of the media manipulation promoting Milosevic's ideology, immoral role models and 'turbo folk', a term that epitomized music with meaningless or quasi meaningful lyrics, usually glorifying kitsch and nationalist xenophobia. At that same time, another, much smaller group of people, sought an escape from the devastating situation. This is when the first graffiti started appearing in Belgrade. With no money and resources, only talent and a great deal of improvisation, they became the ones who are now holding the Belgrade's alternative scene on its feet. This was the potential Nikola noticed as well. "I was fascinated by the motivation of the people I filmed. I grew up in the surroundings where everything needed a purpose. You don't do something unless there is a future in it, where you make money from what you are doing. The people I filmed did it for themselves because they needed to, wanted to. Instead of doing it just to make money. "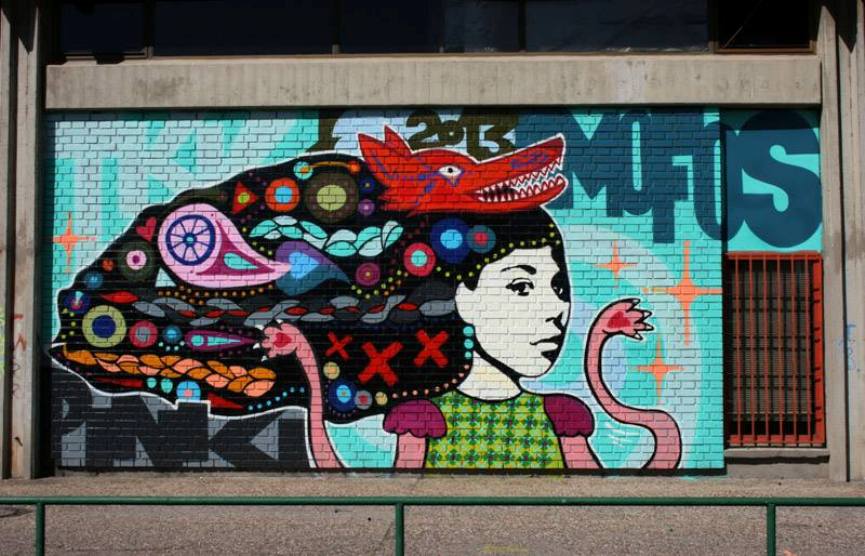 TKV
His initial idea was simple – to find one person who could later refer him to others. This is when he met TKV, and from then on, Nikola asked everybody who they recommended next. After a while the same names started popping up - all individuals, but with the same mindset. People whose work he'd seen or heard but didn't know who created it. TKV was one of them. She has, during the period of ten years, become a true Belgrade street art legend. In 2004, at the age of 16, walking the streets of Rome with her dad, he suggested his daughter should perhaps start doing stencils as the ones they saw. She liked the idea, and she did her first stencil there. After coming back to Belgrade, she was already 'infected' and decided to continue doing it. "It became some kind of an infatuation that doesn't let go. For about two or three years I was totally alone, didn't know anyone who did it, and then everything changed. The first time I became aware of the fact that someone knew I existed as an artist was when my sister Katarina told me I was a topic on some forum on the Internet. People quickly started adding me on MySpace and suddenly it became a big deal."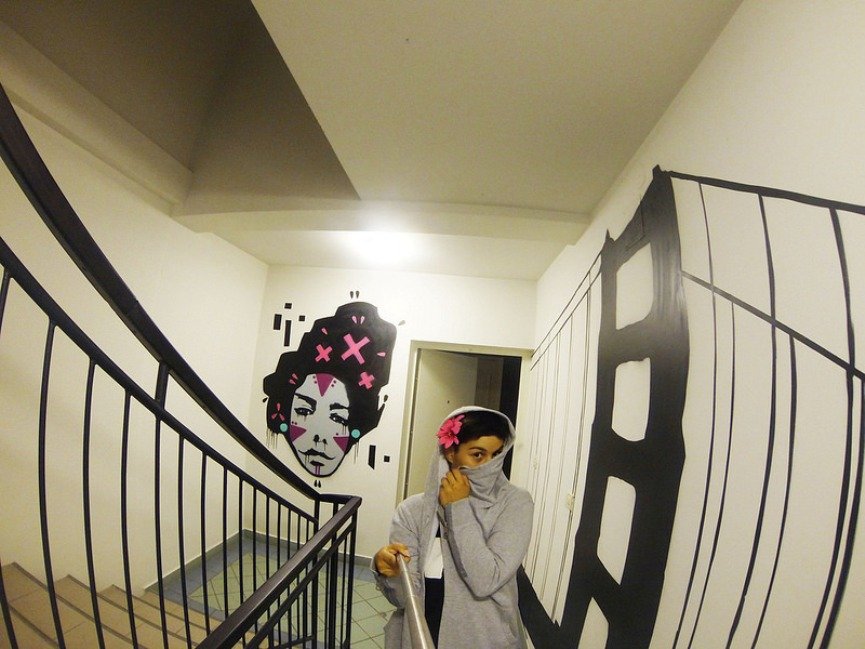 Rules of the Street
Her stencils picturing strong women, cats, Indian based topics, movie characters and much more have been beautifying the city for 10 years now. Being a female in the street art usually created a lot of prejudice among people, but in TKV's case, it mostly helped her. She easily stood out from the big crowd of men and, when it comes to the police matter, she usually isn't perceived as a threat. "Few months ago I spoke to some veteran Italian street artist who asked me why there weren't more girls doing graffiti, to which I replied that it's maybe a cultural and sociological problem. But then he said something that struck me, he said that it's maybe a way of marking the territory, and so it became a men's thing. It could be an accurate explanation. However, I don't feel threatened by men and their position. I simply do what I like and I don't pay attention to what others think of me. Of course, always respecting the rule of the streets and other artists' work."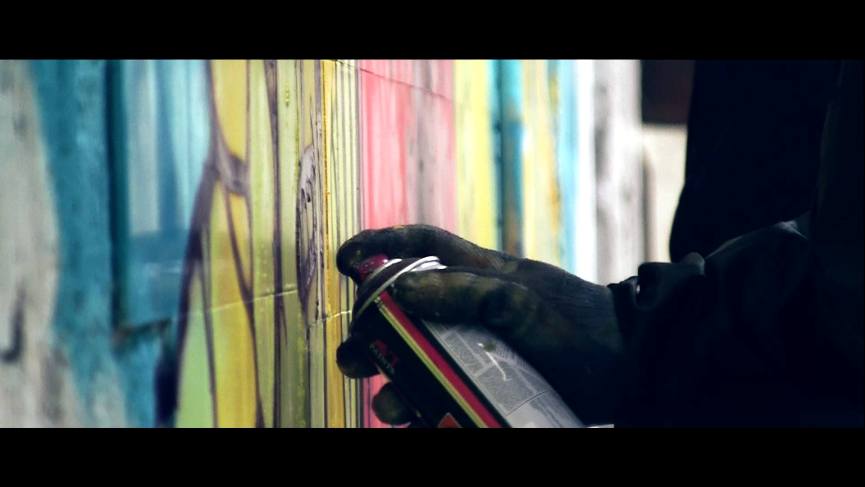 Fat Kid Beny
The same argument gave me Fat Kid Beny, a Belgrade multidisciplinary artist who, besides graffiti does music, tattoos, paints and even used to work as a hair dresser. "When I was in my 4th or 5th grade I started seeing graffiti in the streets of Belgrade, it was around 1995. I found it quite cool and at that time I was already drawing even though those weren't real graffiti, since there wasn't the Internet where you could get informed. At first I started doing tags and signatures, and through hip-hop that we listened to as kids, it came graffiti, then the breakdance… Around 2000 the work became more mature, and other graffiti artists knew who I was. It was extremely important to respect older artists and until someone better than you said your name out loud, you didn't really exist as a graffiti artist. That's what these new generations of kids don't respect – there was always a hierarchy in the streets and you had to follow the rules, and not destroy the work of others."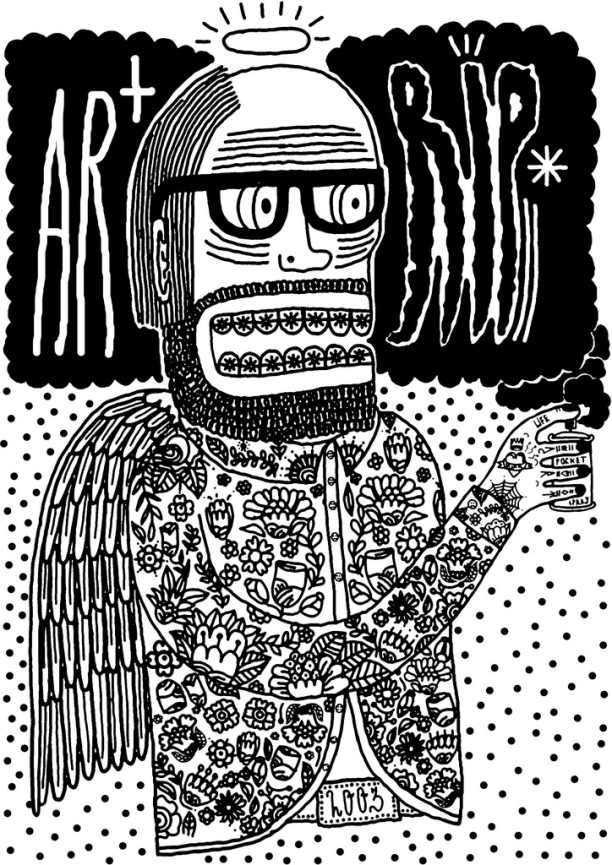 Improvisation As A Basis
Since there was no money and spray cans were expensive, kids had to improvise so that they could paint: "We used bleach when we didn't have money for sprays, but sometimes older neighbours who liked what we did in the hood would give us the money just to make the surroundings look prettier." Fat Kid himself, even though he never went to an art school, made his signature style maybe just because of that fact: "Since I didn't have the artistic basis as people from art schools, I had to do the things the way I knew it, and I guess that through improvisation and talent I came up with what you may call my style." He uses spray or brush, depending on the work and all of his work can easily be transformed into fantastic tattoos.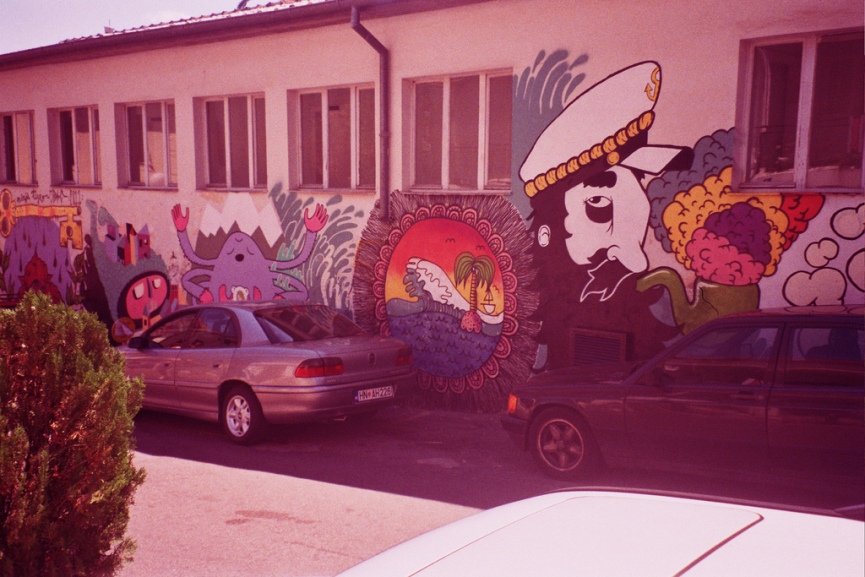 Gold Along the Banks
When first time visitors are asked to comment about what shocked them the most about Serbian culture and people, the answer is usually the same – the amount of enthusiasm and creativity that rises above the difficult situation they live in. Nikola's impression was the same, as of the ones who saw the documentary: "People in Belgrade do a lot more themselves. From what I've experienced, in a lot of other cities if you don't know how to create something, there have been people before you, whom you can copy or ask for help. In Belgrade everybody does it the way they feel like, which can work out good and bad. But one thing which is certain is that the work from Belgrade doesn't look like it belongs in Paris or London and that's a good thing. Mostly people were surprised that Belgrade was alive. A lot of people have a one-sided negative view of Serbia. They only get the negative news, never the positive ones. So when people saw it they reacted really positively to see that people were making some beautiful things happen. I am possibly the biggest hater of my own movie, but the people who were in it definitely deserve to be shown."
Gold Along The Banks from Nikola Zecevic on Vimeo.
Everything you need to know about the art world is one click away! With a free sign up for My Widewalls!