When Google Tilt Brush was described as "let's you paint in 3D space with virtual reality," it really wasn't meant as a metaphor. After all, we do live in exciting times, and virtual reality surely promises to be a big part of our future. It is even fair to say that in our immediate presence, there are already many popular gadgets like the Oculus Rift, HTC Vive, and the Samsung Gear VR, making us feel like all those movies we watched as kinds actually became real. With this in mind, big names in technology such as Facebook, Microsoft and of course Google, see lots of opportunities in Virtual Reality, so the result are the many investments that these companies have already made. In 2014, for instance, Google launched Cardboard, arguably the most popular VR platform out there, and now they are taking it one step further with Google Tilt Brush. Remember Microsoft's Paint? This is even more exciting, because in this case: your room is your canvas, and your palette is your imagination. Welcome to the future!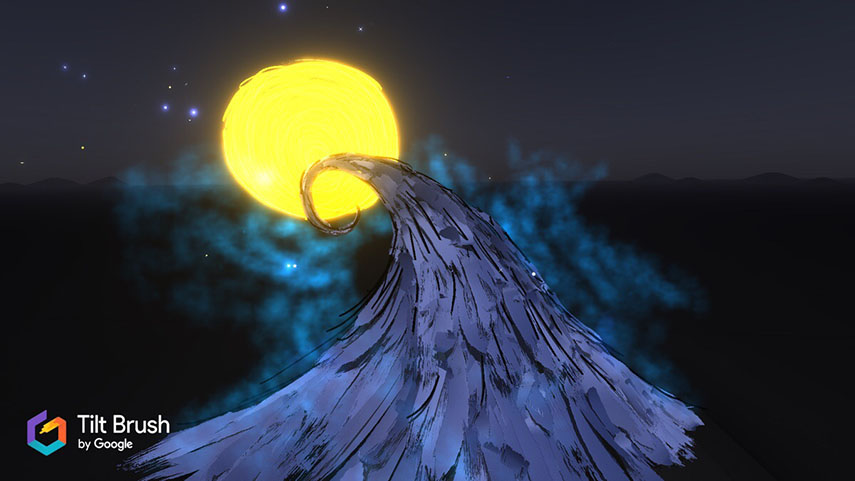 What is Google Tilt Brush ?
Already proclaimed a new artistic medium for professionals working in the fields of visual art, fashion design and even architecture, Google Tilt Brush consists of a device and an accompanying technology. Limited to the HTC Vive VR headset, supporting Windows 7 and above operating system and only available through an app on the Steam store for now, this painting tool basically lets you draw in three dimensions, thus creating paintings - or better yet, sculptures, or just about anything you can imagine. Your every stroke is stored in the memory of the space that you can easily share with other users as an entire 3D setup or as animated .gifs, and once you're done making your artwork, you can observe it from any angle, like you would an actual three-dimensional object. And because people should see you using this cool tool, there are also snapshots and photos which could be taken of you while you're painting with Google Tilt Brush as well!
Video - Introducing Google Tilt Brush
The Creative Features
Although it may seem complicated and "too futuristic", you don't have to be a tech savvy to know how to use Google Tilt Brush. In fact, it is also designed for children! While the youngsters can access the beginners interface, those who are more curious can try out the advanced one. Like any painting program or app, it offers a wide range of "Dynamic Brushes", such as twinkling stars, mutating neon lights and even rainbows, allowing you to incorporate animations into your paintings, for instance. From there, you can pick a color, a certain designer stroke, and even otherwise impossible art materials - liquid and particle simulations, such as falling show, burning fire of blowing smoke, while the experts can also find symmetry and cloning options available, for further precision. As this is a 3D artwork, the artists are now able to "walk" through and become a part of their creations for a moment as well, right there on the spot. Indeed, the possibilities are endless with Google Tilt Brush, and some of the world's most renowned artists, such as Faith47, Tristan Eaton and Jorge Rodriguez Gerada, have already tried out their skills with this exciting new tool. Needless to say - they were impressed.
Famous Artists Using Tilt Brush at Google Cultural Institute Lab
Changing the Face of Art?
If you don't already own an HTC Vive VR headset, but you'd like to try Google Tilt Brush out, we hope you've got some $800 to spare (HTC Vive $799 + Tilt Brush $29.99) , as this is the price and the only option available at the moment. However, it is quite possible that the kit will also be granted to other Virtual Reality brands and devices, that way maybe becoming more accessible as well. But surely the most interesting question at the moment is: How will this creative tool influence the world of art at large? To those who wish to experiment, Google Tilt Brush promises unprecedented artistic freedom, the creation of artworks from scratch, be it 3D paintings, sculptures, entire installations. But just because anyone could do it, does it mean that anyone should? If these new forms of expressions do end up climbing their way up to high artists' new favourite medium, they could also re-invent the way contemporary art is exhibited - and perceived - within museums and galleries in general. If anyone ever imagined the future of artistic creation, Google Tilt Brush is probably the closest and the most elaborate idea of it.
Do you agree? Share your thoughts on our Facebook page!
  Editors' Tip: The Metaphysics of Virtual Reality
This exceptional publication, written by Michael Heim, reaffirms the fact that computers have dramatically altered life in the late twentieth century, and just around the corner lurks full-blown virtual reality, in which we will be able to immerse ourselves in a computer simulation not only of the actual physical world, but of any imagined world. As we begin to move in and out of a computer-generated world, Michael Heim asks, how will the way we perceive our world change? In The Metaphysics of Virtual Reality, Heim considers this and other philosophical issues of the Information Age. With an eye for the dark as well as the bright side of computer technology, he explores the logical and historical origins of our computer-generated world and speculates about the future direction of our computerized lives.
All images used for illustrative purposes only.