One of the most renowned photographers of his age, who alalsoorked in music and film, Gordon Parks is celebrated for images which consistently explored the social and economic impact of racism. Chronicling the African American experience through the fullest range of subjects, he created a powerful and poetic body of work which communicated difficult truths to a mainstream audience. He once said:
I saw that the camera could be a weapon against poverty, against racism, against all sorts of social wrongs, I knew at that point I had to have a camera.
The current exhibition on view at the National Gallery of Art in Washington explores the lesser-known yet incredibly formative period of Parks's long and illustrious career. Titled Gordon Parks: The New Tide, Early Work 1940-1950, the showcase provides an insight into the early evolution of Gordon Parks photography through around 150 photographs, as well as a rich archive of rare magazines, newspapers, pamphlets, and books. It also highlights the mutual influences between him and a network of creative and intellectual figures such as Charles White, Roy Stryker, Langston Hughes, Richard Wright, and Ralph Ellison.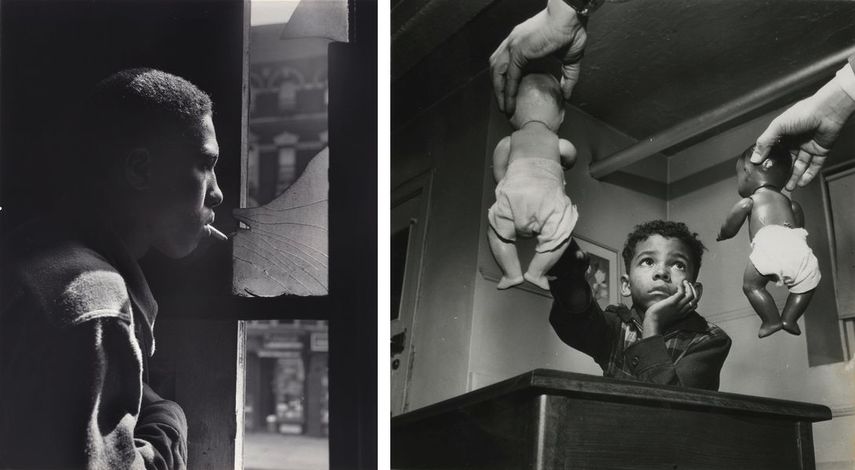 Photography as a Tool for Fighting Oppression
In 1949, Gordon Parks became the first African American photographer at Life magazine. He also worked as a visionary professional in New York for Ebony and Glamour. However, the foundational first decade of his life as a photographer has never been explored in such detail as in this comprehensive exhibition at the National Gallery of Art. As the executive director of the Gordon Parks Foundation, Peter W. Kunhardt, Jr., explains, these images are "the foundation of his storied career and vision."
For Parks, creativity brought with it a fuller, more poignant understanding of humanity that is now our responsibility to share.
Born into poverty and segregation in Kansas in 1912, Gordon Parks began his artistic career in music, starting out as a brothel pianist and traveling with a jazz band. He became drawn to photography as a young man while working as a waiter on the Northern Pacific Railway's North Coast Limited, a luxurious train that ran between Chicago, Saint Paul, and Seattle. A fellow waiter gave him a magazine featuring images of migrant workers by such photographers as Dorothea Lange and Arthur Rothstein, changing the course of his life. Realizing that photography might be a tool for fighting oppression he had experienced for much of his life, he bought his first camera, a Voigtländer Brilliant, teaching himself how to take photographs.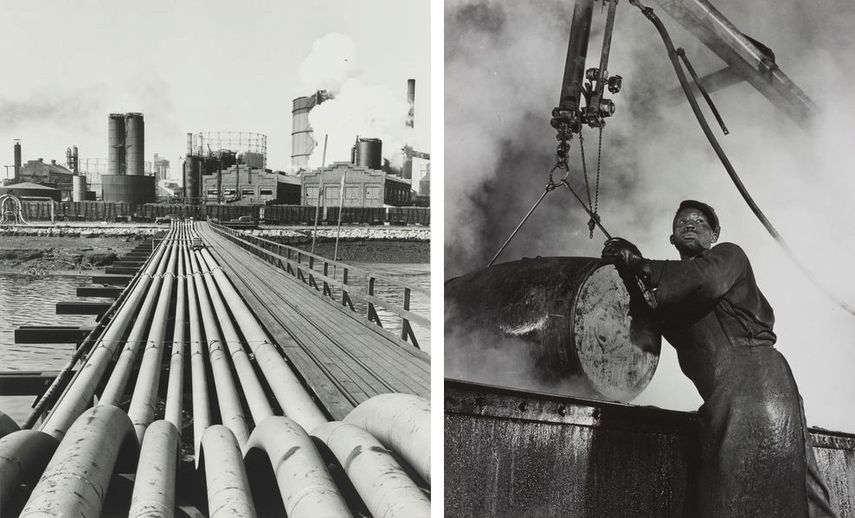 The Formative Years
Studying photography manuals and magazines while consistently taking images, Parks began to make a name for himself by photographing and publishing portraits of glamorous women. After working briefly as a staff photographer for the Recorder, in September 1939 Parks returned to working for the railroad, this time as a porter traveling between the Twin Cities and Chicago. Honing his craft and developing a keen eye, he was dedicated to connecting with people and tackling a range of issues he saw across his travels in the United States. What mattered to him was the humane side of all people, regardless of their race, ethnicity, gender, or religious beliefs.
Among the first of his exhibitions on view was a show on Chicago's South Side black ghetto and in 1941. In 1942, he began working for the Farm Security Administration (FSA), which was then chronicling the nation's social conditions in the wake of the Great Depression. After the agency closed, he began working as a freelance photographer, balancing his practice between fashion photography and the humanitarian issues which concerned him greatly. In 1948, he produced a compelling photo essay on the Harlem gang leader Red Jackson, depicting his existence as one that was shaped by senseless violence and thwarted dreams. This compelling series won him widespread acclaim and a position as the first African American staff photographer and writer for Life magazine. In 1969, Gordon Parks wrote, directed, and scored the first major Hollywood film to be directed by a black American, The Learning Tree.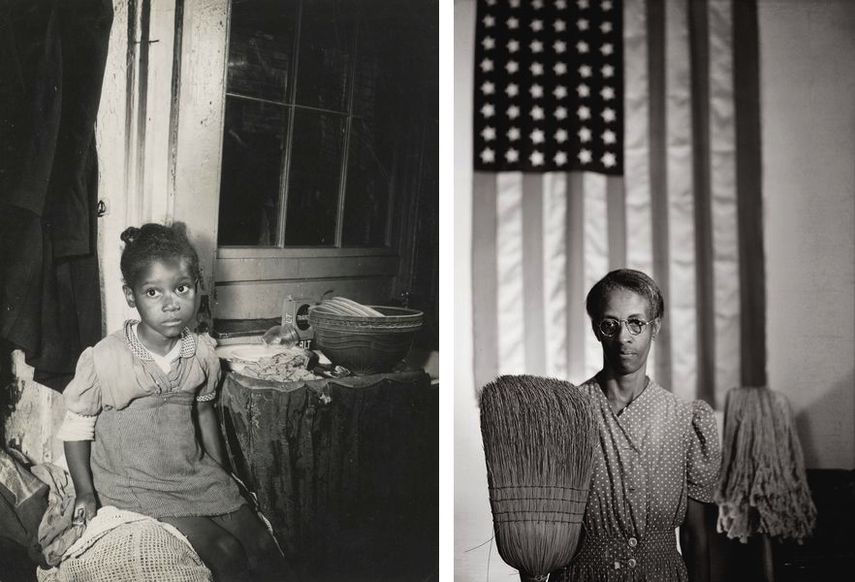 Exhibition Highlights
The exhibition Gordon Parks: The New Tide is divided into five sections.
Titled A Choice of Weapons (1940-1942), the first section opens with the high society portraits that established Parks's career as a professional photographer in Saint Paul and Minneapolis. It also includes his portraits of the city's middle- and upper-class African American community, as well as images which documented activities of the South Side Community Art Center in Chicago, where he was given access to studio space and a darkroom in 1941. These include the images of influential people such as SSCAC director Peter Pollack, renowned poet and playwright Langston Hughes, philosophy professor and architect of the New Negro movement Alain Locke, and opera singer Todd Duncan.
The second section of the exhibition, titled Government Work (1942), features his images produced for the FSA. He was assigned to photograph the Frederick Douglass Dwellings—quality public housing recently constructed in DC's Anacostia neighborhood for black defense workers. The section also features other images which were aimed at improving conditions for African Americans, such as Washington, DC. Government charwoman, featuring Ella Watson, a cleaning woman who worked for the government. The woman and her family soon became a subject of an extended series which chronicled their daily lives.
The third section, The Home Front, features examples of Park's projects for the Office of War Information, such as depictions of children living in substandard housing slated for removal, fishermen in Gloucester, Massachusetts, and the Fulton Fish Market in New York City, children on the streets of Harlem, and the first fighter groups of African American pilots.
Titled Standard Oil (1944-1948), the fourth section features the rarely seen archive of work Parks produced for Stryker while working for Standard Oil Company (New Jersey)(SONJ). Over the course of four and a half years, he photographed coal workers, roughnecks, refinery operators, pipefitters, railroad workers, grease makers, drilling crews, and miners, as well as the cities, towns, schools, shops, farms, and transportation networks that depended on petroleum.
The final section, Mass Media (1945-1950), features his work for major fashion and lifestyle magazines, such as Ebony, Circuit's Smart Woman, and Glamour, in addition to his freelance work and early photo essays for Life, such as the aforementioned Harlem Gand Leader. While working for Life, he documented a range of events and subjects, from couture fashion in Paris to segregation, street life, and poverty around the world.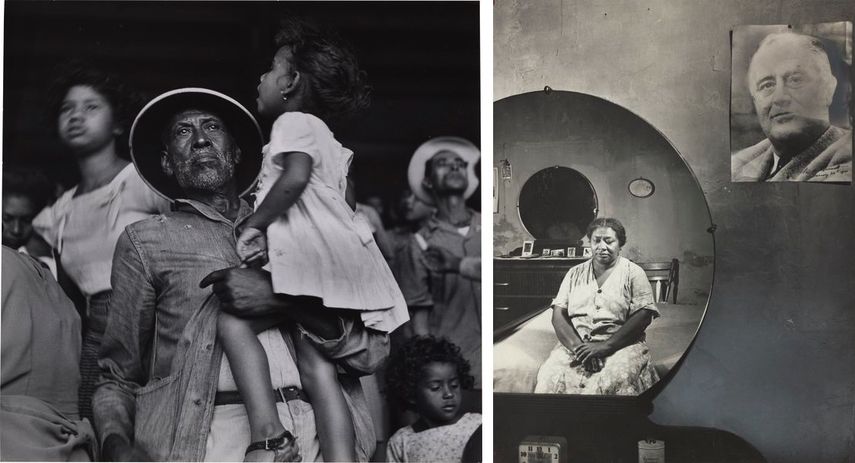 Gordon Parks Photography at the National Gallery of Art
The exhibition Gordon Parks: The New Tide, Early Work 1940–1950 will be on view in the West Building of the National Gallery of Art in Washington until February 18th, 2019. It is curated by Philip Brookman, consulting curator, department of photographs, National Gallery of Art, Washington.
There will be a series of related programs accompanying the show, such as the Retrospective of Films by Gordon Parks and Related Subjects between January 5th and February 17th, 2019, John Wilmerding Symposium on American Art and Community Celebration: Artists and the American Community on February 8th and 9th, and much more.
 Editors' Tip: Gordon Parks: The New Tide: Early Work 1940–1950
First starting his career in music, Gordon Parks evolved into one of the most acclaimed photographers, but also film makers. Focusing on new research and access to the forgotten archive, The New Tide, Early Work 1940–1950 documents the importance of these years in shaping Gordon Parks' passionate vision. The book, produced and published by the Gordon Parks Foundation and Steidl in association with the Gallery, brings together photographs and publications made during the first and most formative decade of his 65-year career.
Featured image: Gordon Parks - Pool Hall, Fort Scott, Kansas, 1950. Gelatin silver print; Image: 24.13 × 33.97 cm (9 1/2 × 13 3/8 in.), matted: 40.64 × 50.8 cm (16 × 20 in.). Collection of Paul Sack. Courtesy of and copyright The Gordon Parks Foundation; Gordon Parks - Washington, D.C. Mrs. Ella Watson, a government charwoman, with three grandchildren and her adopted daughter, July 1942. Gelatin silver print, sheet: 18.3 × 23.7 cm (7 3/16 × 9 5/16 in.), mount: 24.1 × 29.2 cm (9 1/2 × 11 1/2 in.). Prints and Photographs Division, Library of Congress, Washington, D.C.; Gordon Parks - Washington, D.C. Deacon's corner in the Church of God in Christ, November 1942. Gelatin silver print, sheet: 18.7 × 23.6 cm (7 3/8 × 9 5/16 in.), mount: 24.2 × 29.2 cm (9 1/2 × 11 1/2 in.). Prints and Photographs Division, Library of Congress, Washington, D.C. Courtesy of and copyright The Gordon Parks Foundation; Gordon Parks - Tenement Dwellers, Chicago, 1950. Gelatin silver print; image: 27.31 × 35.56 cm (10 3/4 × 14 in.); sheet: 27.31 × 35.56 cm (10 3/4 × 14 in.). The Gordon Parks Foundation. Courtesy of and copyright The Gordon Parks Foundation; Gordon Parks - Drug store cowboys. Black Diamond, Alberta, Canada, 1945. Gelatin silver print, image: 9 1/2 x 12 7/8 in. (24.13 x 32.7 cm). National Gallery of Art, Washington, Corcoran Collection (The Gordon Parks Collection). Courtesy of and copyright The Gordon Parks Foundation.