Graffiti artist Joseph Tierney, also known as Rime, sued the Italian designer Moschino and its creative director Jeremy Scott over their graffiti dress, which was, among others, worn by Katy Perry, famous American singer, songwriter and actress. Singer worn this dress in May, when she attended the Gala, a high-end party that was organized by the Metropolitan Museum of Art in New York City. As it was stated in the suit, not only that the singer and Jeremy Scott wore a problematically designed clothes, but also arrived in front of the Met in a spray painted Rolls Royce, carrying cans of fake spray paint, that were branded by Moschino - as if they have created the design of clothes and a Rolls Royce themselves.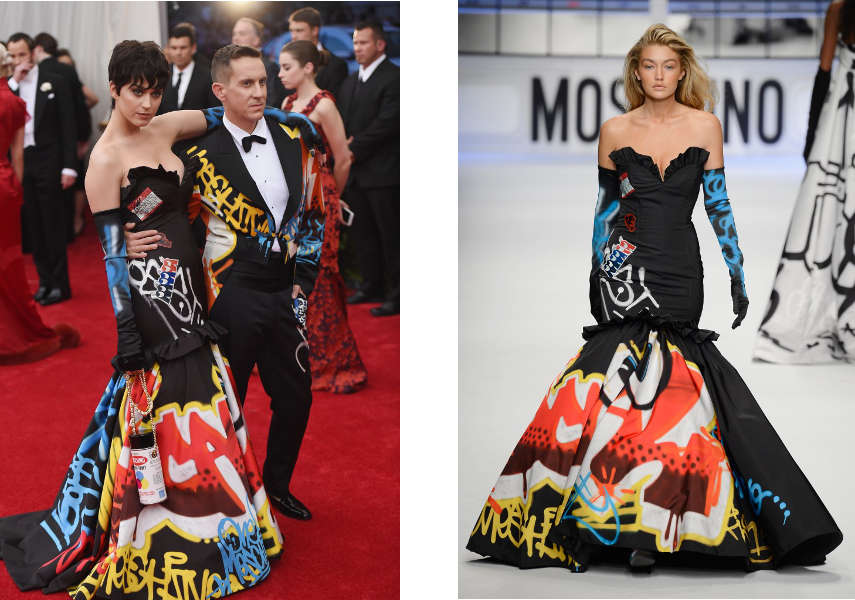 Rime's Lawsuit Against Moschino and Jeremy Scott
Joseph Tierney, or Rime, says in his suit that he was invited to Detroit to create a large mural on a building by a property owner. Mural was named Vandal Eyes. But then, according to the suit, fashion designer Jeremy Scott, hired by Moschino in 2013, debuted for this house creating Fall/Winter 2015 fashion collection. And just then, on February 2015, this dress design was seen for the first time, when it was worn by a superstar model Gigi Hadid. According to Rime's suit, the design on this dress was literally a copy of images of his mural Vandal Eyes - mechanical copies obtained by using a high-resolution photography. But that was not all. Joseph Tierney - Rime - accused the designer and Jeremy Scott ("to add insult to injury") that they have forged his signature and his name "Rime" troughout all the collection. Joseph Tierney stated that the designer payed singer to advertise and display the clothing at the Gala, and because of the great publicity and popularity of the singer, the word has spread troughout the media and social networks, while the famous singer made it to the "worst dressed" lists of guests. Rime also quoted the Wall Street Journal and their report that says that Moschino had a 16 percent increase in revenue for the first quarter of 2015, which matches with the debut of a problematic dress design.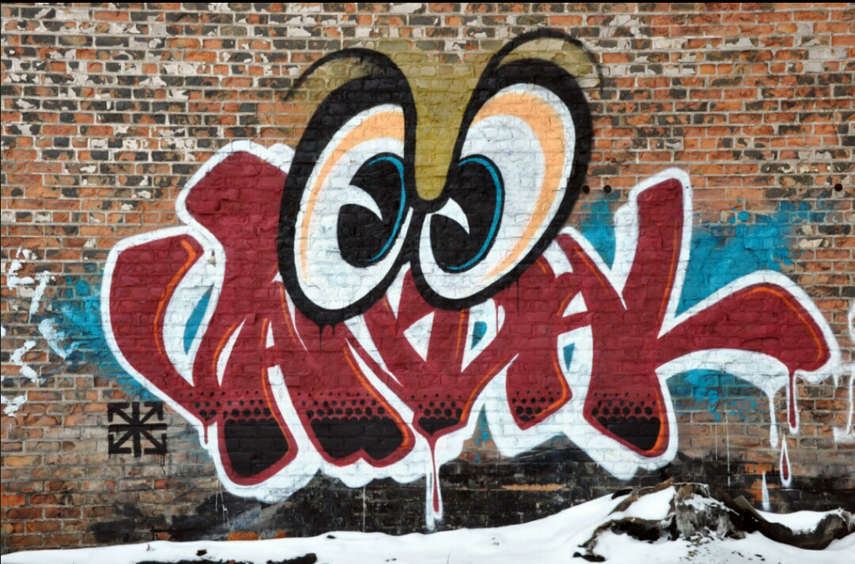 Other Recent Lawsuits
All in all, through seven claims, Joseph Tierney accused Moschino and Jeremy Scott - and not the singer - for unfair competition, invasion of Tierney's right of publicity, using his name without his consent, unlawfully and unjustly profiting, copyright infringement, injury to his business and reputation, and so on. However, disregarding this case, it appears that suits are common these days. Just take a look at this - street artists Revok, Reyes and Steel claimed that Just Cavalli introduced a collection with pieces such as clothing and accessories containing art derived from their mural (sounds familiar?). Then, Terry Gilliam was accused by street artists Jaz, Ever and Other, that he used their mural in a scene of his movie The Zero Theorem. Not to mention the bizarre case of Richard Prince and his (re)photographing... So, the other side - Moschino and Jeremy Scott did not have a comment on Joseph Tierney's claims, so far, and we are eagerly expecting next high-profile case that is inevitably coming.
Your opinion is valuable to us! Please join us for a discussion on our Facebook page.
Sign up for My WideWalls for FREE and be up-to-date with contemporary and street arts.
Featured image: Katy Perry, detail - Photo by Larry Busacca - Getty Images