Street art, vandalism, action art, call it as you will, but the complete re-creation of an abandoned house in East Village of NY was a truly remarkable move. An old apartment building, completely deserted and condemned, served as the inspirational base for a New York based artist known as Hanksy, who saw more than just a party venue in it. The empty space and all those walls stimulated Hanksy to come to a fantastic idea -  to gather around a  large group of artists and to redecorate the space interior completely with murals and artistic interventions. This adventure resulted in a short and entirely illegal art exhibition titled Surplus Candy, a secret event that transformed all 40+ participating artists and the visitors alike into law offenders.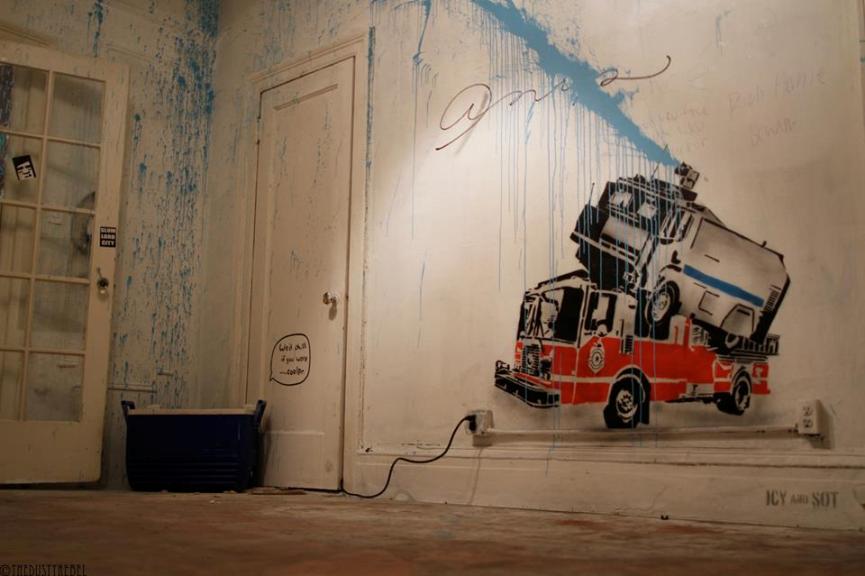 The Artists
The artist lineup is impressive and it included street art and urban art names such as 2ESAE, ACID, Alice Mizrachi, ASVP, B.D. White, Bishop203, Bludog10003, CB23, Cern, Col Wallnuts, Dee Dee, Dick Mama, Dred, Drippings, edapt, EKG, El Sol 25, Elizabeth Glaessner, ELLE, Enzo and Nio, Foxx Face, Gilf, Hanksy, Icy and Sot, KOSBY, Left Hand Wave, Lunar New Year (LNY), Magda Love, Mata Ruda, Moustache Man, MRS, Mr Toll, MrTwoThree, NDA, Never Satisfied, Nicolas Holiber, OCNSM, Roycer, Russell King, SKI, Tako, Tone Tank, Tony DePew, TheDRIF, TRAP, UR New York, Vulpes Vulpes, Wizard Skull and Wretched Beast.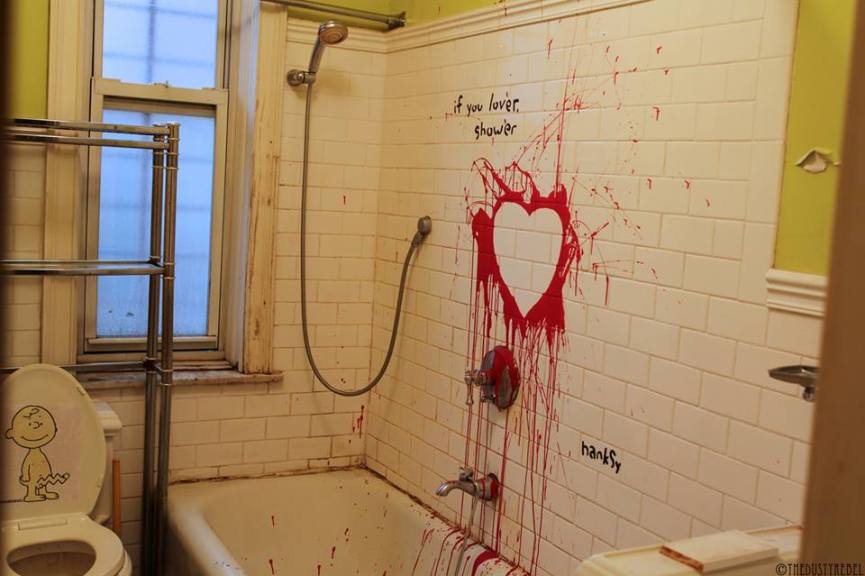 From House to Canvas
This large assembly of mischievous creatives gathered around the project and worked over a period of six days, adorning the walls of the abandoned house in East Village with graffiti, their unique depictions, activist messages, puns, and other various artwork. The consequence of their joint actions is a complete coverage of the building in interesting imagery, from the exterior to the interior, everything is transformed into canvas - staircase, toilet, bathroom, sink, all of the rooms and corridors. This very unique artistic action conjured a place that was once a condemned structure, and now is a one-of-a-kind, live gallery of multiple artistic expressions, as well as a testimony to trends of street and urban art of New York.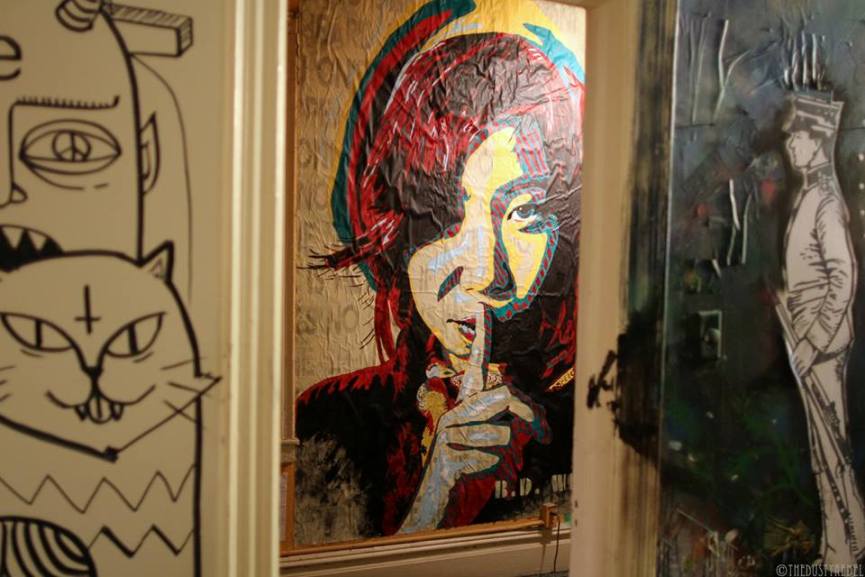 The Hidden Invite
The lucky ones who had the chance to come to the show premieres at the East Village abandoned house were directed by a mural on the front of the building, that is in fact an earlier creation and not in any way related to the Surplus Candy exhibition. It was cleverly used as a street art secret sign between the people coming to the event, since the address was never released into the public, as a way of protecting the project. Only the keenest connoisseurs of East Village graffiti knew where the show was.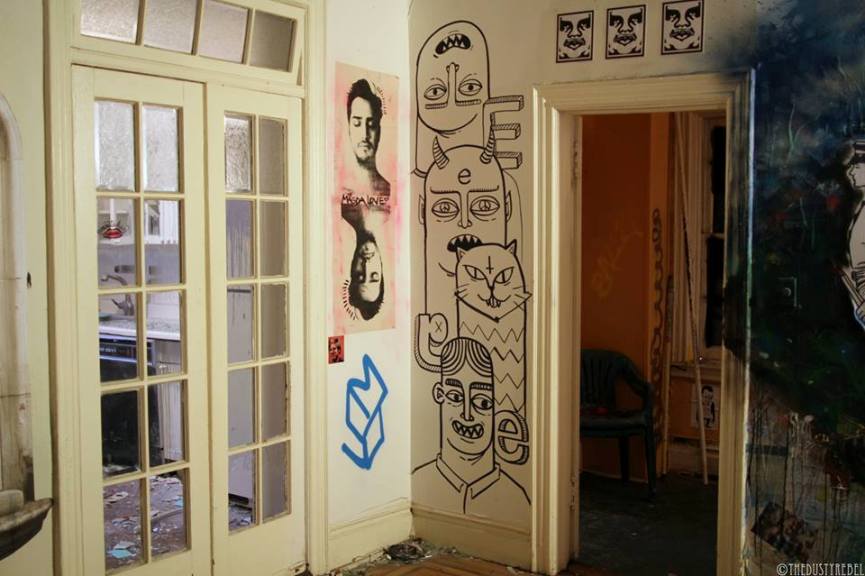 Demolition
After the two hour viewing ended, the abandoned house is closing its doors for good. It is probably scheduled for demolition, because of the porous structure, but it will be a shame, because now it is not a dump anymore - it is an extraordinary installation and a priceless work of art. We are hoping Hanksy's idea of using abandoned buildings as venues for collective graffiti projects will live on and spread throughout the street art sphere.