The birth of graffiti can be traced back to the ancient times to the first scribbles and carvings on the walls. Even though the etymological root of the word graffiti suggests scratching of the surface the first thing that comes to mind when we think about those graffiti works made today are aerosol, spray paint and markers as those commonly used materials that never go out of fashion. Those are the necessary and indispensable supplies that any graffiti artist simply must have if he wants to leave his mark on the wall. The modern graffiti history cannot be imagined without the spray paint or the marker pens and even those graffiti writers who have moved their practice off the streets and into the gallery world depend on these materials still. But things have somewhat changed in the 21st century.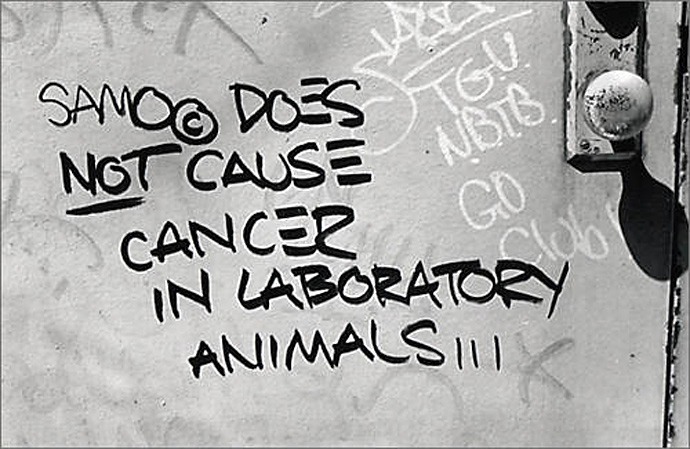 New Era in Graffiti History
But we are now witnessing the whole new era in street art. In spite of enormous selection of various products and supplies of best quality paints available in shops and specialized stores worldwide, for some artists these supplies of spray paint and markers are simply not enough. That is why some of them have decided to leave their bags filled with cans at home and release their creativity into our public spaces through different kinds of materials. The field of possibilities when it comes to choosing the preferred graffiti materials is greater today then it ever was in the history. There are many new ways of creating art in public spaces and in the following couple of paragraphs, we are going to take a walk through the world of street art that has moved beyond traditional supplies into the less explored field of alternative, unusual, sometimes even peculiar graffiti materials.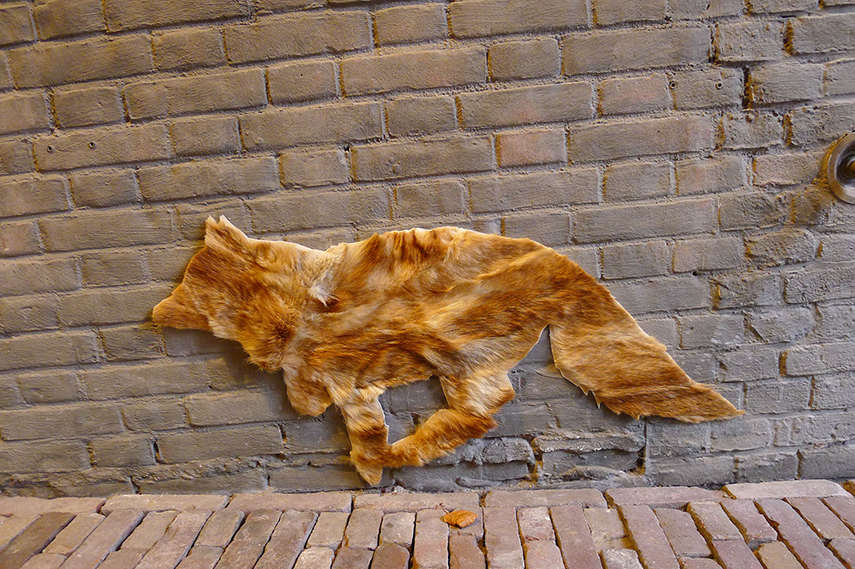 Unconventional Street Art: Rock, Paper, Chisels
Let's start our journey with some of the classic works of your favorite artists made in the unconventional way. Since the mid-nineties Invader has been tagging the walls with his pixelated video game characters made of tiles, and I think it is safe to say that he was one of the pioneers in the field of alternative usage of graffiti materials. Another artist, although she doesn't consider herself a part of the street art scene, is using a similar approach in the creation of public artworks. Carrie Reichardt is well known for her extensive mosaicked murals made from decorated tiles and ceramic details. On the lighter side, we have artists who work with paper materials. For example, Argentinian artist JAZ creates murals in the technique of paper collage and French artist Mademoiselle Maurice became known for her pubic pieces made of carefully assembled little origami figures.
Additional Tools
What about the chisels?, you may ask. Well, here is a hint. If you haven't guessed by now Vhils is the artist who gained international praise for the invention of graffiti carving technique. Or shall we say reinvention since it was the initial form of graffiti in the ancient times. Rather than painting on the walls Vhils carves into their facade creating astonishing large scale portraits from the material of the walls themselves with some help of the chisels, hammers, drills and bleach. This scratching of the surface isn't unfamiliar to the Spanish artist Borondo who uses similar techniques applied to glass and also creatively experiments with variety of materials from grass and hay to 'painting' with candle smoke.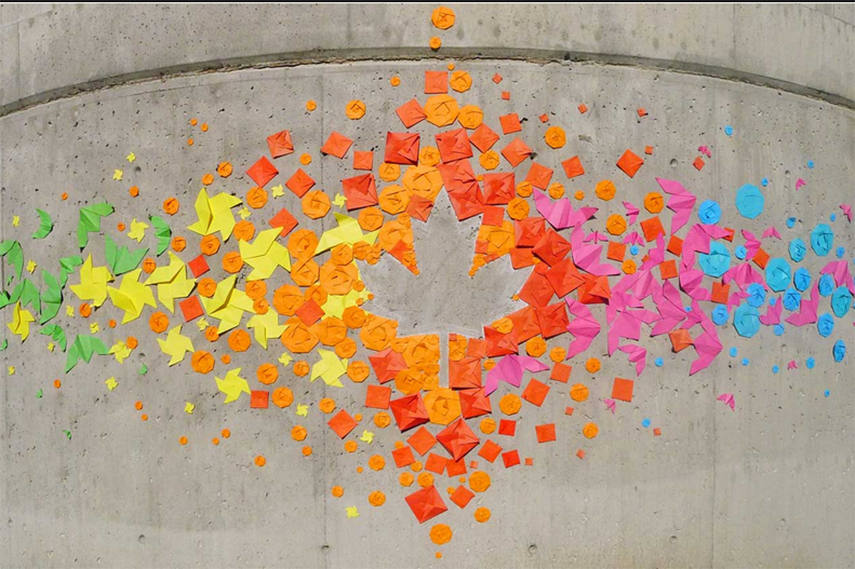 Yarnbombing and Moss Graffiti - New Thoughts on Traditional Practice
A relatively young discipline in the field is yarnbombing or yarnstorming (as British branch likes to define it). Also known as graffiti knitting this kind of art deploys some traditional crafts like knitting and crochet, bringing colorful wooly artworks to the streets in order to enhance the looks of the urban spaces. It originated in Texas in the mid-2000 but was soon widely accepted as a non-destructible way of making art on the streets. Perhaps, one of the most famous graffiti knitters today are Polish artist Olek and the Knit the City collective from London. Even younger initiative, which is getting even better treatment in the eyes of the public and local communities is eco-graffiti or environmentalist street art recognizable for the usage of moss as yet another option when it comes to the practice of tagging the walls. The use of moss is the trademark of UK designer Anna Garforth, although many new artworks inspired by the same genre are being made worldwide.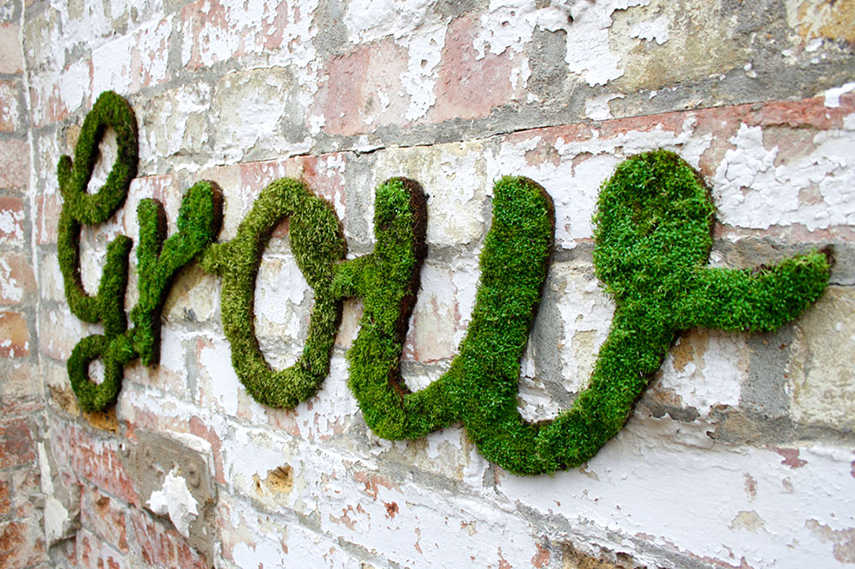 Reverse Graffiti - Street Art Without Materials
Reverse graffiti, also known as clean tagging was introduced by the British artist Moose who accidentally got the idea while working as a dishwasher. The main concept of reverse graffiti is what the actual name suggests. Rather than painting the wall, using markers or planting any other material on it, the artist just scrubs the dirt from the wall leaving clean surfaces. The result is a visual appearance similar to the one that is often achieved through the use of stencils. This kind of art is gaining popularity in the art community as well as the world of advertisement and it is accepted as an environment friendly alternative to spray paint.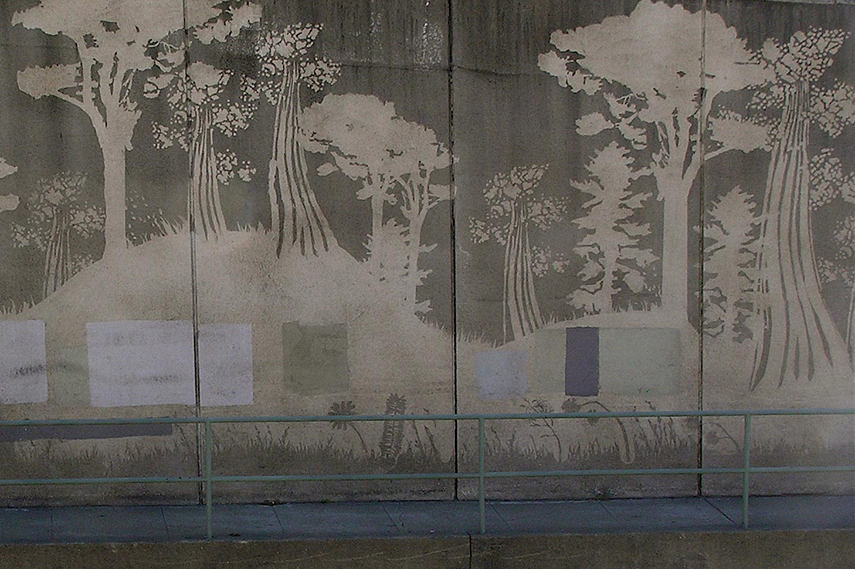 Questions of the Extremes: Edible Graffiti and Street Art Answer to Animal Abuse
Well, we couldn't finish our alternative tour of graffiti materials and skip some really eccentric pieces. For example edible graffiti. That's right, they exists and they are made by a Canadian artist Shelley Miller who uses cake icing and handmade sugar tiles to create her delicious pieces of art. Some other interesting initiatives can be followed through the work of Neozone collective which uses discarded animal fur coats and turns them into public artworks, addressing the issue of animal abuse.
Personal Thoughts on Modern Graffiti Culture - Do Details Matter?
In the end, we need to accept the fact that street art, like any other, is changing through various points in history. For better or worse only time will tell... Those who keep their art practices closer to the aerosol graffiti roots may not enjoy some new and emerging genres, but eventually art, and especially street art, shouldn't be about the supplies and the material from what it's made of but a celebration of creative freedom and message that is spread around communities. And don't worry, the old style graffiti art isn't easily going to be replaced and you know the walls will stay wide-open to everyone no matter of their preferable techniques, methods or materials.
Street art is evolving every day and if you want to follow recent achievements sign up for My Widewalls today! You know it is free of charge!
Images in Slider:
Borondo - Fire Experiments
JAZ - Collage on Wall, 2015 - Rio San Juan, Dominican Republic
Yarnstorming in Italy, Un Ponte di Lana
Vhils in Shanghai, 2012.