Street art has been evolving rapidly in the past decade, and today it is considered a worldwide art movement. Parallelly, the expansion of the internet based technology is progressing, and when it crossed paths with the growing street art enthusiast population, the need for street art app emerged. Luckily for all of those who appreciate the beauty of a mural and the significance of an illicit stencil while enjoying the wonders of mobile internet, a few brainiacs and street art lovers gathered round and produced several street art apps to our tremendous pleasure. Now, many fantastic urban creations of street art in New York, London, Berlin or Zurich are only a touch away, while developers promise a lot more cities to come.
New York and London Street Art App
American IT development company Geo Street Art programmed two Apps for iPhone including a number of mural finding options and covering famous, permanent, ephemeral and freshest street art in two major cities, New York and London. So far, they have uploaded 1682 images, 1285 city locations and 271 artists in their two comprehensive guides. The concept of both apps allows the user to Locate and Discover favorite, new and close-by pieces or artist information, and to Share photos via Facebook, Twitter or email. The location map is filled with cool spots for both New York and London, as is the news feed enabling the introduction of novelties on two street art scenes.
The interface is clear and simple, making the use of the app very easy. Tracking mode determines the location of the user, so it can be treated as a mural finder for pieces close to the current user location. Map can be customized through selective filter, so the user can focus only on the artist or date he/she wants to see. All options can be turned on or off and the database is frequently updated as new street art appears and old one is washed away.
The app is not only practical, but it can serve as a serious source of information, since it features a wide range of international artists with detailed bios, and the latest street art news, curator blogs, and artist interviews. Overall street art in New York and street art in London are well covered. We wait for more city coverage by Geo Street Art, until then, enjoy these two virtual centers of the urban art world, available at iTunes store.
New York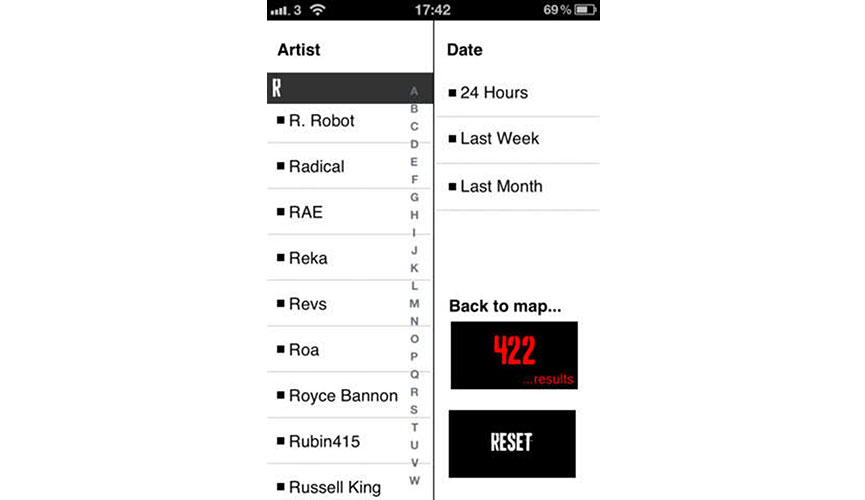 London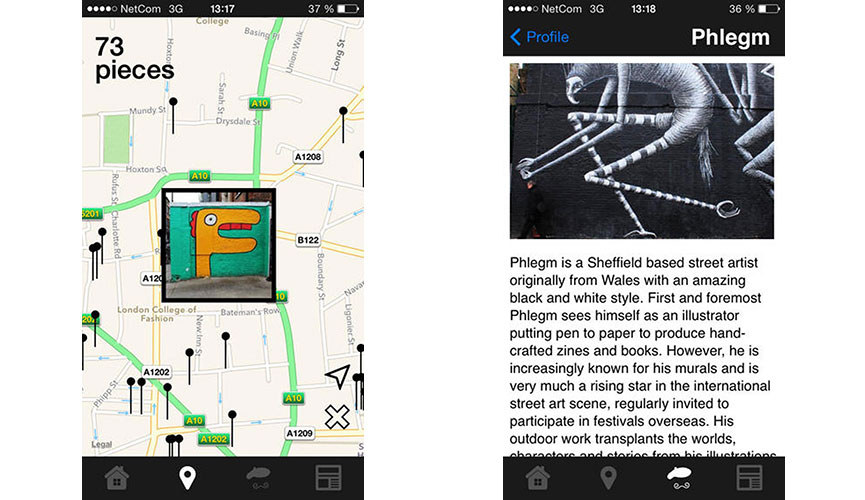 Berlin and Zurich Street Art App
European street art gallery and shop Street Art Archive released two apps as well, compiling street art in Berlin and street art in Zurich. The basic principle of the Berlin and Zurich apps is similar to the one described above, but the concept if somewhat different.
Street art apps for these two German-speaking cities include a Photo Gallery with an overview of best examples of street art creations, Event page covering all the current and upcoming events around Berlin or Zurich, Shop directory that helps the user finding places to purchase spray cans, markers or street art. Sharing option also includes share buttons for Facebook, Twitter and email, and the Online GPS map can go Offline, which makes it particularly suitable for foreign visitors who need to switch off their internet while abroad. Extensive maps include mural finder, shops, galleries, clubs, restaurants and cafes - all very handy when browsing street art live.
One of the best features of Berlin and Zurich street art app is the walk proposal mode, which suggests walls and spots to see or visit, helping the user get acquainted with the local street art scene. Both of Berlin and Zurich street art apps are optimized for iPhone and iPad, available at the iTunes store.
Berlin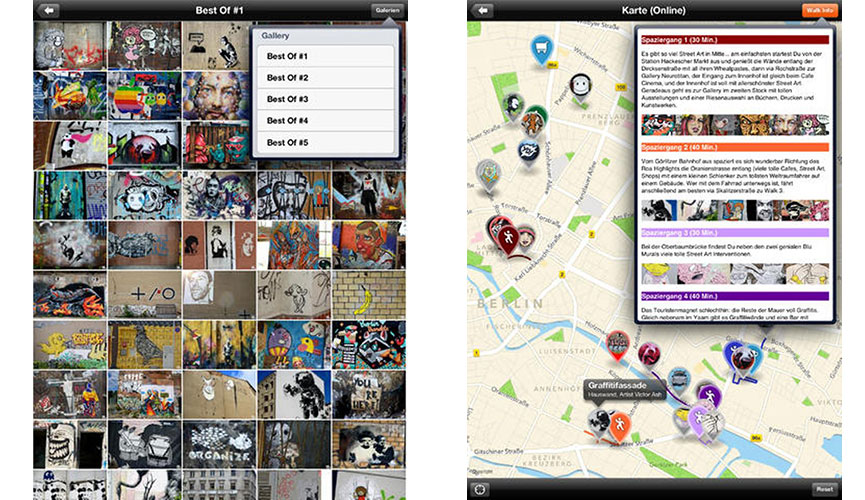 Zurich