What was once considered vandalism is now an ever-esteemed contemporary art movement. Street art and graffiti rose to popularity in the past few years, pushing their artists to galleries and even museums around the planet. This inevitably brought on an army of collectors eager to get their hands on an original Banksy, or perhaps a Basquiat and Haring. It is these names precisely offered at the latest comprehensive sale dedicated to Graffiti, Urban and Street art, by the esteemed Galartis auction house. Among the 189 artworks on offer there are many highlights and familiar names, from graffiti pioneers and living legends Taki183, Cope2, Blek le Rat and Seen, to newcomers such as Lek, Sainer and Levalet, to the stars of the Swiss street art scene, like NadaOne, Mr Chat, Bandi, Jazi and OneTruth.
For those who wish to see the artworks in person before maybe purchasing them, there will be an exclusive exhibition from June 15th through 17th, 2017, at the Studio 49 in Geneva, Switzerland. As always, Galartis will host live performances by renowned artists, this time round by Kool Koor and Askew One, on June 17th from 2pm to 7pm and from 7pm to 10pm respectively. While Kool Koor will take on the Plaine de Plainpalais skatepark, Askew One will hold the fort at Studio 49. The auction sale itself will take place on June 22nd, 2017, at the Galartis house in Crisser, Switzerland, at 2.30pm, with a live bidding on the web, via Invaluable. Ahead of this marvelous sale, we talked to Romain Perrot, Head of the Urban art, Graffiti & Street art, music memorabilia and Comics departments at Galartis auction house. French-born, he studied Art history, Law and Art Market in France and is a passionate collector of street art, music (vinyl records) and comics. Mr Perrot is also the man behind the first auction sales in Switzerland dedicated to these movements, with Galartis of course. Have a read below about what he had to say about the upcoming sale!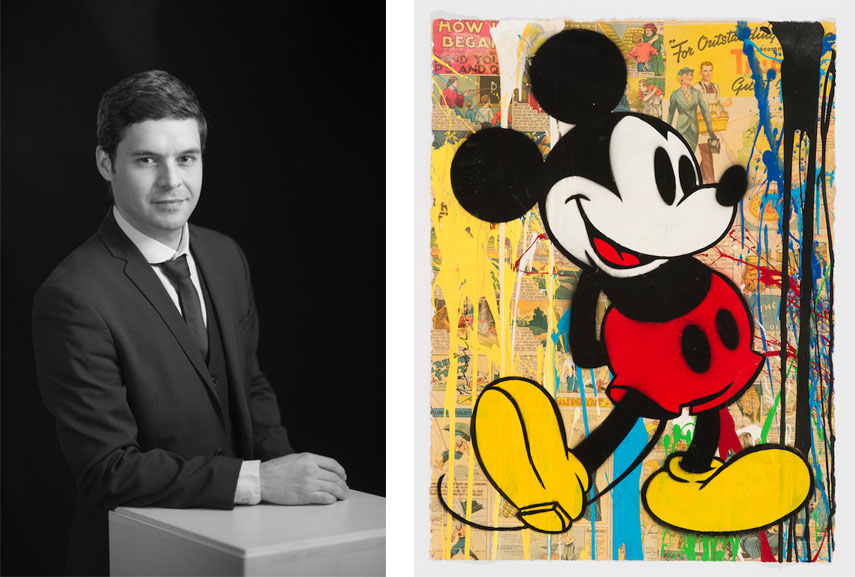 Urban Art Auction Sale - Graffiti & Street Art at Galartis
Widewalls: Let's introduce GALARTIS to our readers. How did it come to be and who are the people behind it?
Romain Perrot: Galartis is a Swiss art related company which comprises an auction house, an art expertise advisory firm and two art galleries (in Lausanne and Sion). It was founded by its co-directors, Catherine Niederhauser and Pierre Alain Crettenand, both art lovers who individually owned their gallery since the 80's. They joined forces seven years ago to encompass a wide array of competences with a specialized staff.
Widewalls: The GALARTIS auction house will host a sale dedicated to Urban, Street art and Graffiti. How would you describe the importance of the movement today?
RP: In our opinion, this is the major movement nowadays. Although it started in the 70's, graffiti art is now recognized by the art market (galleries, auction sales). It also became institutionalized with more and more exhibitions in museums, cultural institutions, etc.
It has now become an international movement, sought by a new generation of collectors who were born and lived with Street art. There is a plethora of international artists in this field and most of prices are still quiet affordable for the time being.
It will become increasingly important in the years to come...
Widewalls: Is this the first such auction for GALARTIS? What are your experiences in the field so far?
RP: This is our third auction sale dedicated to Urban art - the previous ones were held in June and December 2015. We also organized in our galleries exhibitions of street artists such as Lek, Marko93, C215, Fenx, Cren, Bandi and others.
Live performances and public actions remain paramount to us, especially as it is consistent with this movement genuinely born in the street. For instance, we invited Clet Abraham to indulge us with some street performances in Lausanne and Montreux; Cope2 also came to Verbier for live graffiti performances in the Swiss mountains.
Widewalls: What can the buyers expect in the June 22nd sale? Could you highlight some artworks/artists?
RP: We've got artworks for everyone, starting with affordable pieces with multiples (serigraphs, records, sculptures...). We then have original artworks (on paper, canvas). The catalog embraces all of the numerous facets of the movement, from the Tag and Graffiti through Stencil and Street art, in order to show the large diversity this movement represents. The roots of the movement are epitomized by the historical graffiti US scene (Jean-Michel Basquiat, Keith Haring, Taki183, Crash, Blade, Cope2, Seen, Sharp, Sonic, Quik, Kool Koor…) who impacted the whole world with their styles. Then, we have the other generations of artists, international and already well acclaimed such as Banksy, Shepard Fairey, Invader, Blek Le Rat, Mr Brainwash, C215, Os Gemeos, L7M, JonOne, Evol, Saber, Ben Eine, Jef Aérosol, Sainer… Our aim is also to emphasize on the Swiss scene (Pase, Dr Dray, Jazi, Xavier Magaldi, YgrekOne, M. Chat, NadaOne…) and the international promising newcomers (Levalet, Renk, Vermibus, Zenoy, Vilx, Bust The Drip, EZK, Fansack, Opéra, Taroe…)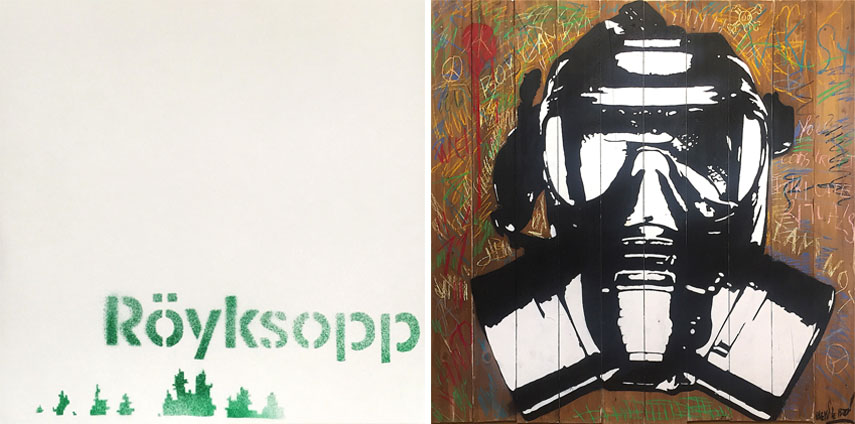 An Ever-Growing Movement
Widewalls: What is the state of this art market at the moment, from your point of view?
RP: Even though the Graffiti movement started in the US, we now undeniably notice its international expansion.
Paris became a major place for urban art, with a lot of exhibitions and high-profile auction sales. Same definitely applies to London and Berlin, which stand as landmark cities in Street art. Moreover, Asia is becoming an important place for Urban art, with a new type of collectors who influence the art market with their choices. Near and Middle East tend to be a thriving scene as well perhaps benefitting from the fats that graffiti is an art perfectly compatible with Islamic laws or traditions. As a matter of fact, we have to keep an eye on all continents, all the more with some new talents emerging from new places be it Eastern Europe, Asia, South America. Most of them travel a lot, perform and leave their own mark all over the world.
Widewalls: Is there anything you'd like to say to young urban art collectors interested in buying? What would your advice to them be?
RP: First of all, we can tell them to follow their feelings and impulse buy. Then, we can advice them to begin by collecting numbered series.
We are lucky that many of urban artists use the screen process printing as a medium of their artistic expression often released in limited edition. This is a first good step in the path of a collector. Afterwards it could be followed by collecting original artworks.
Widewalls: The artworks from the sale will be on view for three days at the Studio 49. What can you tell us about the live performances to be held along with the show?
RP: In partnership with myFINBEC, we organize two graffiti performances. Both in Geneva, one will take place with KOOL KOOR at the skatepark of Plainpalais, and the other one will feature ASKEW ONE at the Studio 49. They will perform each on a "wall" (over 2 x 3 m) made out of 84 wine woodboxes. A short film will be directed for this occasion. Through the lens of these two artists, we will strive to visually depict the history and evolution of the graffiti movement. The artistic work of a pioneer, Kool Koor, and the one of a younger artist, Askew One, who is already famous worldwide.
Widewalls: Can we expect more auctions like this one in the future? What's next for GALARTIS?
RP: Yes, for sure! We are planning to continue holding one Urban art auction sale per year and we will pursue our efforts to promote Urban art in Switzerland as we started 3 years ago, by exhibiting Graffiti and Street art at our galleries and inviting artists to perform and display their art to the Swiss audience.
Featured image: Cope2 - Untitled, 2013; Keith Haring - A Very Special Christmas, 1987; TAKI 183 - Untitled. All images courtesy Galartis.