In the 70's, a few kids from NYC started writing their name around the neighborhood and a couple of decades later, graffiti has become the biggest art movement this world has ever seen. Never has there been a subculture of this magnitude competing on an international scale with most of the work done illegally. We are talking about a generation of people who stole street art and graffiti supplies in order to express themselves on local walls and trains. I remember only two decades ago, we had to share certain caps as a group because they were so hard to come by and we would leave them soaking in 99% alcohol so they could run for months without clogging. Seems like today, the moment there is a smidgen of paint on one of your 69 caps, you just toss that sucker right on the floor. At one point, we went from adapting to what was available from existing brands to a whole industry solely dedicated to writers and street artists. A wide plethora of tools and goodies are available at a click of a button and this definitely reflects in what the movement has become. My question, at this point, is: who influences who?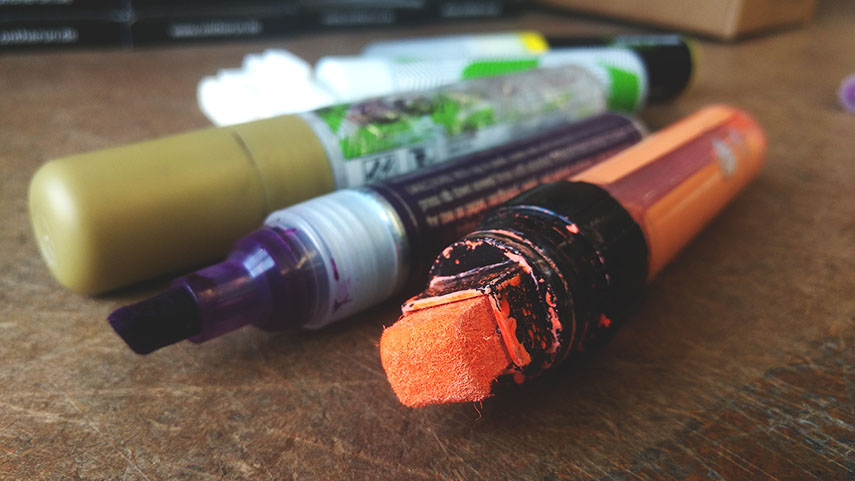 The Becoming of Brand
When the NYC subway scene was over, graffiti didn't just go away; it spilled out of the underground and on to the street. This was right about the time when the internet was making its first public appearance and we were one of the earliest adopters. In the late nineties, photos started spreading online on forums and chat rooms. As the internet grew, so did the graffiti movement and, naturally, the graffiti industry as well. Forums such as Bombing Science started carrying a few things like caps and markers giving writers from all over North America a chance to get their hands on supplies in areas where there was virtually no graffiti, not to mention a local graff shop. Having access to limited supplies online, as well as a platform where writers can share their work instantaneously with a worldwide audience, pushed the culture at an accelerated rate. Right around Y2K, we started seeing brands like True Colors, Montana and Molotow appearing with spray paint designed specifically for graffiti. This is where the brands started influencing the culture providing new products that allowed artists unlock realms they could not achieve with previous more primitive tools or in many cases just made classic tools a lot more effective. Low pressure cans were definitely a game changer as well as certain fat caps that had everyone doing huge flares for a few years.
Growing toward the Future
In the mid to late 2000s is when things went in to a whole new level. Graffiti was once this underground street culture that was rebellious and even violent at times. It was all about breaking rules and getting up. Selling out to big corporations was always frowned upon. Forward a few years later, what was once "selling out" is actually a brilliant way to make money and keep the culture going further. This was when we started seeing brands like Krink doing collaborations with Nike, Levis and Mini Cooper. Today, we have international festivals worldwide and pretty much any major western city in the world has some form of a graffiti shop. There are countless online blogs and stores that offer graffiti specific products and content which does not stop with mere art supplies. We are talking video content, toys, literature, collectable items, videogames, fashion and even a street-art themed reality show. For an art form that is still largely illegal worldwide, we have come a long way. We went from stealing paint from art stores to now trying to sell our brands of paint to the same art stores. A lot of people got jailed for painting now some get good money for commissioned walls and gallery work. So it's not as much about who influences who, because at this point both worlds thrive and depend on each other. It's more about how well the culture has adapted and stayed relevant throughout the years. Movements came and went, and we are still here, stronger than ever!
Written by Stan of Bombing Science.
All images courtesy Bombing Science.