Folk art has been on the sideline of official art tendencies and was treated as a marginal phenomenon for decades; in recent years however, the practices of certain artists have been dug out of history, and such is the case with Anna Mary Robertson Moses, much better known as Grandma Moses (1860 - 1961).
This woman, who started painting in her late seventies as a complete amateur and worked until her death two decades later, released an intriguing body of work characterized by firm strokes, vibrant colors, and a specific approach to landscape.
To pay closer attention to her deeds, The Shelburne Museum in Vermont (founded in 1947 by pioneering folk art collector Electra Havemeyer Webb), is about to launch a new online exhibition Painting at Home with Grandma Moses that will include paintings and archival materials from the collections of this and Bennington Museum in partnership with Grandma Moses Properties Co.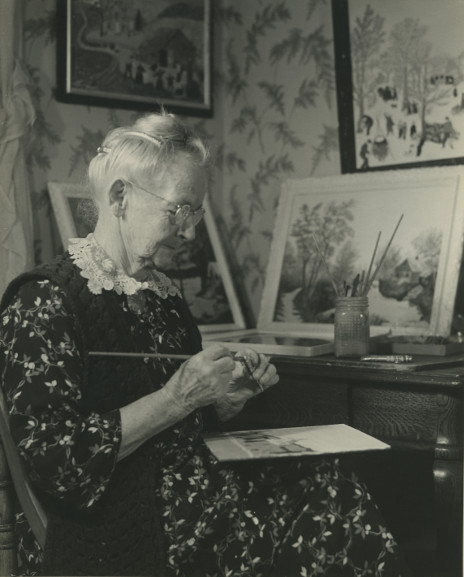 The Domains of Grandma Moses
Grandma Moses is most often cited as an example of an individual who started developing an artistic career as a senior. During her lifetime, she exhibited and sold her works in the United States and abroad, while promoting her art via greeting cards and other merchandise.
Grandma Moses was featured on the magazine covers, television, and in a documentary film about her life. She even managed to write an autobiography (My Life's History), won numerous awards, and was awarded two honorary doctoral degrees.
Now, before becoming a successful artist she worked as housekeeper starting at 12 years of age. During that time her talent was noticed by her own of the employers who supplied Moses with art materials. Later in life, she married and together with her husband worked on farms before they settled in Eagle Bridge, New York. Out of ten children, five survived infancy. Moses was also very much interested in the embroidery of pictures with yarn until arthritis disabled her to continue.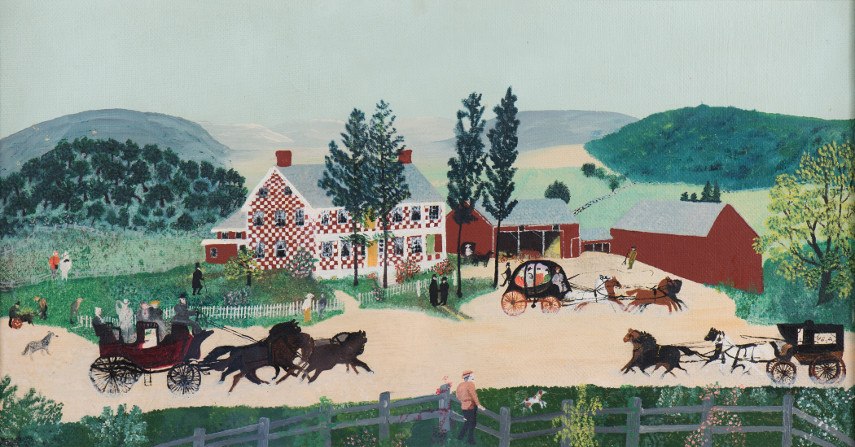 Inspired By The Landscape
This exhibition tends to show how complex and thoroughly modern Grandma Moses's approach was; the artist nicely combined her nostalgic imagination with the relics of modern times.
Associate Curator Carolyn Bauer, who organized the exhibition emphasized the significance of this presentation:
This interactive exhibition provides an in-depth analysis of Moses's artistic influences and techniques. Throughout Painting at Home with Grandma Moses, there are insightful object comparatives exemplifying the varying methods this beloved artist applied to create her recognizable paintings, including popular source materials and her ability to combine real and imagined memories.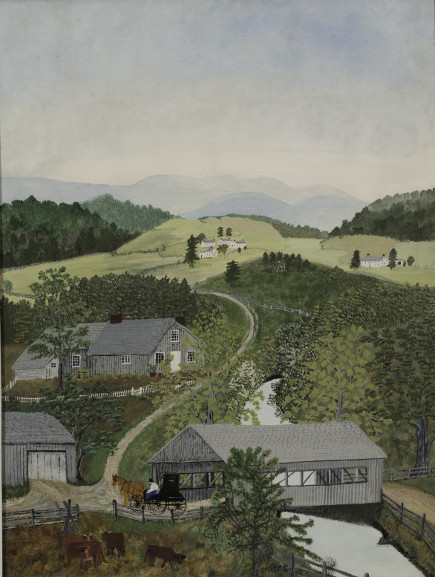 Grandma Moses Online Exhibition at Shelburne Museum
Due to the coronavirus pandemic, Shelburne Museum is temporarily closed, so the institution decided to organize online exhibitions, and Painting at Home with Grandma Moses is the third one in a row. Here it is important to mention that the same is the continuation of the collaboration between Shelburne and Bennington museums started in 2016-17 with the exhibition and catalog Grandma Moses: American Modern.
Painting at Home with Grandma Moses is accessible via the museum's website.
Featured image: Anna Mary Robertson ("Grandma") Moses - Bennington, 1945. Oil on pressed board, 17 3/4 x 26 in. Collection of Bennington Museum, Bennington, Vermont, museum purchase. 1986.310. Copyright © Grandma Moses Properties Co., New York.