Grant Wood created one of the most enduring emblems of Americana and perhaps the best-known work of twentieth-century American art.
You might be familiar with this farmer and wife painting - it is the American Gothic, an artwork that elevated the artist, who was previously a relatively unknown painter of French-inspired Impressionist landscapes, to the status of instant celebrity when it first debuted at the Art Institute of Chicago in 1930.
Depicting a stern-looking farming couple, this deceptively simple portrait has captured the imagination of the nation, regularly being parodied in pop culture. Despite Wood intending it to be a positive statement about rural American values, the meaning of American Gothic painting has shifted over the years.
Yet, the story behind its creation and rise to fame makes the painting all the more compelling.
The celebrated painting will now make a rare voyage from the Art Institute of Chicago on the occasion of the comprehensive Grant Wood retrospective at the Whitney Museum of American Art, the first museum showcase in New York since 1983 and only the third survey of his work outside the Midwest since 1935.
Titled Grant Wood: American Gothic and Other Fables, the exhibition will bring together a full range of Wood's oeuvre, from his early Arts and Crafts decorative objects and Impressionist oils through his mature paintings, murals, works on paper, and book illustrations.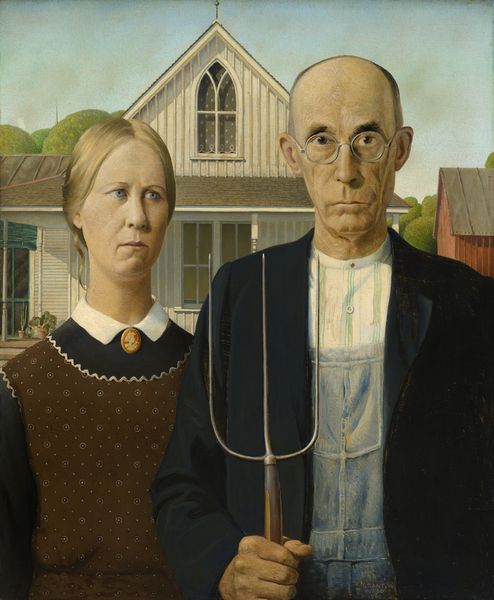 The History of American Gothic Painting
Believing in the cultural superiority of Europe in the beginning of his career, Grant Wood studied the work of the French Impressionists, assimilating the style into his practice. By the late 1920s, however, the painter realized that American art needed to break free from Europe and express the specific character and culture of their own regions.
Settling in Iowa, he became increasingly drawn to midwestern traditions and culture that he would celebrate in his works. Employing the hard edge precision and meticulous detail to convey a distinctly American style, Wood started painting types rather than individuals, creating universal and timeless storytelling.
Leaving his works intentionally ambiguous, he created puzzles for the viewers to decipher.
Visiting Eldon, Iowa in the summer of 1930, the artist was struck by a little white cottage with a single oversized window, created in a style known as Carpenter Gothic. He sketched out the house on an envelope, determined to use it as a backdrop in what would become his most famous painting.
In American Gothic, the painter used his sister Nan and his dentist Byron McKeeby as models for a farmer and his daughter, dressing them as what he referred to as tintypes from my old family album.[1] The house, his sister and his dentist were painted in separate sessions.
Although both of his models were realistically recreated, his sister's face is somewhat elongated. As Grant Wood himself explained:
I imagined American Gothic people with their faces stretched out long to go with this American Gothic house.[2]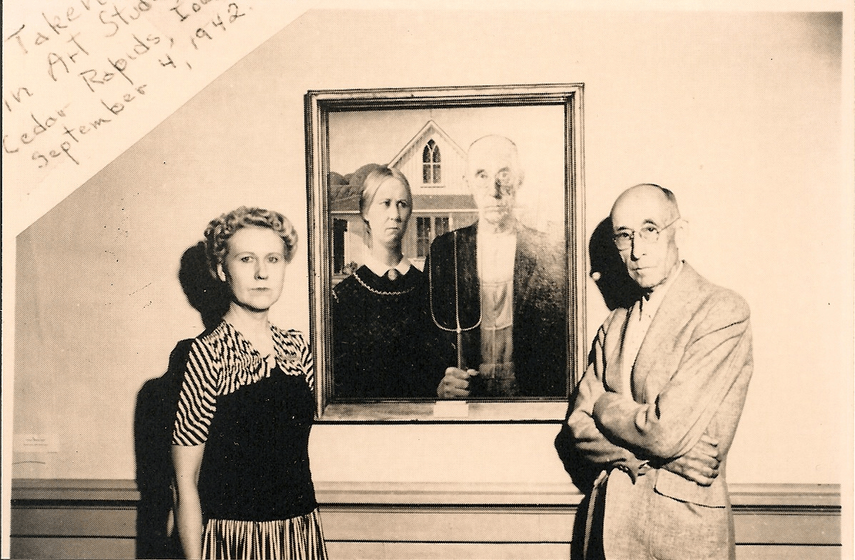 A Mysterious Work with Ambiguous Meaning
The American Gothic painting depicts a woman dressed in colonial print apron evoking 19th-century Americana and a man holding a pitchfork.
For the highly detailed and polished style and the rigid frontality of the two figures, it is believed Wood was influenced by Flemish Renaissance art, which he studied during his earlier travels to Europe. Influenced by European traditions, the artist has turned these lessons towards the American landscape.
He painted a somewhat archaic image, providing a sense of hardworking practical people and a conservative aspect of America. However, despite confronting us directly, the characters of American Gothic remain difficult to read.
Over the years, every element of the painting has been mined for meaning, although the artist remained silent on these debates. Ambiguous and multilayered, the American Gothic is imbued with various psychoanalytical, political and historical meanings.
The painting is both real and symbolic. Placing a man and woman in front of the house, it is believed that Wood refers to the association Americans have with their homes as extensions of themselves, especially in rural America. The plants on the porch of the house, mother-in-law's tongue and geraniums, are the same plants in his 1929 portrait of his mother Woman with Plants.
While geraniums are sometimes used to signify melancholy or ineptitude, mother-in-law's tongue might signify hardness and strength.
There is also a certain geometry of lines, circles and zigzags in the painting. The continuity of the patterns, most notably in the curtains in the upstairs windows and on the woman's apron, seems to tie the composition together. It also seems as if the main compositional elements of the American Gothic are based upon the upstairs arched window.[3]
Grant Wood - American Gothic Analysis by Khan Academy
The Reception and Legacy of American Gothic
Submitted to the 1930 annual exhibition at the Art Institute of Chicago, the painting won a bronze medal and a $300 prize and was acquired by the institution for its collection. From there, the picture of the prize-winning painting ran in several newspapers across the country, making Wood instantly famous.
This was a major breakthrough for Grant Wood, who was previously an unknown 39-year-old aspiring artist, living in the attic of a funeral-home carriage house with his mother and sister.
However, the American Gothic sparked a backlash in the artist's hometown of Cedar Rapids, Iowa, as locals were displeased about being portrayed as pinched, grim-faced, puritanical Bible-thumpers. Wood insisted that as a loyal Iowan, he did not mean to paint a caricature, only show his appreciation.
As he explained, he aimed to create a positive statement about rural American values and provide an image of reassurance at a time of great hardship and disenchantment brought by the Great Depression. For the artist, man and woman in the painting represented survivors.
Grant Wood soon found a place in Regionalism, an American realist modern art movement that shunned urbanism and celebrated the rural settings. Becoming the spokesman for the movement, Wood often wore overalls, once remarking that he got all his ideas for painting while milking a cow.[4]
Yet, while he did grow up on the farm, this was not a part of his adult life. It is suggested the role he was playing was supposed to show his perceived manliness and hide his closeted homosexuality.
Some art critics, such as Gertrude Stein and Christopher Morley, subsequently saw the American Gothic painting as a satire of rural small-town life, while others saw it as a depiction of steadfast American pioneer spirit. Wood himself gave a somewhat confusing statement:[5]
There is satire in it, but only as there is satire in any realistic statement. These are types of people I have known all my life. I tried to characterize them truthfully — to make them more like themselves than they were in actual life.
Indeed, the ambiguity is so pervasive through this painting. It became the symbol of America because people could see anything they wanted in it. Contested as the American nation is, it has as many reading as the Americans have ideas about what their country is.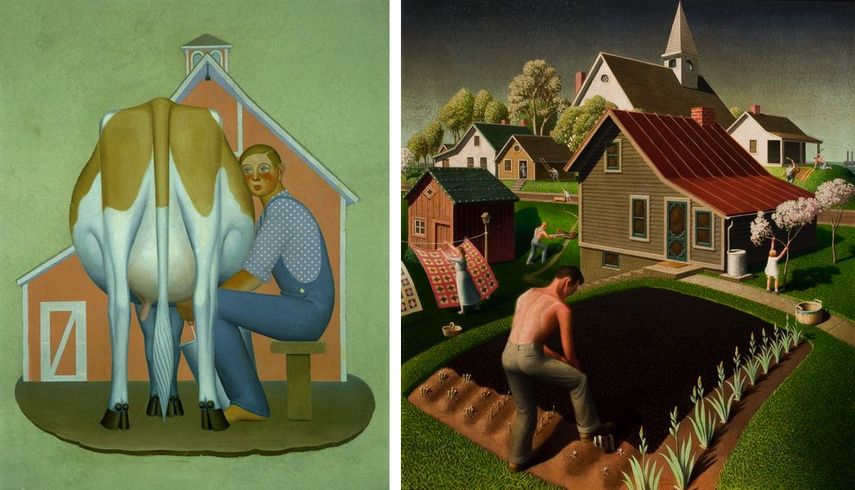 Grant Wood Retrospective at the Whitney
Despite the iconic status of the American Gothic, Wood's career consists of far more than one single painting.
The upcoming Whitney exhibition will reveal a complex, sophisticated artist whose image as a farmer-painter was as mythical as the stories he depicted in his art. Gathering some 130 artworks, the presentation will probably be the biggest show of the artist's work ever.
Conceived as an interrogation of stereotypes, values, and reputations, the exhibition is "a quest to understand how a remarkable artist created mythic images, images that are not as unequivocal or as unambiguous as some might think or, yet, as some might wish...", as Adam D. Weinberg, Whitney's Alice Pratt Brown Director, writes in his introduction to the exhibition catalog. As he explains, despite their surface simplicity and clarity, the majority of Wood's paintings are not at all straightforward, often revealing a collision of amplified meanings.
The exhibition Grant Wood: American Gothic and Other Fables will be on view at the Whitney Museum of American Art from March 2nd until June 10th, 2018. Curated by Whitney curator Barbara Haskell, with senior curatorial assistant Sarah Humpherville, it will be on view in the Whitney's fifth-floor Neil Bluhm Family Galleries.
The show will be accompanied by a catalog that includes a major reconsideration of Wood by Barbara Haskell, an extensive narrative chronology, and a range of scholarly essays.
Editors' Tip: Grant Wood: American Gothic and Other Fables
This comprehensive study of Grant Wood is packed with extensive new scholarship and provides fresh insight into the career of one of the key figures of 20th-century American art. Exploring Wood's oeuvre from a variety of perspectives, this book presents the artist's work in all of its subtle complexity. Generously illustrated, the book includes several works published here for the first time, as well as new photography of other paintings. The essays in the volume contextualize Wood's work within a much larger art-historical framework than has previously been considered. Through a careful reconsideration of Wood's career, creative process, technique, iconography, and critical reception, this book reveals for the first time the deep significance and cosmopolitan breadth of Wood's artistic vision.
Featured image: Grant Wood - American Gothic, 1930 (detail). All the images courtesy of the Whitney Museum of American Art.
References: