Graphic thinking has attained a new, quite literal form, in the collection of artwork currently on display at CES Contemporary, which has a tradition of exhibiting graphically inspired exhibitions, supporting emerging artists. The summer group exhibition focused on investigation of relationship design and fine art have, emphasizing the role of design in composition of figurative art. Communication channels artists have chosen to use are in various ways related to essential premises of design, where they employ shape, form, pattern and color during their creative processes. The result is artwork executed in different media, in mixed or innovative techniques, founded on graphic expression, but greatly surpassing the widely assumed postulations of design.
Graphic Thoughts is an exhibition that demonstrates the power of well designed painted surface, as well as the potency behind the perfectly selected medium and appropriated imagery.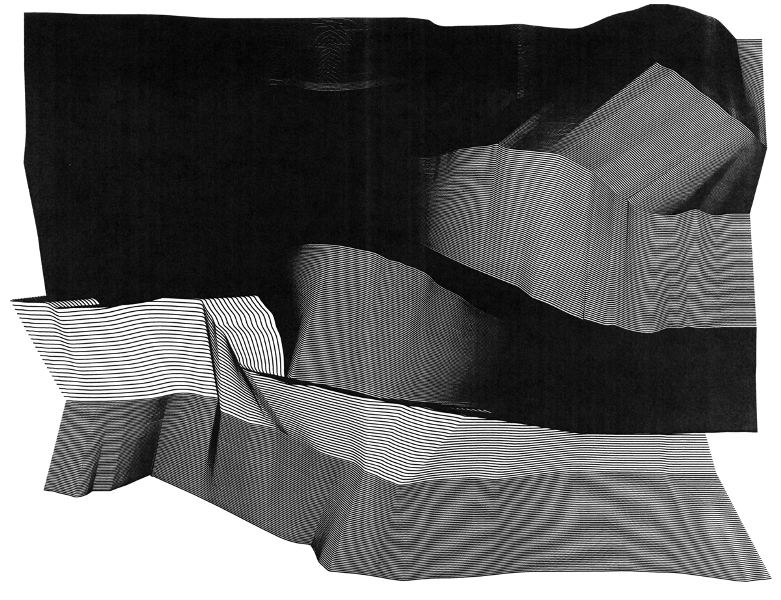 Think Graphic
Group of artists have created largely abstract works for Graphic Thoughts, showing their contemplative paths through visuals. Matt Gonzalez, Russell Tyler, Matthew Craven, Jordan Minardi, Greg Stimac and Dan Peterka have works on show at CES Contemporary summer exhibit.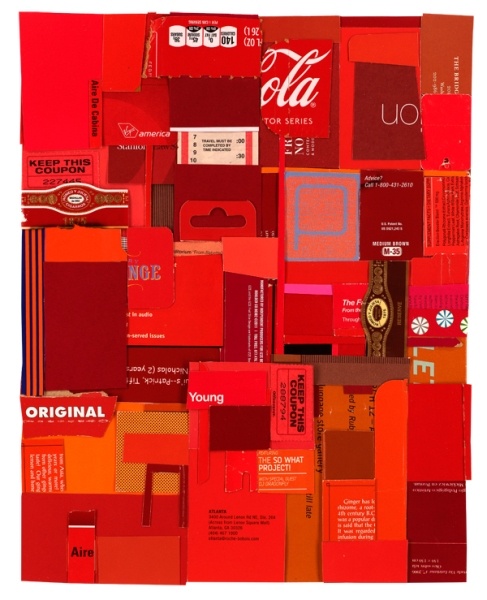 Matt Gonzalez
Collage is the medium of choice for Matt Gonzalez, as he recycles widely discarded commercial ephemera and arranges them in monochromatic, evocative pieces. The works are tiered with contrast, as much as with compositional fragments, where various texts, signs, logos are implied, but never fully revealed, leaving the observer to ponder on the similarity and the difference between the initial graphics. Color is the most striking visual element in Gonzalez's collages, used as an optical adhesive, making the pieces coherent and harmonious.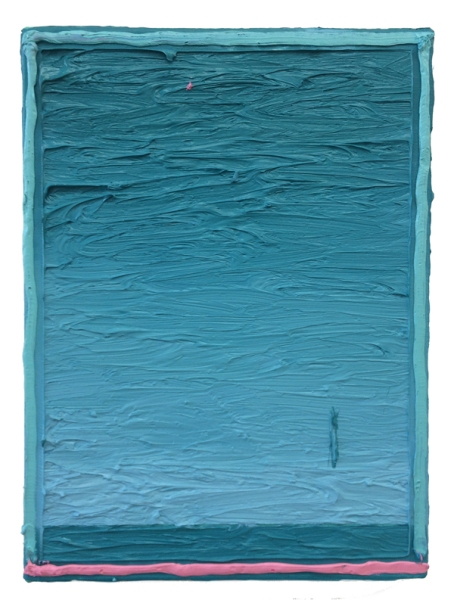 Russel Tyler
Russell Tyler overtly builds his abstract iconography on the hard-edge painting, delving into alike chromatic studies, composing with hues of one, usually bright, color. Still, his works are far from the smoothness of the modern movement, as Tyler adds the thick impasto, allowing the layers of color to show, which is more resemblant to anything early modernists have done [Expressionists, for example], thus switching to a diverse, organic more of painting. Graphic quality of his paintings is indisputable, but the key is the humanity exuded through the visible presence of the hand.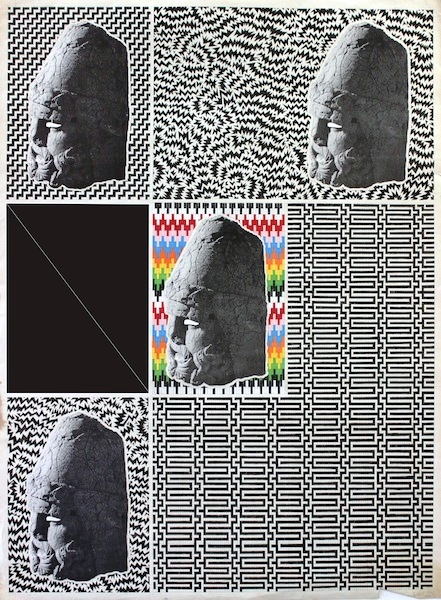 Matthew Craven
Mixed media collages by Matthew Craven are a fusion of two visual and historically distant worlds, where graphic drawings in pen and ink, often executed in bright color, are opposed to archeological artifacts, creating a dually suggestive visual plane. Expressive potential of ancient sculpture is paralleled to abstract lines pertinent to graphic visual world, while they exist complementing each other in an outer plane detached from reality and time. Highly contemplative, Craven's work examines contemporary expression via civilizational legacy, stripping both down to their essentials. Ancient sculpture and architecture is incorporated in the work of CYRCLE. as well, as they depict own interpretations of heritage.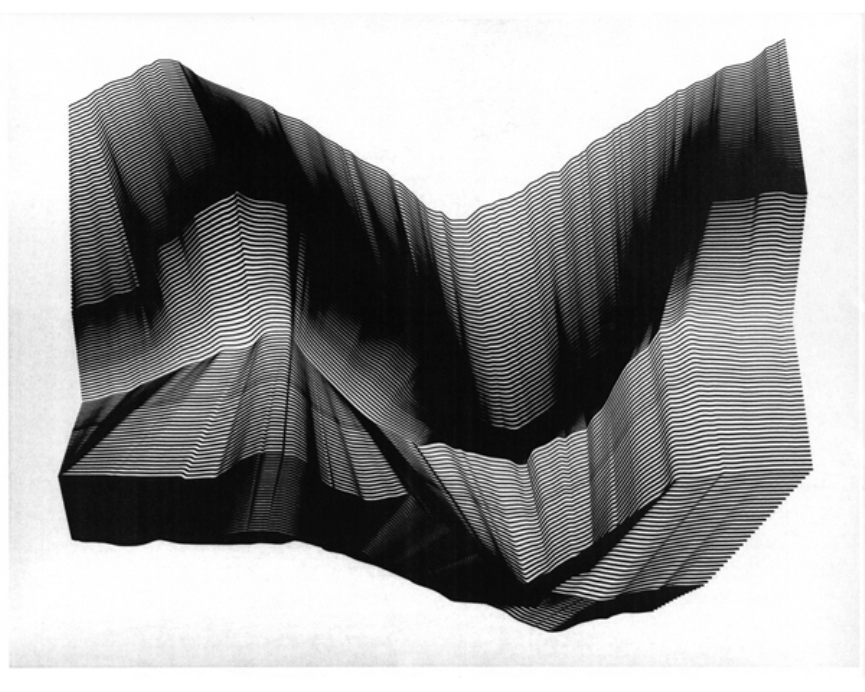 Jordan Minardi
The most graphic of the group, work of Jordan Minardi was created digitally, with the help of printers and scanners. The artists scanned abstract black images continuously, in order to clear any trace of previous visual recognition, and to create a novel, raw and clean pictures, without the intention to delete any inherent flaws.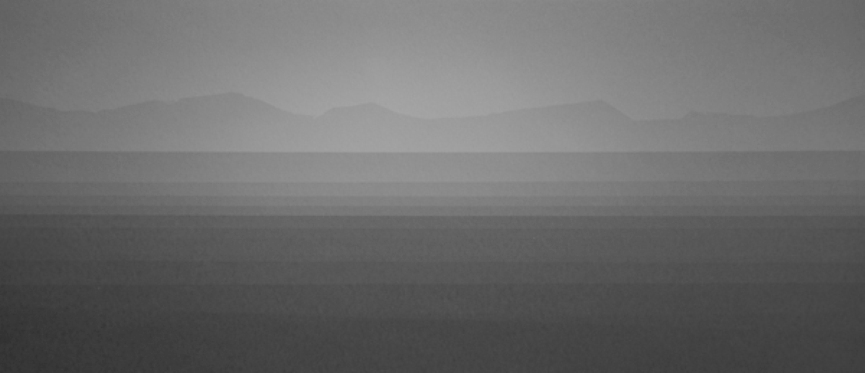 Greg Stimac
Minimalist landscape at its best is depicted in photography of Greg Stimac, blurring the boundaries between camera-captured reality and fictional, graphic creations. Black and white silver gelatin prints have proven ideal for achieving this surreal effect, where a documented image resembles a printed image.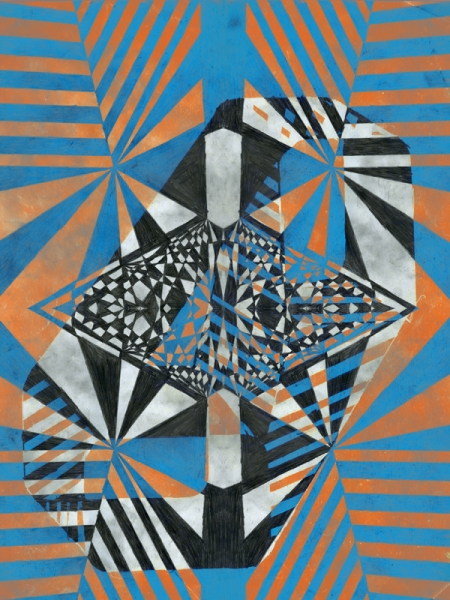 Dan Peterka
Perhaps the most "designed" are the elaborate drawings of Dan Peterka, created through remodelling of text and images, their repetition in regular rhythmical turns, colored in complementary nuances of slightly pastelled base hues. His work is complex, aesthetically perfected, evoking good poster design (it reminds on Shepard Fairey to a degree), since it's founded on sheer geometry.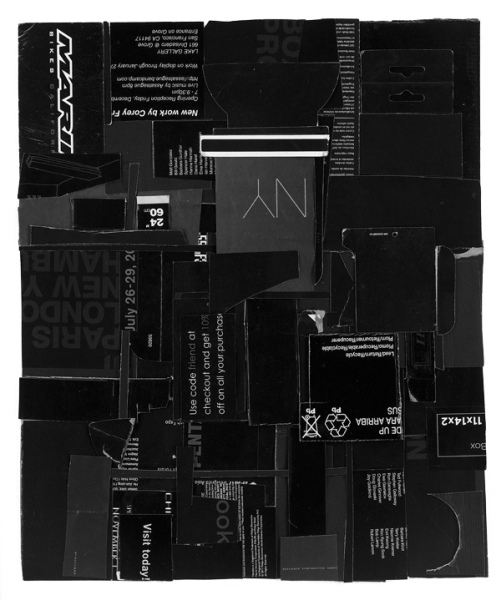 Graphic Summer at CES Contemporary
Focused on visual and abstract investigation, Graphic Thoughts is currently on view at the Main Gallery of CES Contemporary, Los Angeles, running through August 30, 2014.