"The trials, tribulations, celebrations and mistakes of an average life." This is how the Turner Prize-winning artist Grayson Perry describes his project The Life of Julie Cope.
Julie is no one and everyone, an "Essex Everywoman", a person like any other, with hopes and dreams. She could very well also be the artist himself, as he reflects his childhood in Essex onto and through her.
An exhibition of tapestries, woodcuts, sketchbooks and objects dedicated to Julie Cope is now hosted by Firstsite gallery, as an ode to a fictitious life we can all relate to.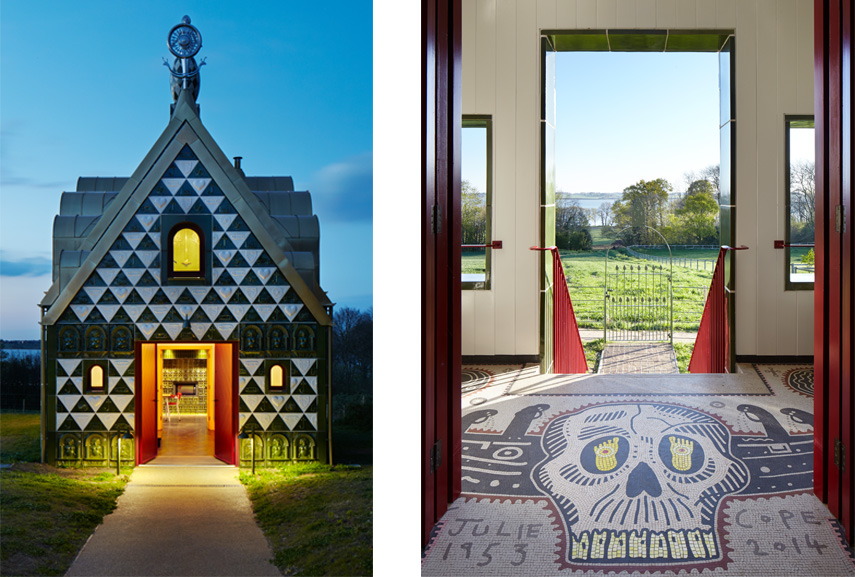 A House for Essex
The show in Colchester opens with materials related to A House for Essex, a proper building designed by Grayson Perry in collaboration with Charles Holland of FAT Architecture. It was created in 2015 as a monumental homage to Julie Cope, situated overlooking the Stour Estuary in the village of Wrabness, north-east Essex.
Apart from being an artwork itself, A House for Essex also contains pieces of art within, and it stands as a radical statement about the power of architecture and its ability to narrate and communicate a complex, personal story.
This ceramic-clad edifice features patterns of green and white tiles (which will also be on view here), that depict totems of Julie Cope's life: a nappy pin, a heart, a mixtape, a wheel, a pregnant Julie imagined as a goddess-like fertility symbol, or a letter J.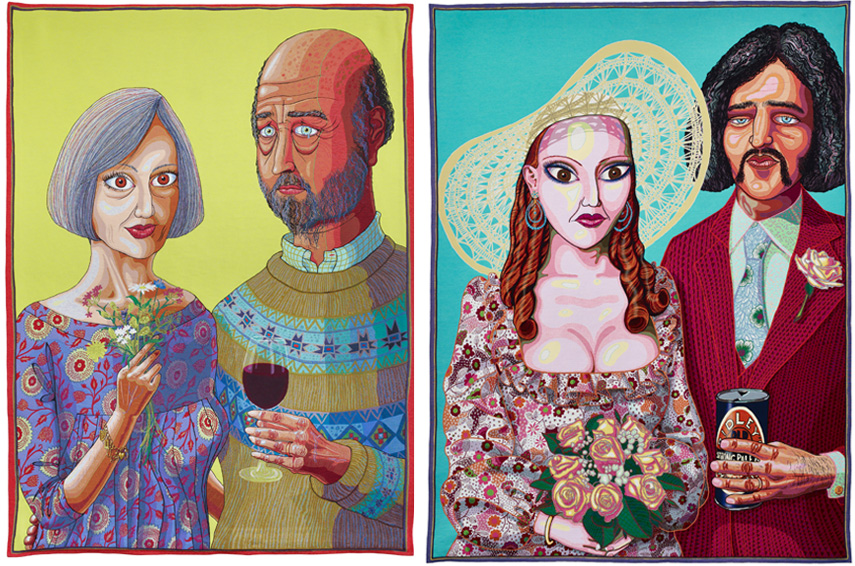 The Life of Julie Cope - In Tapestries
Among the tapestries on loan from the Crafts Council Collection, there will be two which represent key events in Julie Cope's life, from her birth on Canvey Island during the great flood of 1953, to her untimely death in a tragic accident on Colchester High Street.
Another work, A Perfect Match, pictures Julie's early life and relationship with her first husband, Dave. In In Its Familiarity, Golden, we see Julie taking control of her life, and meeting her second husband, Rob. Julie and Rob are profoundly happy, until their bliss is interrupted by the freak accident with a curry delivery scooter, when Julie was only 61. Rob then builds a temple in memory of his beloved wife - Taj Mahal upon the Stour. Also on display are the six black and white woodcuts, Six Snapshots of Julie, as the six decades of her life.
The tapestries and woodcuts are accompanied by an audio recording of The Ballad of Julie Cope, a 3000-word narrative written and read by Grayson Perry. The artist was inspired by his own adventures, but also the English ballad and folktale tradition.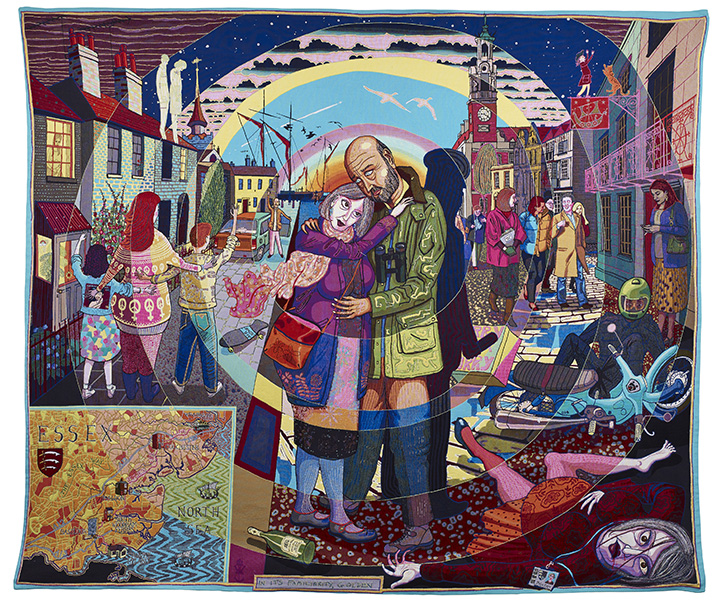 Grayson Perry at Firstsite
These Grayson Perry's tapestries were meticulously executed in collaboration with a digital mediator and tapestry weavers, in order to translate the vibrant colors and details of their original drawings. Here, we witness the artist's incredible attention to detail, as he manages to transfer social history, as well as cultural and architectural references, onto a woven textile
The Life of Julie Cope, an exhibition of works by Grayson Perry, is on view at Firstsite in Colchester, UK, from November 18th, 2017 through February 18th, 2018.
Featured images: Grayson Perry and Charlie Holland, Courtesy Living Architecture Images © Jack Hobhouse; A House for Essex. Courtesy Living Architecture Images © Jack Hobhouse; Grayson Perry - Six Snapshots of Julie, 2015. Six woodcuts​, Each: 72.5 x 48.5 cm; A Perfect Match, 2015. Tapestry, 290 x 343 cm. Both Published by Paragon © Grayson Perry. Courtesy the artist, Paragon | Contemporary Editions Ltd and Victoria Miro, London.