The status of painting as a traditional media in contemporary moment has been debated from various perspectives; however, the most important question concerns the ability of painting to establish communication with a wider audience in a digitized era, so the function and the meaning of content it may offer become automatically debatable.
Nevertheless, certain artists are loyal to the medium and are trying to articulate not only the possibilities of selection, representation, abstraction or realism but the way painting can remain an integral part of our visual culture. One of them is an American artist Grear Patterson, whose recent works are on display at Galerie Lisa Kandlhofer.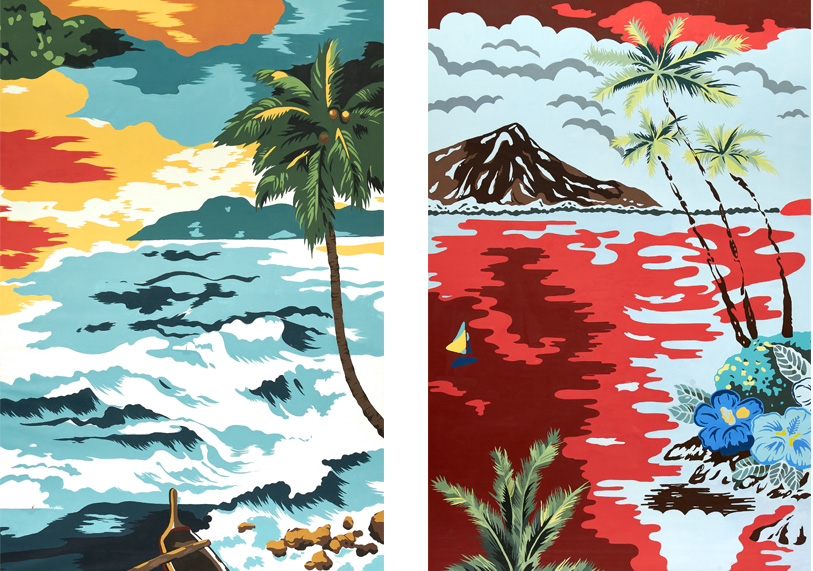 Exploring (Contemporary) Popular Culture
This young artist grew up in a family of occasional art collectors, so he was able to learn about the art history which is apparent in his practice saturated with referentiality; the majority of his works are embedded in strategies typical for Pop and Conceptual art, as well as the 1980s appropriation movement. By subtly embracing pop culture imagery, Patterson creates painting-based mixed media works which can be interpreted as a cynical commentary of everyday routines framed by the lack of time and focus.
The exhibition titled Planes & Mountains features a selection of tropical landscapes centered on the idyllic image of a sunset. Somewhere in between abstraction and realism, Patterson places his visions which are transcending the representation of nature becoming simplistic tools for projecting a utopic reality.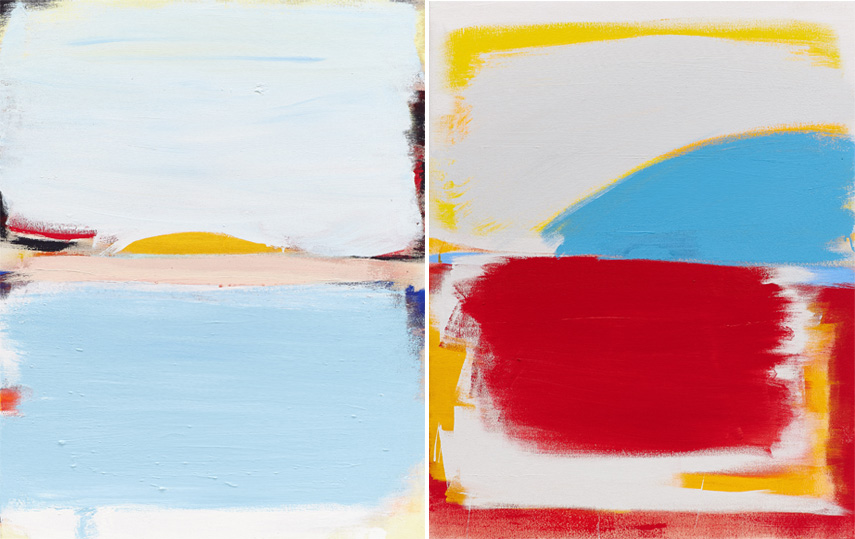 The Contemplative Imagery
The impression is that the paintings on display offer a sort of a narrative about the deconstruction of the sunset image. Namely, while Blood & Oxygen and Sailing are colorful, bright and offer a proper exotic illusion, the works such as You look like Clarke Kent and Atlanta de Cadenet are much more simplistic and abstract. The inspiration source for this series came directly from American popular culture and they reflect the social construction of the paradise myth which is indeed a dream of numerous families through the country.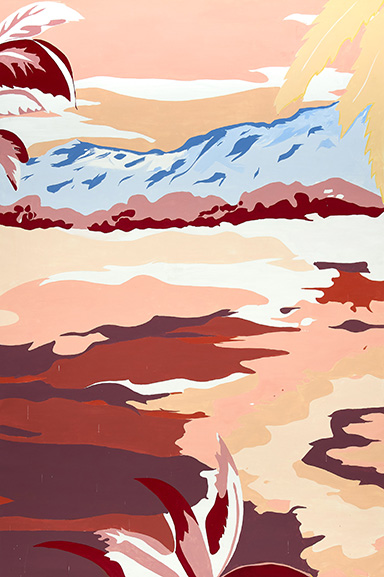 Grear Patterson at Galerie Lisa Kandlhofer
Patterson's works are questioning the meaning of leisure in contemporary terms, as well as loneliness, questions largely contaminated by social and political circumstances. Although the series are decontextualizing the mentioned imagery and are opening important subjects, they can be perceived as means for contemplation and comfort.
Planes & Mountains will be on display at Galerie Lisa Kandlhofer in Vienna from 6 March to 6 April 2019.
Featured image: Installation views; Grear Patterson - Sandlot, 2018. Oil on Canvas, 101 x 144 cm (40 x 57 in). All images are courtesy of the artist and Galerie Lisa Kandelhofer.