An American visual artist with a background in design, Greg Gossel has created an expressive universe which combines words, images and gestures. His multi-layered work is rooted in popular culture, exploring society's obsession with materialism and status symbols. Illustrating a history of change through a range of techniques, he simultaneously features and criticizes icons of pour culture.
His latest body of work will soon be on view at Vertical Gallery in Chicago, IL. In his third solo show with the gallery titled Labor of Love, the artist will present his new original mixed-media works on wood an paper.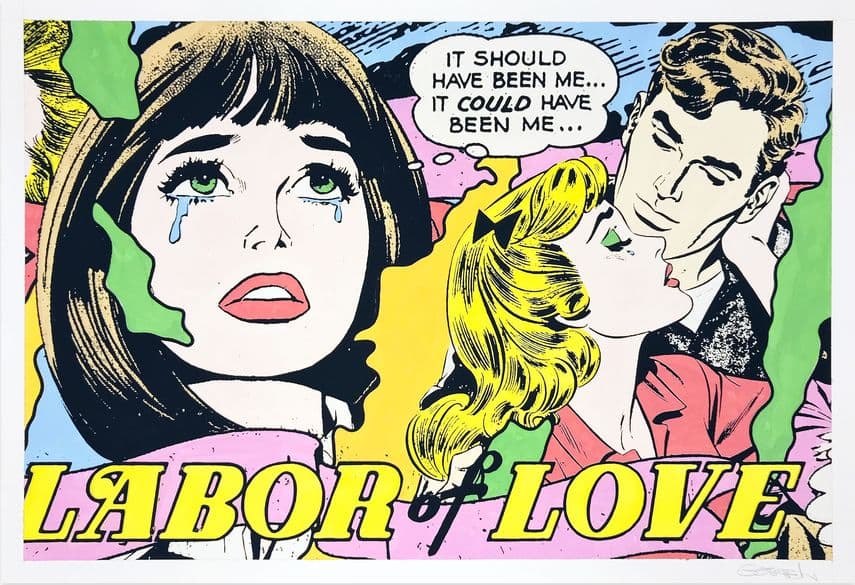 The Practice of Greg Gossel
The work of Greg Gossel has often been described as a mix between that of Shepard Fairey and Roy Lichtenstein. However, his visual language is rather unique, featuring a variety of pop culture subjects including pulp novels, politics, romance comics, and 20th-century icons.
His vibrant, heavily layered compositions feature pulp noir and silver age romance comics superimposed over a range of different surfaces. Characterized by a rich depth and visual potential, his assemblages show an ambiguous relationship with popular culture and its products and icons.
Greg Gossel has been working with a wide range of commercial clients, including Levi's, American Express, Hyundai, Burton Snowboards, and Interscope Records; and has been published widely, including The San Francisco Chronicle and Juxtapoz Art & Culture Magazine.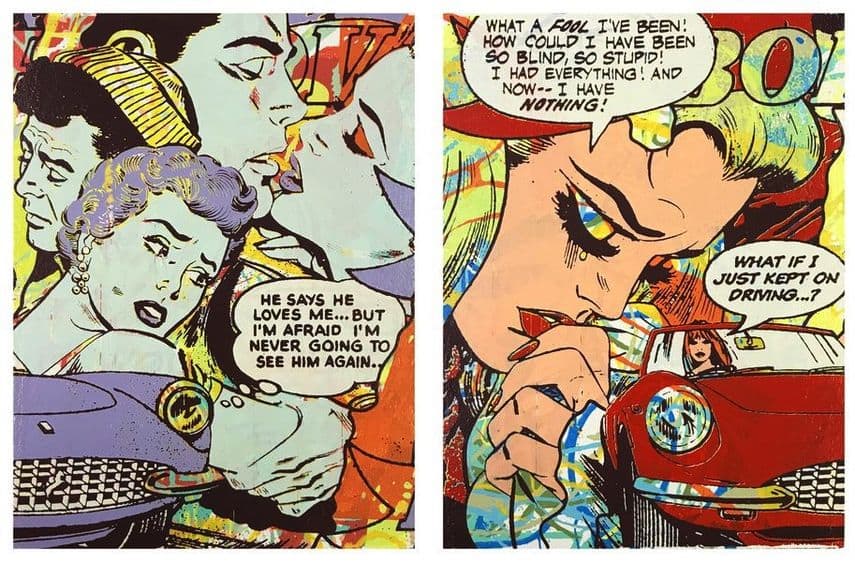 Labor of Love
With his new series, Greg Gossel continues to deconstruct and rebuild a vast universe of vintage comic book imagery. Through a dynamic series of 36 new works created in his signature mixed-media pop aesthetic, the artist explores the ups and downs of human relationships. Using a vibrant color palette, he created a densely layered comic narrative which underlines each of the pieces in the series.
Juxtaposing a range of comic characters, Gossel created layered compositions which offer a window into the ups and downs that make up human relationships in the context of the time we live in.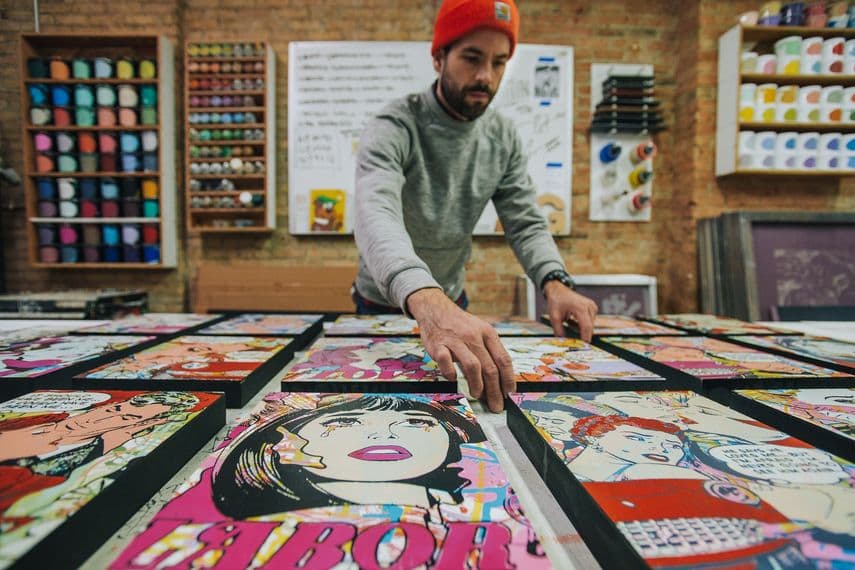 Greg Gossel Exhibition at Vertical Gallery
Since his last exhibition at Vertical Gallery, Gossel has been creating artwork and on-site installations for a number of high-profile professional sports venues including U.S. Bank Stadium in Minneapolis, Lambeau Field in Green Bay, Little Caesars Arena in Detroit, and Fiserv Forum in Milwaukee.
The exhibition Labor of Love will be on view at Vertical Gallery in Chicago between November 3rd and 24th, 2018. The opening reception will take place on Saturday, November 3rd, from 6 to 9 p.m.
Featured image: Greg Gossel - Its Me He Loves Dusk, 2018. All images courtesy the artist and Vertical Gallery.