For the artistic movements of graffiti and street art, New York and Paris have always been two melting pots, places where it all started for their respective continents and which still dictate trends, styles, aesthetics. Many legendary artists came and continue to come from the two metropolises, and four of them are now a part of a group exhibition at ArtCan Gallery in Montpellier. However, rather than focusing on the historical pieces these creatives made over the course of history, the show will emphasize their recent works, as reflections on their timelessness, but also innovativeness. Here, New York Meets The French Touch through the pieces by Crash, LA II, Miss Tic and M-Chat.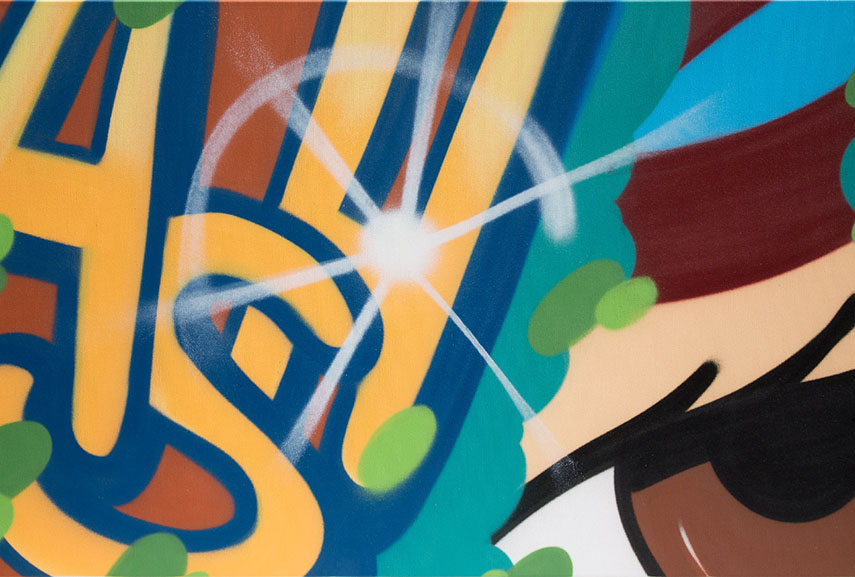 New York - Crash and LA II
One of the oldest painters in New York, Crash began his artistic career at the age of 13, when he followed older teens in his neighborhood of the Bronx to bomb train yards. His moniker, which was the result of an accidental computer crash, began appearing across town, and by 1980s, he established his name by curating the groundbreaking Graffiti Art Success For America exhibition at Gallery 98 Bowery. Today, he is still one of the most productive street artists out there, with exhibitions around the world. On the other hand, LA II forged a friendship with artist Keith Haring in the early 1980s, with whom he collaborated on a few pieces. This continued on to tag writing with thick contours as an homage to ancient Eastern calligraphy. LA II then partnered up with other artists of his time, like Warhol, Basquiat, Kenny Scharf, Richard Hambleton and Alexander Calder. Today, he holds free lectures for NYC students who wish to follow their dreams and keeps on exhibiting worldwide as well.
Paris - Miss Tic and M-Chat
Across the pond, in Paris, Miss Tic has been embellishing the streets of the city since 1985, through series of prints and stencils. Her subjects are "typical" women and incisive sentences, which talk of liberty, stereotypes and interpretations. Her entire artistic oeuvre rests on a subtle mix of lightness and graveness, unconcern and provocation. Her colleague M-Chat, also known as Monsieur Chat, is famous for his cat character, playful and invasive. "I am just a human who wants to express his humanity to other humans in unexpected places, and makes me a criminal. I may be a little naive, but I am persuaded that painting on a wall is not a punishable offense," says the artist.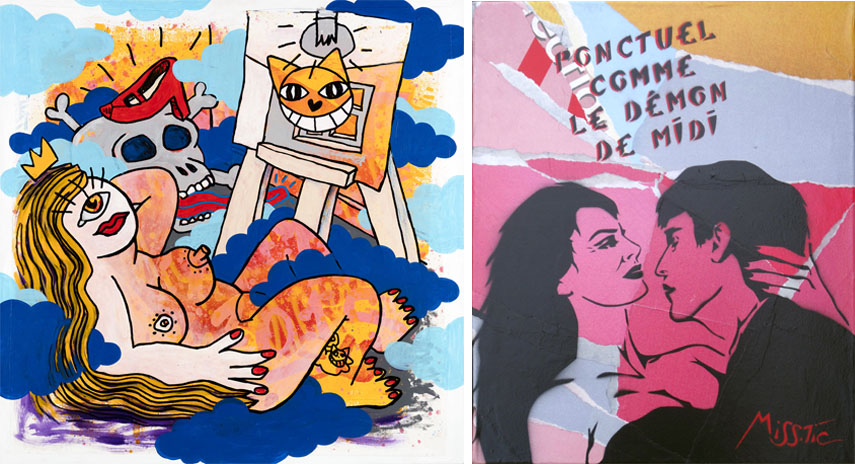 Urban Art Group Exhibition at ArtCan Gallery
The group exhibition New York Meets The French Touch opened at ArtCan Gallery in Montpellier, France, on April 27th, and will stay on view through 18th May, 2017. The show represents a unique chance to witness the rise and development of one of the most interesting art movements of the 20th and 21st century, which continues to attract artists, collectors and lovers around the planet.
Featured image: Crash - Till the crack of dawn, 2014. 122 x 92 cm. All images courtesy ArtCan Gallery.