An increasing number of contemporary artists is becoming concerned with concepts closely related to the artificial. We may find the reasons in the prevalence of robots and the digital that struck us recently, which consequently led to personification of the object, and a silent collective thought that humans are gradually becoming endangered as species. The notion of the artificial can be argued in many ways. But when it comes to any kind of convergence between the natural and the artificial, one thing is certain – that contact cannot pass without tension. Three artists agree on that, and these works represent their own perspectives on this subject.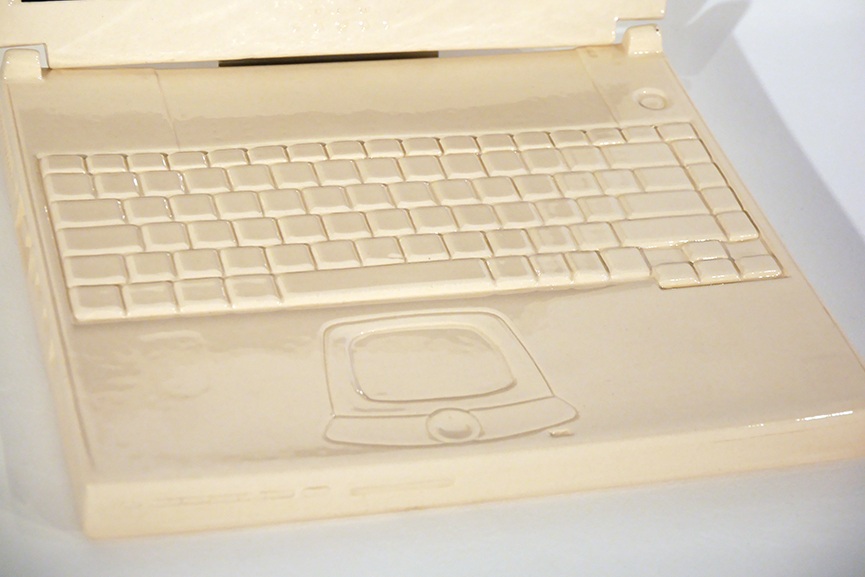 Ceramic Computers
Artificial entities can be subjected to various interpretations. An artist and a filmmaker, François Nouguiès, presents artificial objects in a peculiar manner, effacing their initial purpose. A computer is meant to be used as an interface, an object through which we get in touch with the rest of the world. What does a computer (the emblem of the artificial) mean to us, if it cannot be used? It certainly isn't a decoration. In Nouguies's work computers become subtle, ceramic sculptures, they resemble fragile totems, as if they had lives of their own, ignorant of their users. They seem to become subjects themselves.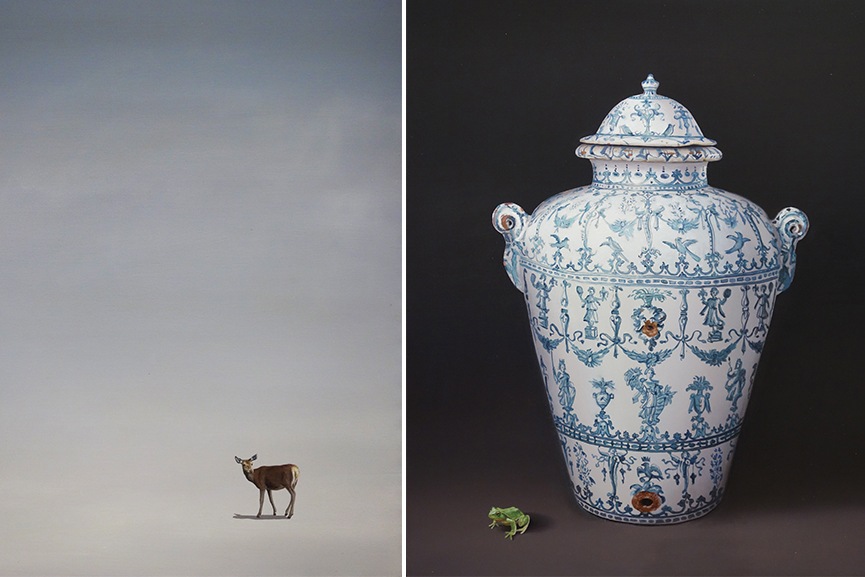 Tension between Scales
Spanish artist Lino Lago plays with scale, including animals and man-made objects. The animals, silent witnesses of what the biosphere has become, are put next to giant pottery. There is no story behind these images, and yet the paintings affect the spectator directly, inducing a feeling of compassion, and even guilty conscience. The strength of the unique relation between these protagonists lies in scale and proportion, which is strange and frightening at the same time, but also in the style in which these paintings are made. They could easily be mixed up with a commercial advertisement for porcelain. The empathy for animals becomes more intense the moment we realize that we could be the animal, and the pottery is what we have created.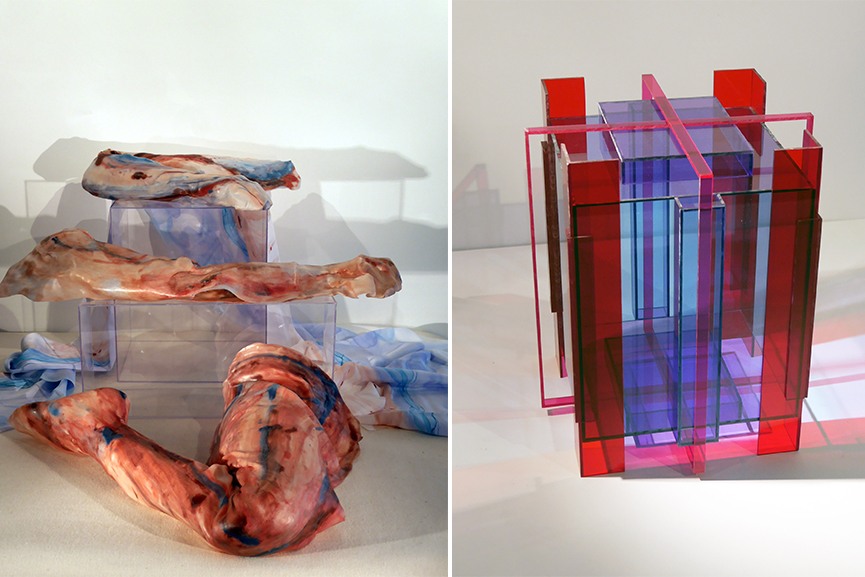 The Organic and the Orthogonal
The third artist, Sabrina Vitali, communicates through objects whose tactile qualities stand in clear contrast to each other. We have prototypes of human body parts on one hand, and the uncanny acrylic boxes on the other.  The boxes seem locked and almost unreachable, as if what they contain is of great value and maybe even incomprehensible. Still, there is nothing inside them. Human body parts are made of wax, paraffin and sugar, and they look almost edible. The tension between the "organic" body parts and the boxes made with inhuman precision causes slight discomfort. It could as well refer to the corporeality of flesh, and the immaterial quality of soul, but both completely artificial, otherworldly.
Tensions is on view from January 22nd through March 12th 2016, at Galerie Geraldine Banier.
Featured images: François Nouguiès - Vanité II, ceramic, holographic paper, 30 x 25 x 20cm; Lino Lago - Rhino (série Victima) 122 x 82cm; Sabrina Vitali - Module I, detail Arm, wax, parafin, human size. All images courtesy of the artists.