Founded in 2016 in Paris, the HAPPY GALLERY is an art publishing brand that offers artists the creation and production of editions in all media. Last year, the gallery opened their physical space in Pigalle, Paris, hosting innovative exhibitions alongside their publishing activity.
On the anniversary of the opening of their physical space, the gallery will host a group show titled Beyond the walls, bringing together works of 12 artists that highlight the diversity of contemporary and Urban Art.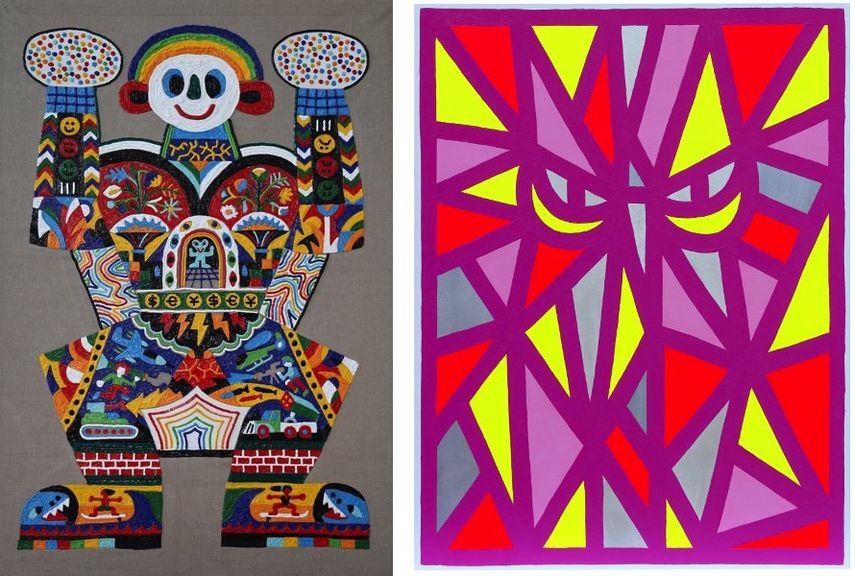 Participating Artists, Part I
An alias of Louis Lambert, 3TTMAN has developed a style combining the punk heritage of graffiti, its DIY philosophy, with strong influences of both vernacular, and popular religious art. His work blurs the boundary between art and craft. Adam Handler, an artist from Queens, New York, is renowned for his faux-naïf style in the tradition of 20th-century artists such as Paul Klee.
On the other hand, the Spanish artist Belin, is best known for large-scale portraits of distinct characters that feel realistic and caricature-like at the same time.
French illustrator, graphic designer and art director based in Paris, Clément Arnaud uses a large variety of techniques in his work, such as hand lettering, collage, and illustration, attaching great importance to handmade experimentation. Another French artist, Fenx reinterprets masterpieces of the Pop Art movement, infusing them with a certain urban energy and atmosphere.
A street artist from Barcelona, GR170 creates pieces with a distinct style and complex content.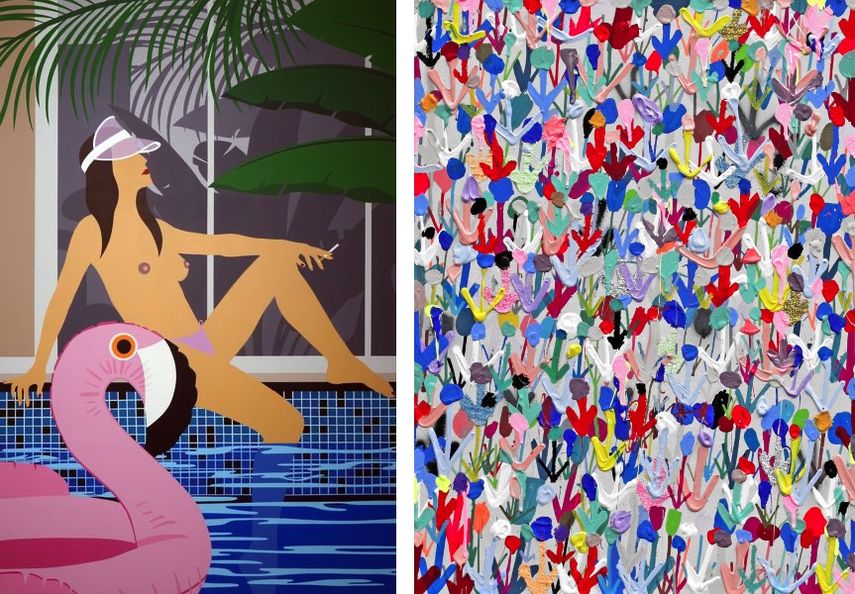 Participating Artists, Part II
A French artist and a member of Da Mental Vaporz, GRIS1 has developed a unique style characterized by a both elaborate and naive approach, with extremely colorful artworks that reference the history of urban contemporary art.
A plastic, visual and urban artist from France, Koralie draws inspiration from folkloric and traditional costumes, emblematic monuments, and animist rituals, translating them into graphic works characterized by organic geometry. Ludovilc Myers aka Ilk is known for eclecticism that includes illustrations, graffiti and graphic design.
A street artist from Sevastopol, Crimea, Pavel Rtue combines abstraction and figurative images, constructing expressive figurative compositions or fonts out of them. Ruben Sanchez, an artist coming from Spain, creates geometric graffiti work that explode with powerful colors and surrealistic imagery.
Finally, the Italian artist Solomostry creates works characterized by a fragmented line which models geometric expressive figures, revealing aggressive emotions.
The Group Show at COHLE GALLERY
This eclectic group show will provide an opportunity for discovery and rediscovery.
The exhibition Beyond the walls will be on view at COHLE GALLERY in Paris from September 24th through 27th, 2020. The vernissage will take place on Thursday, September 24th, from 3 to 10 p.m.
Featured image: Ludovilk Myers - Mini Flowers (detail). All images courtesy of Cohle Gallery.