The First Amendment Gallery will kick off the new exhibition season with a group show featuring work of twenty diverse artists.
Titled Sentimental Mood, the exhibition will present works by Adam Caldwell, Anika Chasuk, Apexer, Casey Gray, Christoper Martin, Daryll Pierce, David Choong Lee, David Marc Grant, Ernest Doty, Gina Contreras, John Casey, Kellen Chasuk, Lena Gustafson, Oliver Hawk, Peter Adamyan, Rich Jacobs, Robert Minervini, Marcos LaFarga, Sean Newport and Yetunde Olagbaju.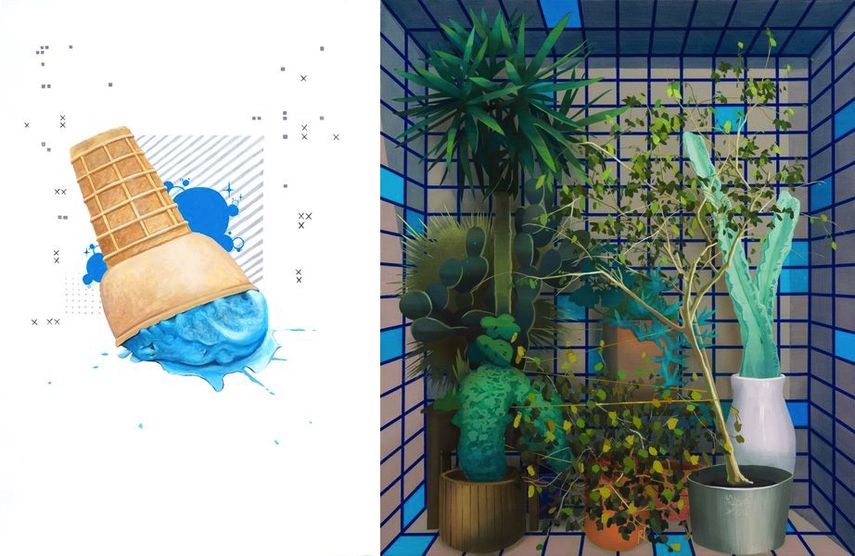 Adam Caldwell, Anika Chasuk, Apexer, Casey Gray, Christoper Martin, Daryll Pierce and David Choong Lee
While Adam Caldwell juxtaposes elements of Abstract Expressionism and classical figuration in his paintings and drawings, Anika Chasuk focuses on audio, signage and ceramic sculpture. The street artist Apexer creates colorful abstract patterns through the use of spray paint, while Casey Gray explores our relationship to common objects and symbols, and their ability to hold meaning, tell stories and create identity.
On the other hand, Christoper Martin creates tapestry pieces that display the experience of the African Diaspora, telling a surreal story of religion, slavery and freedom. While Daryll Peirce focuses on the outside examination of the self, especially the unknown metaphysical connective magic that binds us all together as living beings, the Korean artist David Choong Lee skillfully incorporates bold graphics with organic elements, creating kaleidoscopic dreamscapes and subjects.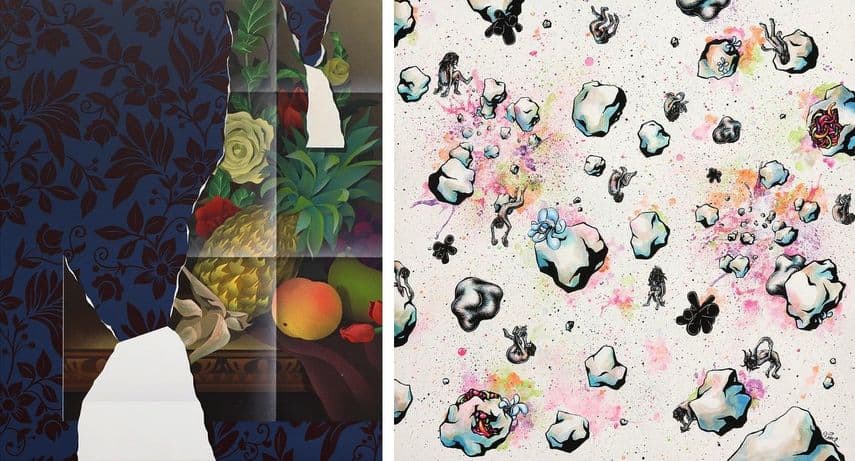 David Marc Grant, Ernest Doty, Gina Contreras, John Casey, Kellen Chasuk, Marcos LaFarga and Lena Gustafson
While David Marc Grant paints candy-colored dystopian landscapes, the muralist Ernest Doty often incorporates birds in his work as a representation of freedom and an ability to venture into the psychedelic realm. On the other hand, the painter and filmmaker Gina Contreras creates paintings that reflect on a night she had when something between crushing and bullshitting faded into layers of lonely slumber.
John Casey has been exploring open-ended narratives for the most part of his career, while Kellen Chasuk aims to untangle his ever-changing view of the world as he moves into adulthood through the representation of everyday thoughts, objects, and textures. While Lena Gustafson explores the female form through bright colors and repeated visual symbolism, Marcos LaFarga focuses his artistry on the intersection of three fundamentals of visual expression - graphic design, typography, and photorealistic renderings.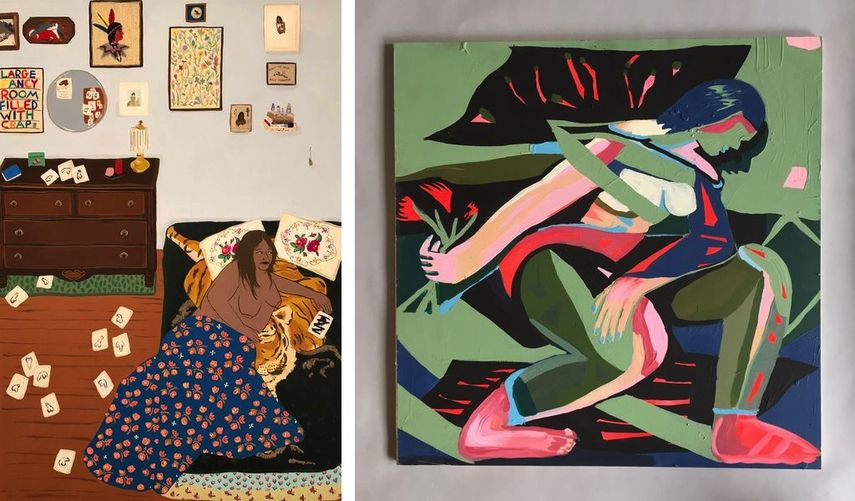 Oliver Hawk, Peter Adamyan, Rich Jacobs, Robert Minervini, Sean Newport and Yetunde Olagbaju
The Portland-based artist Oliver Hawk is fascinated by comedy's crude ability to address failure, always waiting for the inevitable truth to be exposed. On the other hand, being highly critical of religion, mass consumerism and the general darker side of human nature, Peter Adamyan uses pop culture imagery to comment on the contemporary society.
While Rich Jacobs creates colorful work inspired by graffiti, psychedelic and folk art, Robert Minervini examines spatial environments and notions of utopia in large-scale, multi-layered paintings, drawings, murals, and public artworks. Sean Newport creates wood sculptures that conceptually challenge the perceived notions of reality, and lastly, the multidisciplinary artist Yetunde Olagbaju concerns herself with time travel, space, source, vulnerability, ancestry, and the human relationship to the Blackness of the universe.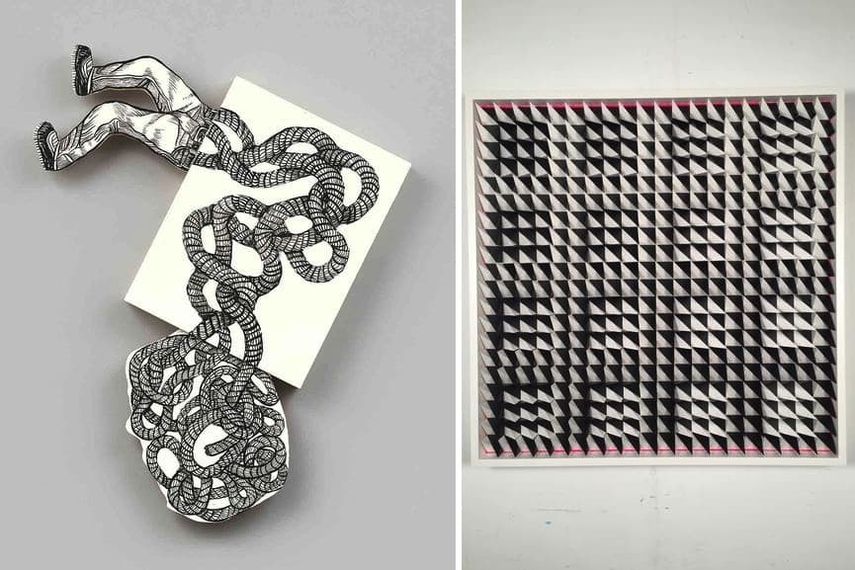 The Group Show at First Amendment Gallery
Showcasing local and international artists, with a focus on contemporary urban art, First Amendment Gallery strives to progress the Freedom of Speech through art and art education.
The exhibition Sentimental Mood will take place at the First Amendment Gallery in San Francisco from January 12th until February 9th, 2018. The opening reception will take place on Friday, January 12th from 10 p.m.
Featured images: Adam Caldwell - Procession #1; Adam Caldwell - Twilight; Anika Chasuk Artwork; Left: David Chong Lee / Right: Kellen Chasuk; Robert Burden - Animalism; Peter Adamyan - Chain Breaker. All images courtesy of First Amendment Gallery.