In the 1950s and 60s, the German philosopher Martin Heidegger turned to sculpture to examine the relationship between bodies and space, and generally the role of art in our lives. In collaboration with the Basque artist Eduardo Chillada, he published a seminal artist's book titled Art and Space in 1969.
This collaboration between Chillada and Heidegger is the point of departure for the exhibition at Guggenheim Museum Bilbao. Titled Art and Space, after the above-mentioned book, it will attempt to expand on key concepts that resulted from this creative partnership, such as place, the presence of things, the relationship between art and science, etc.
This ambitious show presents over one hundred works by leading international artists in order to offer a fresh reading of abstraction over the course of the last six decades.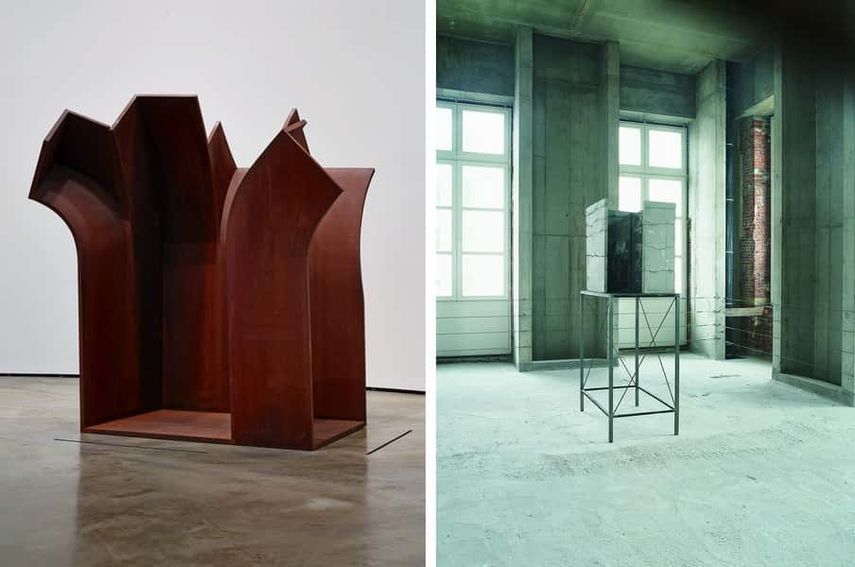 Exploring the Dialogue Between Spaces and Volumes
Taking Heidegger's observations as a point of departure, the exhibition at Guggenheim Bilbao showcases the various ways in which the work of art effects a "domination of space" and "space reigns throughout the work of art".
With these ideas as starting premises, the exhibition aims to examine the dialogue between spaces and volumes, as well as between visual creation and philosophical thought.
As part of the Guggenheim Museum Bilbao's special year-long program to mark its 20th anniversary, the show will also pay homage to the endless capacity of Frank Gehry's museum to establish a dialogue between its breathtaking spaces and artworks it holds.
Art and Space features works from the Guggenheim Museum Bilbao Collection, as well as from other Guggenheim museums and major international collections.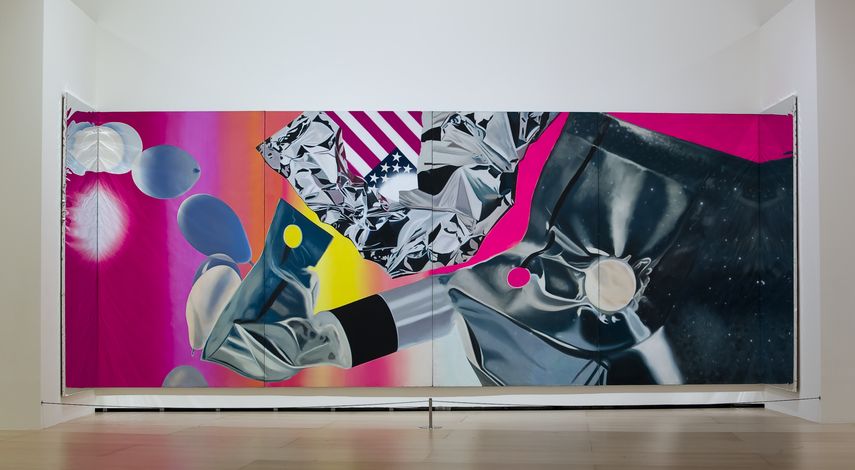 Exhibition Highlights
Art and Space is exhibited across several galleries in the museum, with each section having a different conceptual focus.
Featuring seminal works by Eduardo Chillida and Jorge Oteiza, as well as Italo Calvino's Cosmicomics from 1965, Georges Pérec's Species of Spaces from 1974, and pieces from Naum Gabo and Sue Fuller, among others, the exposition at Gallery 205 explores the artistic recognizing and questioning of space as an entity.
The Gallery 207 features works by Ángela de la Cruz, Jean-Luc Moulène, Alyson Shotz, Pierre Huyghe and Asier Mendizabal, among others, exploring how artists dealt with various mutations of the concept of space and the world of objects over the decades.
Exploring the concept of empty space, especially the doctrine of atomism, the Gallery 209 brings together works by artists such as Nina Canell, María Elena González, Julie Mehretu, Rivane Neuenschwander and Cao Guimarães, Damián Ortega, or James Rosenquist.
The Gallery 202 demonstrates the idea of motion and travel, showcasing works by the visionary Robert Smithson, two opposing pieces by Olafur Eliasson, a video work A Study of Relationships between Inner and Outer Space by David Lameas, and a steel and water sculpture by Nobuo Sekine. The piece White Bubble by Ernesto Neto will be available to the public for the first time in this exhibition.
Exploring impossible places, Gallery 203 contains works by Cristina Iglesias, Richard Long, and Lee Ufan, among others; Gallery 208 will examine the idea of a closed and limited space through pieces by Bruce Nauman, Robert Motherwell, Sol LeWitt and Peter Halley, among others; while Galleries 201 and 204, Atrium and Grounds will find more works by Eduardo Chillida, different components of Sergio Prego's Sequence of Dihedrals from 2007, as well as the complete version of Agoramaquia by Asier Mendizabal.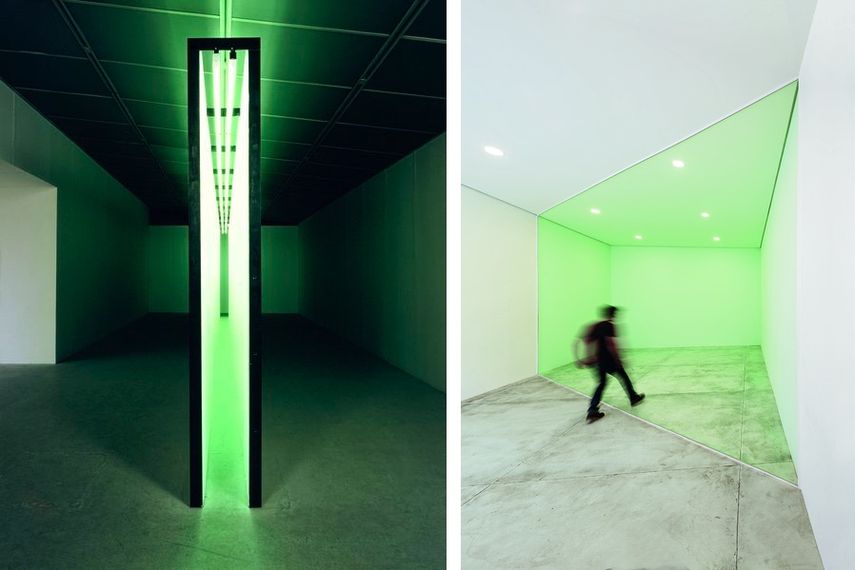 Art and Space at Guggenheim Museum Bilbao
A celebration of place and architecture through art, this show is a unique opportunity to explore the interaction between spaces and volumes and between visual creation and philosophical thought.
The exhibition Art and Space is on view at Guggenheim Museum Bilbao until April 15th, 2018.
It is accompanied by a profusely illustrated catalogue with texts and documents contributed by artists Peter Halley, Marcius Galan, Agnieszka Kurant, Asier Mendizabal, Bruce Nauman, Damián Ortega, Sergio Prego, Alyson Shotz, Lee Ufan, and Zarina, as well as the philosopher and writer Sara Nadal-Melsió and the show's curator, Manuel Cirauqui. The show will also be accompanied by a variety of educational programs.
Featured images: Damián Ortega - Cosmic Thing, 2002. Volkswagen Beetle '89, metal wires, threaded bars, plexiglass. Exhibition copy, Dimensions variable; Courtesy of the artist and kurimanzutto, Mexico City. Col. MOCA, Los Angeles, purchased with funds provided by Eugenio López and the Jumex Fund for Contemporary Latin; Eduardo Chillida / Martin Heidegger
 - Art and Space (Die Kunst und der Raum), 1969. Artist's book, 215 x 155 mm; Familia Chillida Belzunce; Cristina Iglesias
 - Untitled (Alabaster Room) [Sin título (Habitación de alabastro)], 1993. Iron and alabaster, 3 parts. Total dimensions variable; Guggenheim Bilbao; Robert Gober
 - Drain, 1989. Pewter, lead, 7.2 x 10.9 x 10.9 cm; Collection S.M.A.K., Stedelijk Museum voor Actuele Kunst, Gante; Pierre Huyghe
 - Timekeeper, 2002. Site-specific wall installations, Dimensions variable; Adrastus Collection; Peter Halley - 
Isolation Confirmed (PHP 89-07), 1989. Acrylic, Day-Glo, and Roll-a-Tex on canvas, 229 x 255 cm; Fundación Aldo Rubino, Museo de Arte Contemporáneo de Buenos Aires; Jorge Oteiza - Study for the Emptying Sphere (Ensayo de desocupación de la esfera), 1958. Forged steel, 50 x 49 x 39 cm; Guggenheim Bilbao. All images courtesy of Guggenheim Museum Bilbao.