Precisely one hundred years ago, the art world lost two major figures who were boldly driving the European avant-garde creativity forward - Gustav Klimt and Egon Schiele. Good friends and colleagues who happened to pass away at nearly the same time, these painters left an undying mark on modern art, influencing generations of artists who followed their visual and conceptual norms.
Honoring the centenary of their deaths, the Museum of Fine Arts in Boston is to host a special exhibition of their drawings, rarely loaned artworks belonging to the collection held at the Albertina Museum in Vienna. This exhibition, titled Klimt and Schiele: Drawn, will have a goal of exploring the relationship between Gustav Klimt and Egon Schiele through their draftsmanship.
Katie Hanson, MFA's Assistant Curator, Paintings, Art of Europe, explains why the drawings of these two masters are so vital still so vital:
You feel the presence of these artists through the freshness and immediacy of their draftsmanship, the energy of which is still palpable even after a hundred years.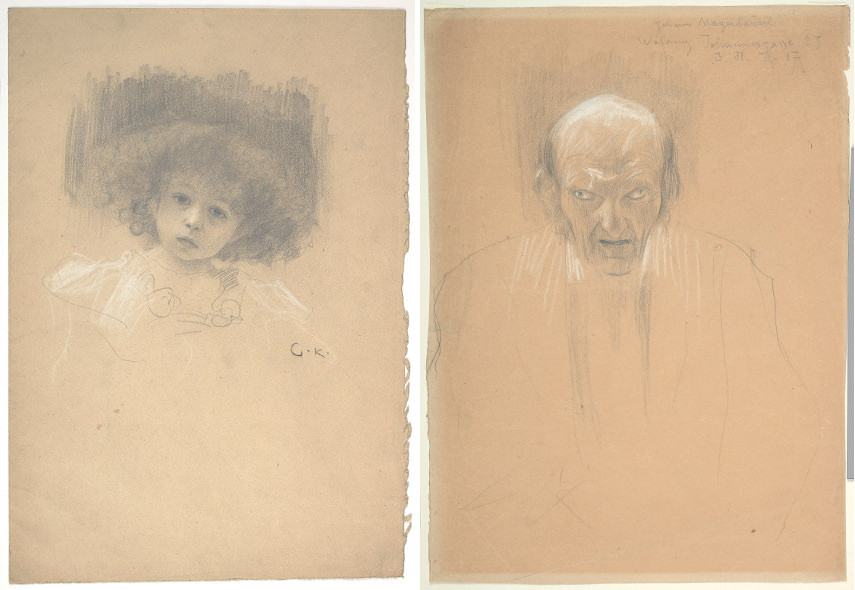 Egon Schiele, an Endlessly Talented Figure With a Controversial Biography
Using his signature graphic style, Egon Schiele embraced the figural distortion in a bold defiance of the contemporary conventional norms of beauty. Known for creating erotic and deeply psychological portraits, Egon Schiele was one of the leading figures of Austrian Expressionism. Egon Schiele often used color sparingly, instead opting to make his work identifiable by his characteristic sinuous black line.
Astoundingly prolific during his brief career, Egon Schiele's portraits and self-portraits seared explorations of the subjects' psyches and sexuality. Egon Schiele is also remembered for his controversial biography marked by scandal, notoriety and a tragically early death of influenza at the age of twenty-eight.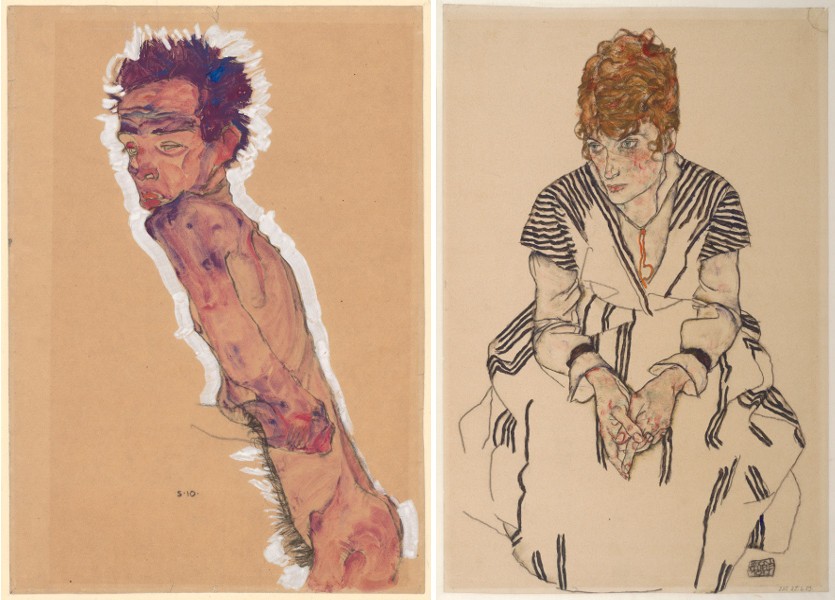 Gustav Klimt, A Master of Symbolic Paintings
Gustav Klimt was best known for his gilded portraits of women that epitomized the modernity of Vienna, a city that revered him as the most renowned artist of the era. Klimt is still remembered as one of the greatest decorative painters of the twentieth century who, over the course of his career, produced arguably the century's most significant body of erotic art.
As the co-founder and first president of the Vienna Secession, Gustav was in a position to develop his personal, eclectic and often fantastic style without interference. Despite many critics being unfond of the highly controversial subject matter of his work, Gustav Klimt turned out to be a widely influential artist whose pale nudes, allegorical gardens and erotic content served as the basis for many painters that came after him.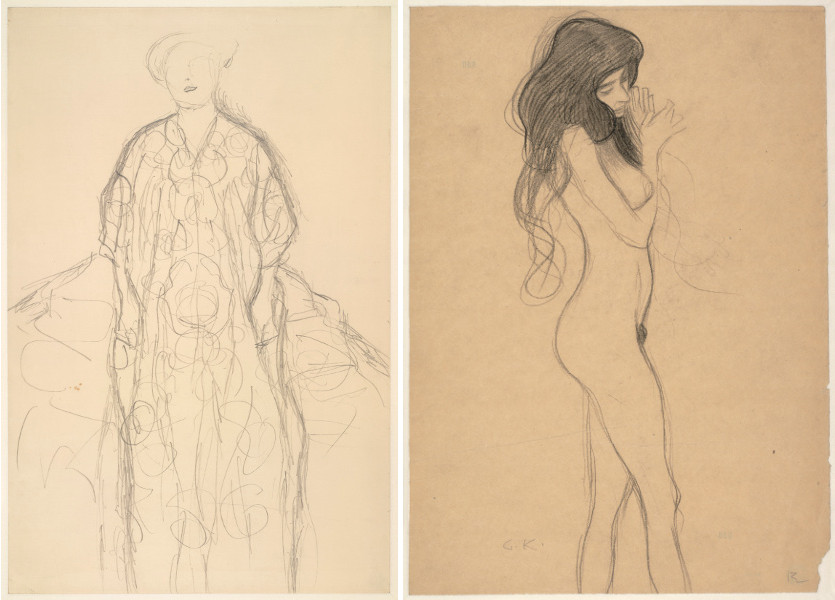 Comparing Their Visual Art and Overall Drawing / Painting Works
Although their work is decidedly different in both appearance and effect, Klimt and Egon Schiele shared a mutual admiration for each other's talent. This mutual appreciation was not even threatened by the fact the two were thirty years apart in age, which is certainly a significant gap.
Klimt's drawings were often delicate and used as preparatory designs for future paintings, while Schiele considered his own bold drawings to be independent pictures, much like a painting is. Yet, a strong case can be made that the drawings Klimt and Schiele produced had a lot of common creative ground - both of them relied on frank naturalism and unsettling emotion that allowed them to challenge conventions and expectations the art world took for granted when it came to portraiture and nudes.
Klimt and Schiele: Drawn Works
The upcoming Klimt and Schiele: Drawn exhibition at MFA will underline both the differences and the similarities between the drawings of the two painters. The show will primarily focus on their provocative depictions of the human body. It will be organized thematically, placing the selection of 60 drawings in a way that perfectly illustrates both Klimt's and Schiele's complete artistic developments, from the academic origins to artistic shifts, all the way to their creative maturity of unconventional explorations.
The exhibition will also concentrate on the hypnotic effects the artworks of these acclaimed Austrian modernists are known for, as explained by Katie Hanson:
Part of the satisfaction of being with Klimt's and Schiele's drawings is that they get under your skin—they're hard to forget once you've seen them.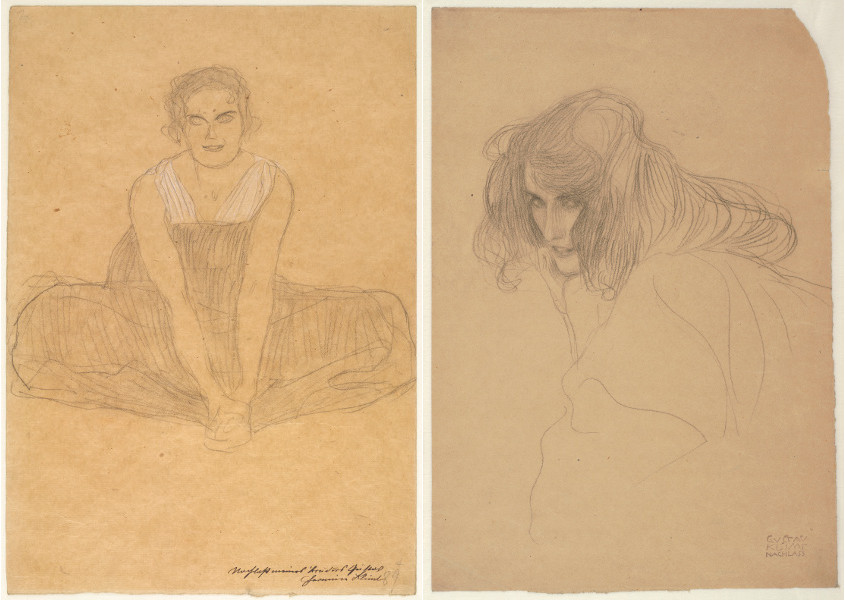 The Structure of the Show Presenting Drawings
The exhibition will emphasize the early works exemplifying the artistic training completed by both Klimt and Schiele. Such a beginning will underline Klimt's deft handling of the differentiation of textures, as well as reveal how Schiele's precocious talent established him as the youngest member of his class at the Akademie der Bildenden Künste. These examples of the artists' early draftsmanship showcase the beautiful shading and modeling both Klimt and Schiele mastered early on in their careers.
After establishing the initial circumstances of their training, Klimt and Schiele: Drawn will quickly shift its attention towards the time the two artists drifted apart from academically grounded works. In addition to visible features, their art also started to demonstrate a change in terms of tension and energy - their treatments of subjects became less conventional and conservative, a characteristic that led both of them to start examining the inner workings and urges of humanity.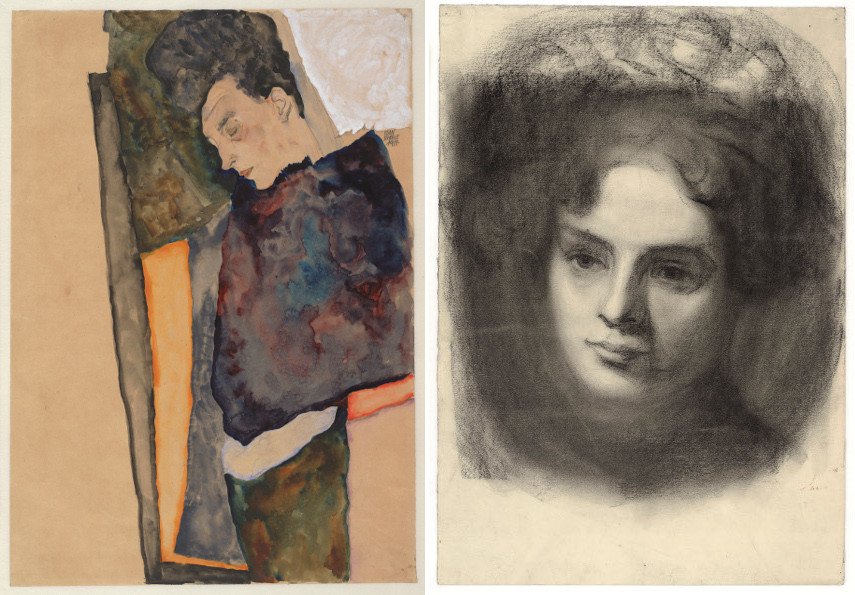 The Art of the Nude
Klimt and Schiele: Drawn will, of course, place special emphasis on Klimt and Schiele's depictions of nudes. Nudes were, perhaps, the kind of artwork that best demonstrate how the two painters tackled the human experience and inner urges of those they portrayed - despite the twinge of voyeuristic unease that they may stir, these drawings of nudes are borderline magical.
With obviously unidealized bodies, the nudes Klimt and Schiele drew were often shrouded in mystery by hiding any apparent giveaways that would reveal what the subject might be doing within the composition. This mysterious way of establishing narratives is furthered by the fact neither of the two artists gave explanatory titles to their drawings.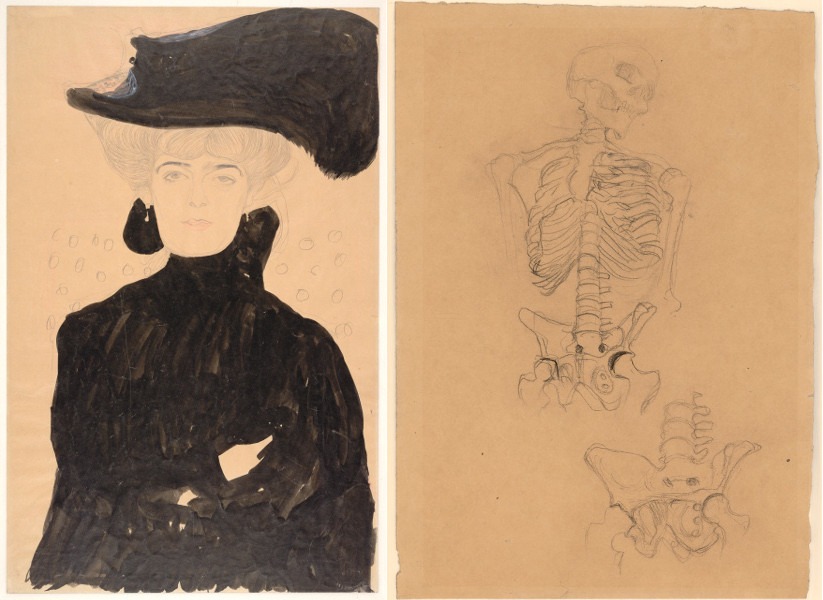 Gustav Klimt and Egon Schiele Drawings at Museum of Fine Arts in Boston
Despite their successes and supporters, Klimt and Schiele were no strangers to controversy - both of them made art and lived a life that flouted conventional expectations. If they buckled under the pressure to fit in, however, there's a very strong probability that their oeuvres would not reach the creative heights they did if this was the case.
Klimt and Schiele: Drawn will be taking place between the 25th of February and the 28th of May 2018 at the Lois B. and Michael K. Torf Gallery at the Museum of Fine Arts in Boston, Massachusetts, US.
Featured image: Egon Schiele - Old Houses in Český Krumlov, 1914. All images courtesy of Museum of Fine Arts, Boston.