The story of Han van Meegeren may be justly considered the most dramatic art scam of the twentieth century. In 1937, Abraham Bredius, one of the most authoritative art historians who had dedicated a great part of his life to the study of Vermeer, came upon a painting that he described as "a hitherto unknown painting by a great master." He wrote:
Neither the beautiful signature . . . nor the pointillés on the bread which Christ is blessing, is necessary to convince us that we have here—I am inclined to say—the masterpiece of Johannes Vermeer of Delft . . . quite different from all his other paintings and yet every inch a Vermeer.
In reality, the painting was a fake by Van Meegeren, a mediocre Dutch artist who had lived and worked in relative obscurity. If it hasn't been for a knock on the door in 1945 Amsterdam, Van Meegeren might have been forgotten.
The latest feature film, The Last Vermeer, tells the true story of a late "Vermeer" painted in 1942 by this notorious art forger. Featuring Guy Pearce as Van Meegeren, the film focuses in part on the knock-off that the forger is most famous for - Christ and the Woman Taken in Adultery.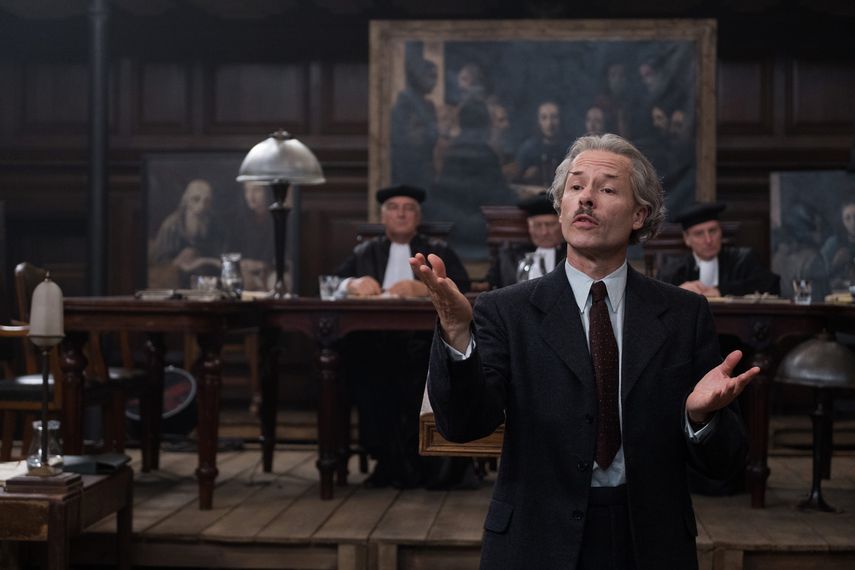 Becoming a Forger
While still very young, Han van Meegeren developed an enthusiasm for the paintings of the Dutch Golden Age, setting out to become an artist. In high school, he was mentored by teacher and painter Bartus Korteling who had been inspired by Johannes Vermeer, showing van Meegeren how Vermeer had manufactured and mixed his colors. As Korteling had openly rejected modern trends as decadent, degenerate art, this has probably led van Meegeren to continue painting exclusively in the style of the Dutch Golden Age.
During his artist career, he acquired a name for himself as a talented portraitist, being commissioned by English and American socialites who were impressed by his understanding of the 17th-century techniques of the Dutch masters. He also made legitimate copies such as Laughing Cavalier and Happy Smoker, both in the style of Frans Hals.
However, Dutch art critics, who were more interested in Cubism, Surrealism, and other modern movements, declared his work as tired and derivative. It was said that his gift was a mere imitation and that his talent was limited outside of copying other artists' work. He was described by one critic as "a gifted technician who has made a sort of composite facsimile of the Renaissance school, he has every virtue except originality."
After raging against these reviews in art magazines, van Meegeren lost any sympathy from the critics in the process. He felt that his genius had been misjudged and that they had destroyed his career.
Being resigned and bitter, it was then that he decided to prove his talent by forging paintings by famous Dutch artists, including Frans Hals, Pieter de Hooch, Gerard ter Borch and Johannes Vermeer.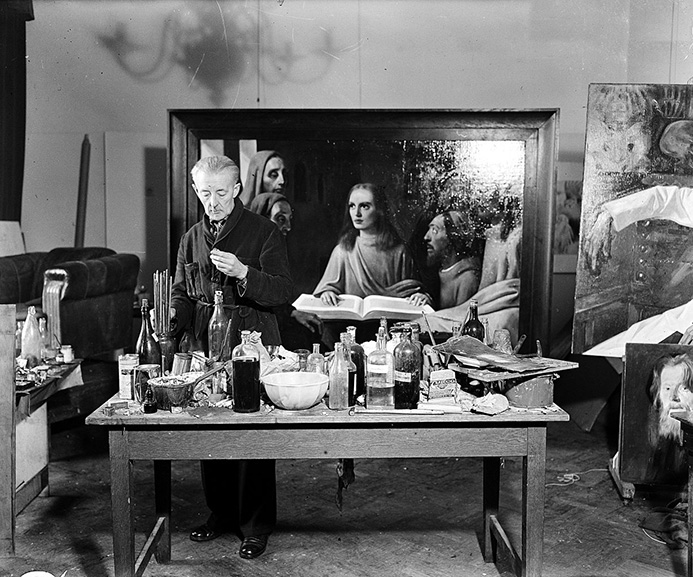 Han van Meegeren - a National Hero?
Working from a rented mansion in the village of Roquebrune-Cap-Martin, Van Meegeren began buying authentic 17th century canvases and mixing his own paints from raw materials using old formulas, working with his own badger-hair paintbrushes similar to those that Vermeer was known to have used. He also developed a post-production process that would make the works look like they were 300 years old.
Among the first fake canvases he made were Lady Reading Music, after Vermeer's Woman in Blue Reading a Letter, Lady Playing Music, after Vermeer's Woman with a Lute near a Window, and The Supper at Emmaus, a work that has fooled the celebrated art historian Abraham Bredius. After Bredius' assessment, the work was sold to The Rembrandt Society and donated to the Museum Boijmans Van Beuningen in Rotterdam.
Moving back to the Netherlands before the beginning of the Second World War, Van Meegeren continued making his forgeries, many in the manner of Vermeer, earning considerable wealth in the process. Yet it was one painting that turned his luck around. In 1942, during the occupation of the Netherlands, his agents sold the fake Vermeer, Christ with the Adulteress to Nazi banker and art dealer Alois Miedl, who then traded it to Hermann Göring for 137 looted paintings. Until the end of the war, the work remained hidden in an Austrian salt mine, along with 6,750 other pieces of artwork looted by the Nazis.
After the Allied forces came upon the collection in 1945, they quickly traced its provenance back to Van Meegeren. He was arrested, charged with collaborating with the enemy and imprisoned. To avoid the death penalty for collaboration, Van Meegeren not only confessed that the work was a forgery by his own hand, but declared that, since he had traded it for 200 original Dutch paintings seized by Goering in the beginning of he war, he was, in fact, a national hero. During the incredible two-year trial, he explained that "spurred by the disappointment of receiving no acknowledgements from artists and critics....I determined to prove my worth as a painter by making a perfect seventeenth-century canvas."
His last forgery, Jesus Among the Doctors, was painted in the presence of reporters and court-appointed witnesses, using the materials and techniques he had employed for the other forgeries. He was found guilty of forgery and fraud, and sentenced to a minimal one year in prison, being released from prison in 1946. On November 26th, 1947, the last day to appeal the ruling, Van Meegeren suffered a heart attack and died in hospital.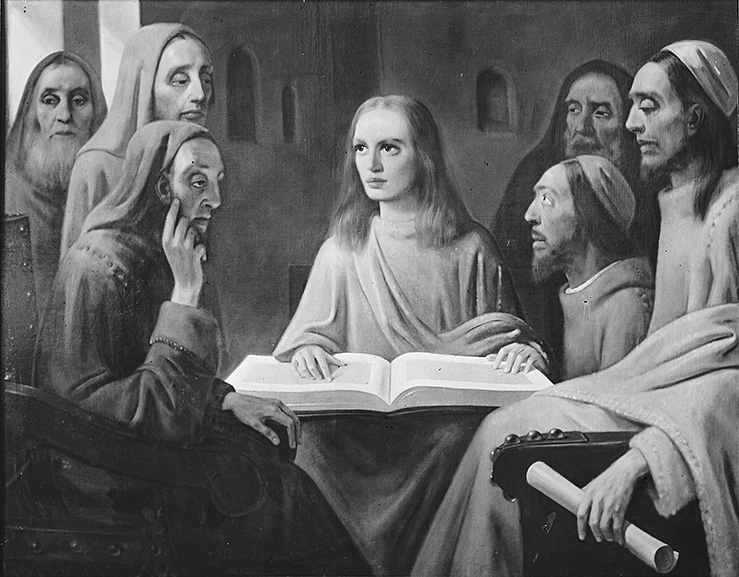 The Last Vermeer Movie
Directed by Dan Friedkin, the film The Last Vermeer (out November 20) now tells Van Meegeren's incredible story, focusing on the 1942 work Christ with the Adulteress. In the film, the production used 50 prop paintings, taking creative license with Vermeer's Biblical oeuvre, but also tweaking the forger's fraudulent works to make them more believable. Scenic painter James Gemmill, who painted Van Meegerens from photographs, expressed his disbelief that anyone would believe that these works would have been painted by Vermeer.
Today, there are at least two versions of Van Meegeren's infamous "last Vermeer". One is currently on view at the House of European History in Brussels, as part of an exhibition about the history of forgery and falsification, while the other is in the office of Dan Friedkin.
The Last Vermeer - Movie Trailer
Featured image: Guy Pearce as Han van Meegeren in THE LAST VERMEER. Photo by Jack English. Courtesy Sony Pictures.