"What would you dare to dream at night if you could sleep?"
Though one could easily imagine this quote in a Twin Peaks episode, it comes in fact from Flesh, Hanne Lippard's new performance currently presented at the KW Institute for Contemporary Art (to 9 April 2017, Berlin, Germany). Lippard, a Berlin-based Norwegian artist whose work uses the spoken word in performances, sound pieces and videos, has the uncanny ability to rearrange the most common words in intriguing and sharp formulas - just take a look at her Twitter account and you'll get what I mean.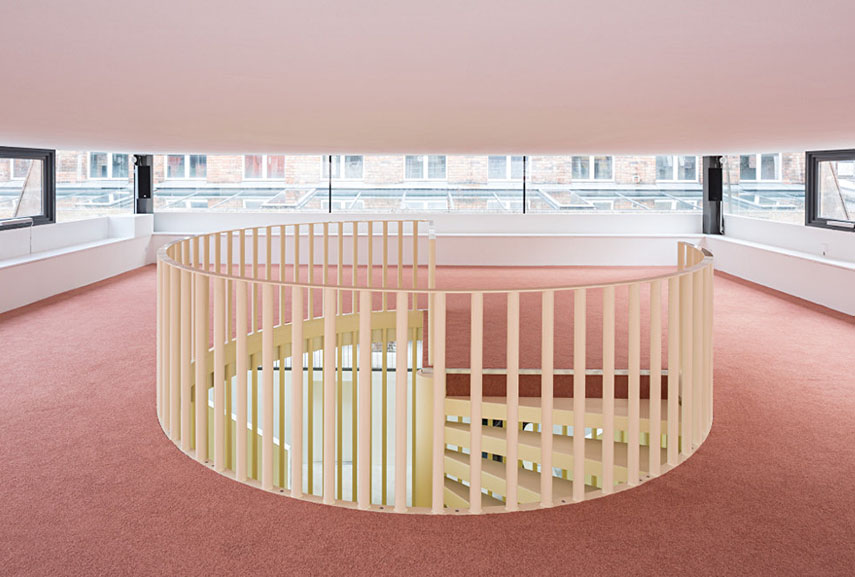 Hanne Lippard - Flesh
Flesh is part of the Institute's new exhibition program, which invites contemporary artists Hanne Lippard, Adam Pendleton, and Paul Elliman to respond to Ian Wilson's work through solo presentations. Revolving around abstraction and the spoken word, a large part of Wilson's work is not recorded and exists only as ephemeral oral conversations. Lippard's response includes a physical installation and a sound piece: in the ground floor of the Institute, a beige staircase leads the viewer into an awkwardly shaped room with pink carpet, a low ceiling and speakers from which the sound piece is emitted. In addition to referring to Wilson's works Circle on the Floor and Circle on the Wall (1968) by its winding form, the staircase also alludes to Plato's theory of forms, which states that one must elevate himself above the physical realities of life in order to accede to the most accurate representation of things.
Selecting a beige staircase is not an innocent choice for the artist who explored the cultural significance of the colour - also called "flesh colour" - and personal affinity with it in a video work soberly titled Beige. The sound piece emitted in the upstairs room creatively rearranges English words in a powerful performance that invites the viewer to consider everyday speech from a different perspective.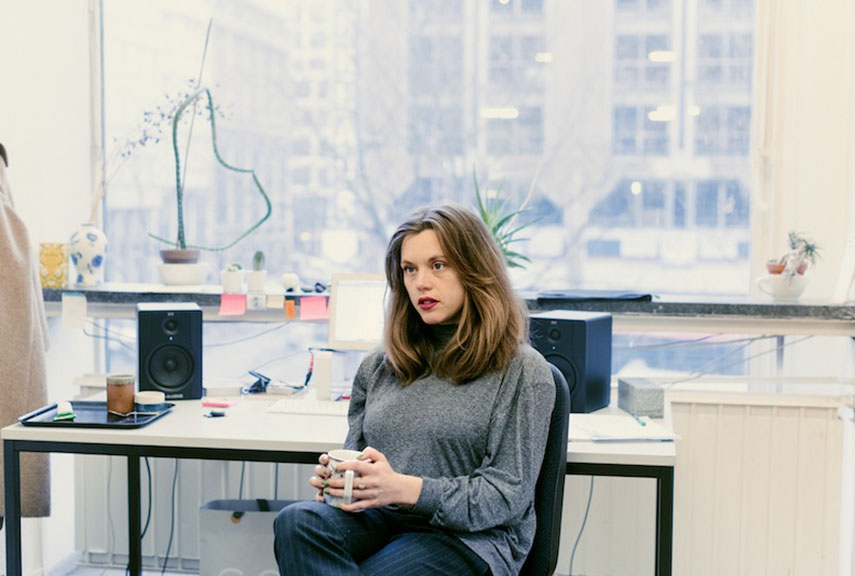 From Sound to Idea - "Fleshing Out" Everyday Words
Combining a robotic tone with a comforting human quality, Lippard's hypnotic voice couldn't be a better illustration of her definition of the voice as "being flesh without being physical". Alluding to the semiotics theories that defined the linguistic sign as the combination of both a conceptual and material entity and responding to Wilson's interest in the aesthetic potential of spoken language, Lippard arranges and combines words to emphasize particular sounds and challenge common word associations – for example when she turns the word "idea" into "disease" through successive repetitions. The pace of the spoken text lets enough time to the viewer to imagine or mentally respond to an idea but not enough time to get stuck in a particular mindscape. Also, far from relegating him to the position of passive listener, the numerous questions punctuating the text engage him on a personal level, as if the artist was a friend he was chatting to.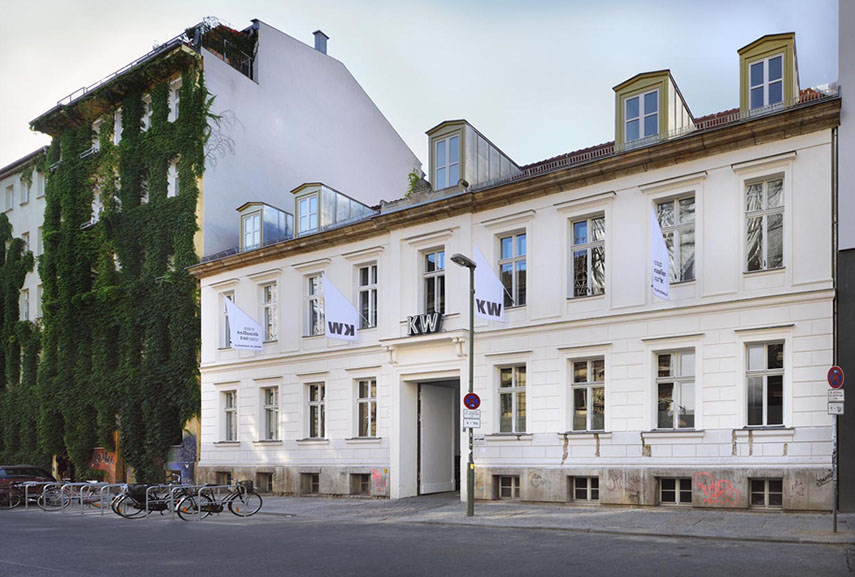 The Spoken Word in a 2.0 World
Reworking popular culture and mainstream discourse with creativity and humour, the artist's approach reminds culture-jamming practices. But while 20th century culture jamming artists were subverting street billboard ads, Lippard reworks texts found online to underline the fluidity of online and offline spaces in the post-internet age and show how online pop-ups ads and "How to" guides slip into our everyday discourse. For instance, at one point she asks "How to get rich in less than a day?" before enumerating a vast array of things that one can sell in a mischievous allusion to the numerous online ads slash scams promising instant fortune.
It's only when her voice stops and we are brought back to the Institute's space that we realize how powerful it is since it succeeded - just by itself - in embarking us on a surreal journey. Brilliantly responding to Wilson's exploration of oral communication, Lippard offers a fascinating piece that imaginatively reinvents language for a few minutes.
Written by Audrey Kadjar.
Featured image: Hanne Lippard, "Flesh," installation view at KW Institute for Contemporary Art, Berlin, 2017. Courtesy of the Artist and LambdaLambdaLambda, Prishtina. Photography by Frank Sperling.