Happiness is a feeling that we all strive for but it's not something that's easy to find. Happiness is individual and flickery and what can cause joy for some, can be a source of discontent for others. Some enjoy massive and flamboyant events while others have the taste for the little things in life. Some find happiness in lonesome walks in the park and others in the hug of a loved one. 19 Karen gallery in Gold Coast, aims to explore the concept of happiness in the upcoming group show that will bring together the works of local and international artists. Though they come from different backgrounds and various art genres, all participating artists have something that makes them happy and they are ready to share it with the world.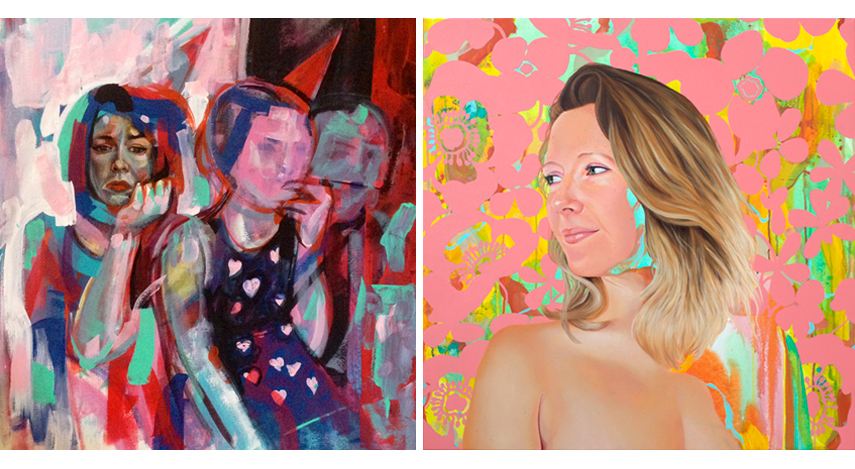 Exploring the many notions of Happiness at 19 Karen
Happy exhibition aims to create a positive vibe in a world that can often seem gloomy and dark. In an attempt to create a bright and sunny atmosphere, 19 Karen gallery will organize an exhibition of works by over 45 international artists that aim to answer one question - what makes people happy? All participants depicted places, objects and activities that makes them smile in their own unique style which is why Happy exhibition represents a unique mix of various art genres and subgenres.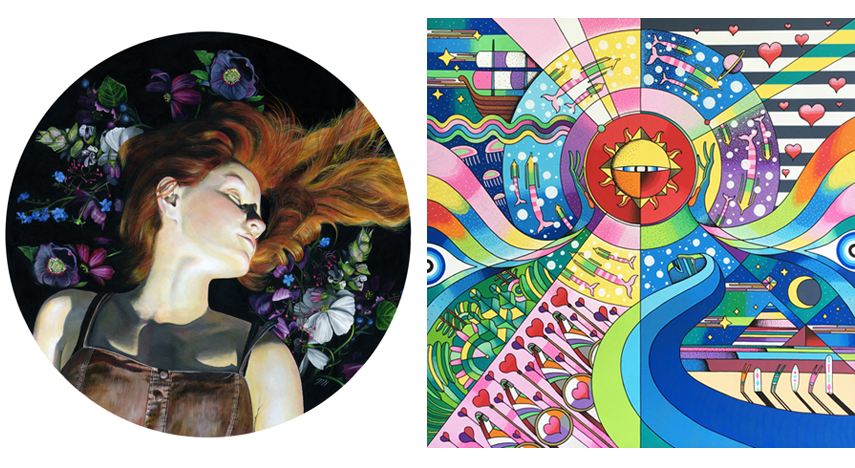 Cats and Dogs, and Hugs, and Daydreaming...
So what makes the participating artists happy? As it turns out, many different, usual and unusual things. Daydreaming makes self-taught artist Melissa Hartley joyful. The artist known for portraying poetic female heroines will present a realistic portrait of a girl blissfully lying in the grass. Artist and film fan Jason Bryant found happiness in the captivating smile of a movie heroine Rita Hayworth who he painted on Cover Girl (When Rita Smiles) art piece. For the artist, the painting has a dual meaning as it both depicts the joy he experiences when watching films, but also the dark side of fame that leaves the celebrity's private life exposed and to the mercy of the global audience. A very personal piece comes from the brush of a painter Tory Tinsley. Her artwork entitled Anticipating Hug is dedicated to her mom, who has a degenerative brain disease. "This painting is about my undying love for her as she slips away from me and into dementia." the artist stated about her work. Cat lovers will undoubtedly fall in love with Gretchen and Gretchen, a piece by Jessica Charlotte as it depicts two, almost identical cats shaking paws.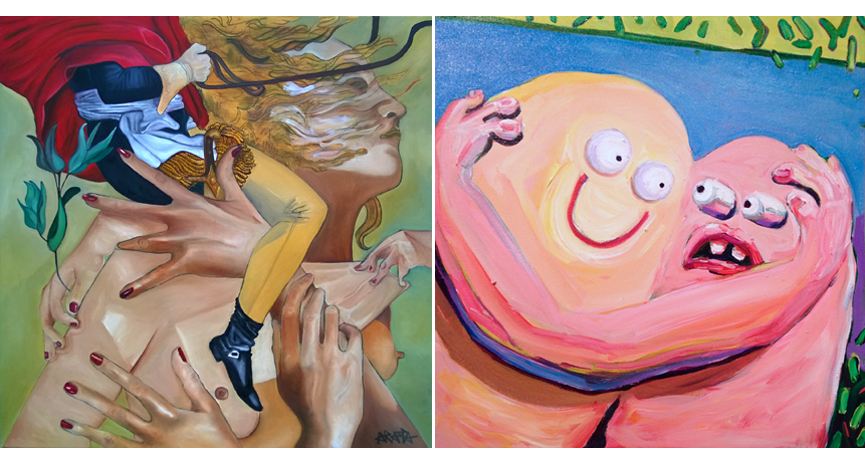 Have a Happy Friday 13th !
The Happy exhibition will be on view from Friday, May 13th until June 30th, 2016. In order to spread happiness outside the gallery walls, 19 Karen has decided to host the event at an exceptional venue at Sofitel Gold Coast Broadbeach. The exhibition will start with a stylish opening event scheduled for 6 pm and the visitors are asked to dress in bright colors. The opening date is chosen for a reason, considering that Friday 13th is believed to be unlucky by many cultures. But not this Friday 13th! So grab your sunniest outfit and head to Happy exhibition and you will definitely find something to smile about.
Featured images : Remy Uno - Happiness ; Left : Jessica Charlotte - Gretchen & Gretchen / Right : Jason Bryant - Cover Girl (When Rita Smiles) ; Mellissa Read - Devine Laugh ; Left : Marina Gonzalez Eme - Fighter II / Right : SKOUNT - Happiness a dreams game ; Indie184 - PARADISE ; Janine Daddo - Fly Through The Flowers; Left Troy Brooks - Bedlam Harvest Right Helen Oprey - HUG (FINAL), 2016 ; Left : ARIELKATZIR - Balance / Right : Ewa Pronczuk-Kuziak, Happy, 2016 ; All images courtesy of 19 Karen