Alongside color field painting and post-painterly abstraction, hard edge painting was introduced to the world of abstract art as a response to the gestural Abstract Expressionism. Aiming to go towards more precise aesthetics and clearly defined colors, the style was linked with a number of other artistic tendencies, and even entire movements. Although this type of art-making appears to be recurring throughout the history of the arts and in numerous cultures, it was given a proper name in 1959, when Los Angeles Times art critic Jules Langsner noticed its heavy reappearance in the abstract work of a group of Californian painters. In fact, hard edge painting is a term that came to describe a tendency applied in the artworks of different Modern and Contemporary artists across many movements.
Video Playlist - Hard Edge Painting
Redefining Beauty - The Characteristics of Hard Edge Painting
Contrary to the gestural nature of Abstract Expressionists like Willem de Kooning and Jackson Pollock, hard edge painters strived towards a more geometric art. Their forms are painted with bold, usually unvarying color and separated between them with solid, hard edges - hence the name of the style. The chromatic surface of the entire canvas becomes neat, precise and devoid of any incident, with each area being clearly defined and almost entirely impersonal. The style eventually led to a complete absence of brushstrokes and a strong dedication to sharp composition, which was to be single, unitary and bearing uniform hues. Instead of emotion or spirituality, hard edge painters incorporated formal elements like lines and shapes, focusing on their structure and the overall design of their artworks. As such, the style was related to other similar genres such as Op art, kinetic abstraction, geometric abstract art, ABC art, Cool art, non-gestural painting, non-relationalism, abstract mannerism, precisionism…
Essentially, abstract art in general stood to prove that artworks do not only have to depict the usual topics like people and nature, with a firm grip on reality and everything representational. When Abstract Expressionism introduced emotion as the sole drive of the artists, hard edge painters considered it simply "too emotional", too gestural. What their kind of abstraction strived to be is orderly, formal, classic, where all that matters was form, line, color and their own interaction. Because of these characteristics, hard-edge painting went to inspire Minimalism as well, a movement which relied on aesthetic formalism not just in painting, but also sculpting, installation, video art…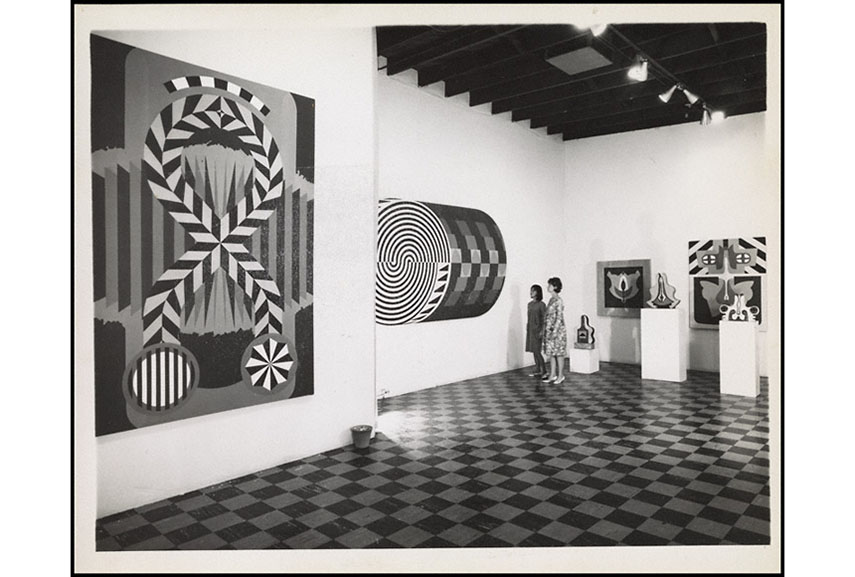 The Seminal Exhibitions
Although hard edge painting became widespread in the 1960s, it was mostly present in California, where artists like John McLaughlin, Lorser Feitelson, Karl Benjamin, Frederick Hammersley and Feitelson's wife Helen Lundeberg created both figurative and non-representational artwork. In 1959, the aforementioned Langsner curated the first exhibition of their pieces, shown at the Los Angeles County Museum of Art before traveling to England and Ireland. Also referred to as California Hard Edge, the show work was described as featuring "economy of form", "fullness of color" and "neatness of surface", gaining popularity in other corners of the United States and even in Europe. In 1964, Langsner introduced yet another exhibition of the style, this time adding artists like Larry Bell, John Coplans, June Harwood and Dorothy Waldman. Several decades later, Los Angeles continued to honor one of its most recognized tendencies in art, with exhibitions at Tocey C. Moss in 2000, Louis Stern Fine Arts and NOHO MODERN in 2003, the Otis Art Institute in 2004…
Below, take a look at the most famous examples of hard-edge painting in history.
 Editors' Tip: Colourfield Painting: Minimal, Cool, Hard Edge, Serial and PostPainterly Abstract Art of the Sixties to the Present
Colourfield, Minimal, Hard Edge and PostPainterly Abstract painting had a distinctly American (and New York) flavour to it, even if it was not produced in America or by US artists. In Bruce Glaser's "Questions to Andre and Judd", Donald Judd continually stressed the point that the new (Minimal) art was definitely American and non-European. Time and again Judd insisted that the new art was to trying to get away from the European tradition. 'It suits me fine if that's all down the drain', Judd said. 'I'm totally uninterested in European art and I think it's over with.' Many of the Colourfield and Sixties painters have made extremely brilliantly colourful works in the 1960s, then turned back to the sombre colours of grey and black in the late 1980s and 1990s. Fully illustrated, with notes and bibliography.
Kasimir Malevich - Black Square, 1915
The legendary Black Square and the star of the Suprematism movement, the artwork by Kazimir Malevich certainly represents one of the major examples of hard edge painting, even though it wasn't created during the highlight years of the style. Perhaps still the most talked about painting in the world, Black Square was described as the "zero point of painting", a piece that dismantled the technique and the meaning of art as we knew it. Its historical significance is highly relevant even today, and it was recently discovered it was painted over a more complex and colorful composition.
Featured image: Kasimir Malevich's Black Square at Tate Modern. Photo by Micha Theiner
Piet Mondrian - Composition with Yellow, Blue and Red, 1937-42
Eliminating curved line from his practice entirely, Piet Mondrian contributed to a new form of rigorous abstraction called Neo-Plasticism, also known as De Stijl. Without depicting a subject, the Dutch artist also limited himself to horizontal, vertical and above all straight lines, which would come to give boundaries to primary colors only. His globally famous compositions aimed to reflect a greater, universal truth beyond everyday appearance, and in a way they have influenced the practitioners of hard-edge painting as well - although the latter is a bit less strict.
Featured image: Piet Mondrian - Composition with Yellow, Blue and Red, 1937–42. Image via Wikipedia
Karl Benjamin - Black Pillars, 1957
Together with the works of the hard-edge painters of the original group of seven, Karl Benjamin's Black Pillars was also part of the traveling exhibition titled Birth of the Cool in 2008, organized by the Orange County Museum of Art. One of his signature artworks, it employs a curious color palette and unusual forms, although the uniformity of hues remains within what we're used to. According to the critics, the artist was doing nothing more than playing with opposing colors and forms to create a visually engaging picture. The result surely is dynamic and quite outstanding.
Featured image: Karl Benjamin - Black Pillars, 1957. Image via Wikipedia
John McLaughlin - Y-1957, 1957
John McLaughlin's Y-1957 is one of the earliest examples of hard-edge painting, created even before the term itself. He belonged to the California painters of the style, although he was perhaps the least famous of them. Yet, his control of color and composition was immediately recognized by curator Langsner, who exhibited his works at the first show dedicated to hard-edge works. McLaughlin's fascination with stripes and firm blocks of color continued afterwards as well.
Featured image: John McLaughlin - Y-1957, 1957. Image via radicalart.info
Ellsworth Kelly - Broadway 1958
In an homage of a kind to one of the most famous New York avenues, Ellsworth Kelly tricks us for a second into thinking we're looking at a Mark Rothko painting. Instead, it is a perfectly flat canvas covered in red, whose edges were cropped to imply perspective; the picture plane ends up suggesting flatness and three dimensions at the same time. Other works in the series in honor of the city are titled Wall after Wall Street and North River, another name for Hudson River.
Featured image: Ellsworth Kelly - Broadway 1958. Image via Wikiart
Frederick Hammersley - Opposing #15, 1959
In Opposing #15 by Frederick Hammersley, while the geometric forms seems to be in balance, the colors seem almost random, and are mainly primaries. For many hard-edge paintings, the relationship betweek color didn't matter, as long as they were individually rich and saturated, defined by clear lines and evoking flat surfaces. This artwork seems to be the perfect example of this theory.
Featured image: Frederick Hammersley - Opposing #15, 1959. Image via Wikiart
Ad Reinhardt - Abstract Painting, 1960-66
Between the years 1953 and 1967, Ad Reinhardt focused exclusively on his now signature black paintings, which could be described as quite inspired by the aforementioned Black Square by Malevich. What the artist wanted to achieve is, in his own words, " a free, unmanipulated, unmanipulatable, useless, unmarketable, irreducible, unphotographable, unreproducible, inexplicable icon". Needless to say that he certainly succeeded, making us question our own perception.
Featured image: Ad Reinhardt - Abstract Painting, 1960-66. Image via guggenheim.org
Kenneth Noland - Drought, 1962
Between 1958 and 1962, post-painterly abstraction artist Kenneth Noland executed a series of target paintings, characterized by their round shape and incisive colors. Through these works, Noland sought the effect of rotation, giving the work a sense of three-dimensionality as well, with a slight blur of the outer frame circle. Instead of intensifying the feelings, he chose to evoke visual impact of the piece, which he successfully managed.
Kenneth Noland - Drought, 1962. Image via Wikipedia
Frank Stella - Harran II, 1967
Coming from a man who gave life to simple paintings of black stripes separated by other strips of unpainted areas came the 1967 Harran II, which takes its name from the ancient city in Asia Minor. This Frank Stella artwork is a geometric wonder, defined by circular and curvilinear shapes and pairs of horizontal and vertical lines that intersect at the right angles, filled with almost psychedelic color. What this piece represents is a unity between abstraction and decorative pattern painting which shook the concepts of both traditions.
Featured image via guggenheim.org
Robert Irwin - Untitled, 1969
He was inspired by hard-edge painting to the point where he experimented and re-interpreted it within three-dimensional space. Robert Irwin and his 1969 Untitled piece from the disc series, play with perspective and light using the ideas of hard-edge, post-painterly abstraction and even color field painting, giving us an opportunity to interact with shapes, lines and form of the artwork itself in a brand new way.
Featured image: Robert Irwin - Untitled, 1969. Image via highlike.org. All images used for illustrative purposes only.