Most people would consider themselves lucky to pursue one thing they're passionate about in this life. Haroshi became infatuated with skateboarding in his early teens, and is still dedicated to the sport today. With no formal art training, Haroshi adapted the determined perseverance, freedom of expression and DIY ethos of skate culture, into creating works of art. He gives the old, thrown away skateboards a new life by turning them into three-dimensional sculpures. Incorporating every part of the board, this self-taught Japanese artist uses his vast knowledge of the sport to construct vibrantly colored and playful works.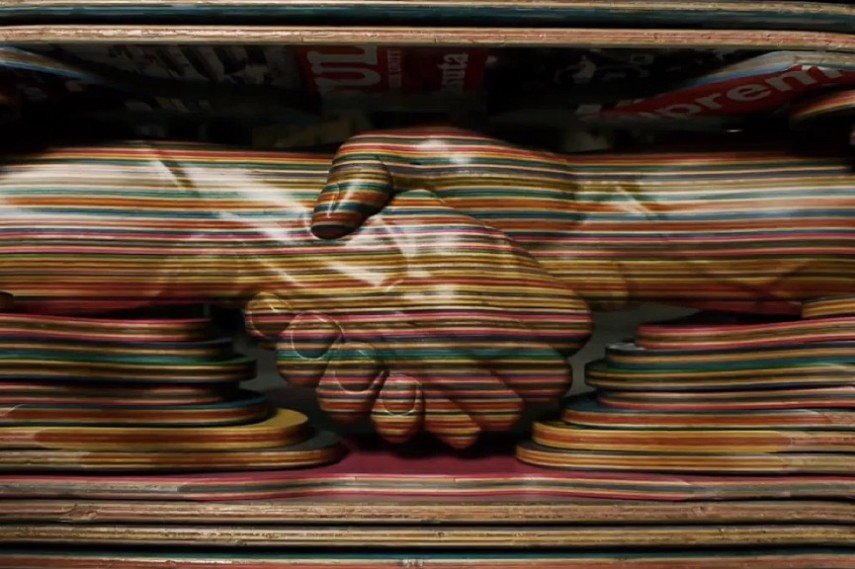 Still Pushing Despite the Odds
Two years after his last solo exibition, Haroshi's latest works will be on the display in the upcoming New York show. The exibition at Jonathan LeVine Gallery is insipred by what can be seen as a skeboarder's philosophy of life, which could also be applied on a grander scale: "Throughout their lifespan together the skater and his board get battered, but even so they get up again to face the obstacles in their path." In Still Pushing Despite the Odds, Haroshi incorporated artefacts of low-technology from the early to mid-1900s. Vintage items such as neon signs, dental tools and roller skates create a striking textural contrast when paired with the smooth silhouette of the skate decks.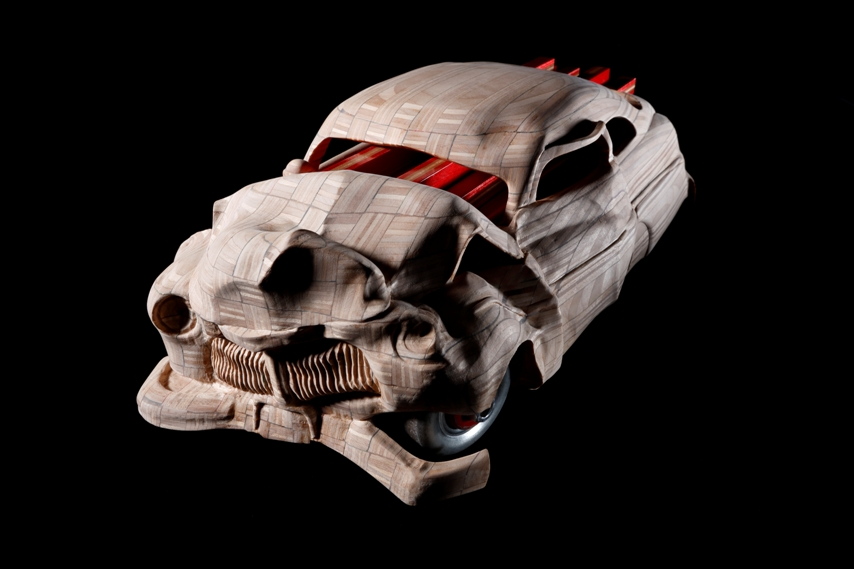 Turning Skateboards Into Sculptures with Soul
Haroshi creates three-dimensional wooden sculptures with recycled skateboards as his primary medium. To do so he first assembles a great number of old and used skateboards, dismantles them and glues the decks together. He stacks the decks of different colors one on top of the other in order to make a compact cube out of them. And then he starts to carve diferent shapes using chisels and Japanese carving instruments to meticulously hand-sculpt each form, using imagery from skateboard culture as inspiration. To see what it looks like click here.
A tedious process worthy of a dedicated buddist monk, and not by chance. Haroshi's technique is similar to the ancient Japanese tradition of building wooden Buddah statues. Same as the old Japanese master Unkai, Haroshi places an object from his collection of broken skateboards within the layers of decks. This hidden object represents the sculpture's soul.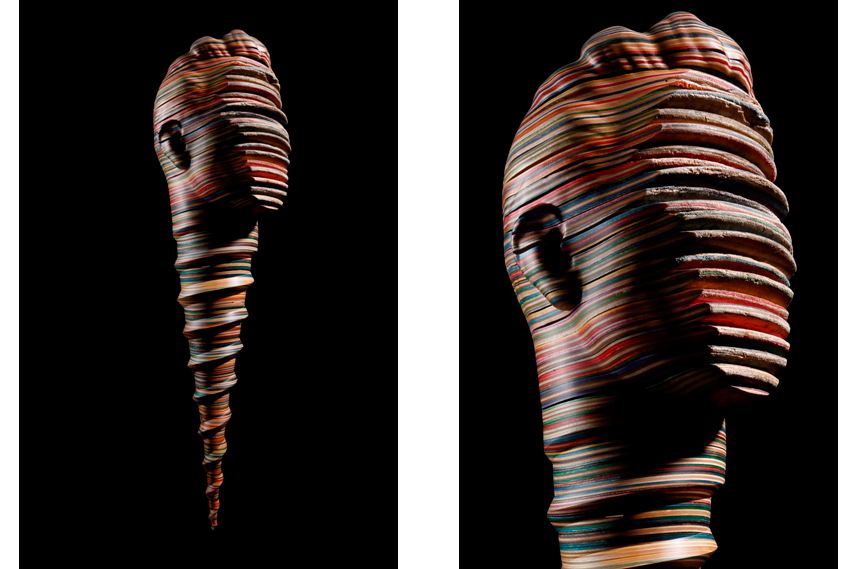 Haroshi in New York
Still Pushing Despite the Odds is Haroshi's third show at Jonathan LeVine Gallery. This was also the first gallery to organise a Haroshi show in New York in 2011., when he was commisioned to re-create a pair of SB Dunk sneakers made from decks used by several NIKE pro-skaters, that were featured at his Future Primitive exibition. Among the new works in his upcoming New York show is the charming, nostalgic wooden horse, reminiscent of a favourite childhood pastime, merry-go-round. Showing all the brilliance and amazing skill of Haroshi as artist, it also illustrates the exibition's title perfectly. Standing alone, with one of it's rear legs cracked, and the other cut an ragged it looks like it could still move. Despite the odds. Do not miss Haroshi in New York. The exibiotion at Jonathan LeVine Gallery is open from February 19th till March 21st 2015.
Make sure you stay informed about more exciting shows and artists by signing up for My Widewalls!