At 7 rue des Filles du Calvaire in Paris on view is a marvelous group show featuring a new generation of African portrait photographers. Hosted by 193 Gallery, Colors of Africa offers a vivid, refreshing overview of the continent's thriving photography scene. It gathers artists whose works delve into matters of identity and humanity while pushing the limits of the medium and offering a particular kind of aesthetics.
Perhaps the most notable name among them is Hassan Hajjaj, the Moroccan-born and Britain-based photographer with a quite a recognizable artistic style. For some twenty five years now, he has been creating vibrant visual narratives that fuse fashion, photography and Pop art, gaining him numerous fashion magazine spreads, exhibitions at acclaimed venues, and even his own clothing line.
But what's maybe not immediately clear from Hajjaj's images is they tend to break cultural stereotypes, and as someone with a "double background," he is in a perfect position to do so. A Londoner since 1973, spending his time between the capital and his native Morocco, where his roots are, gave him two distinct points of view on life, and how he could document it.
Has his approach to these stereotypes changed for Hajjaj over time? "Not much," he tells me in our phone interview. "Over the thirty years of taking pictures with different type of people from all over the world, it has become like a tribe. When I show the work, it starts to speak of itself. Nothing's really changed because there will always be stereotypes somewhere."
"When I put on a show, I try to have all types of people, but when you look at the work, you're not gonna see a country. You might see somebody that might look like somebody from Cuba and they could be Brazilian or Moroccan, or somebody Nigerian who might look Jamaican. My work breaks down the barrier and becomes a unity."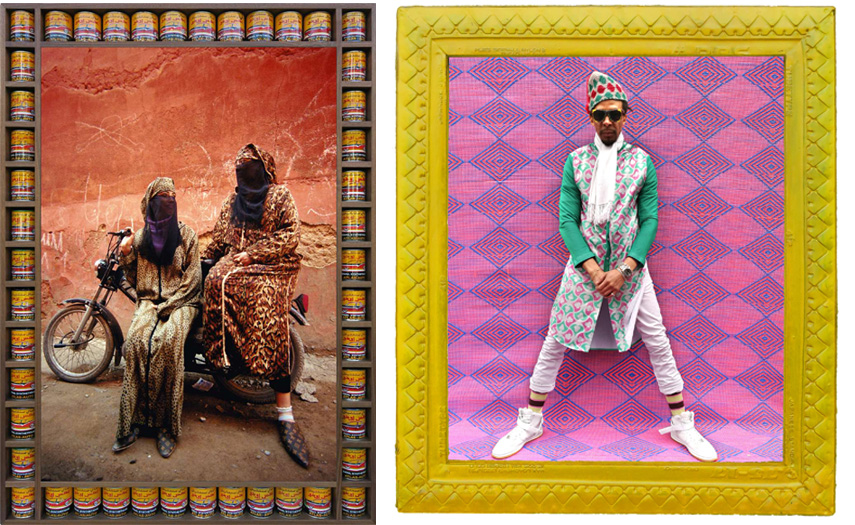 The Pop Photography of Hassan Hajjaj
Over time, the photographic work of Hassan Hajjaj has become stronger, both visually and conceptually. "I've been lucky to have met these friends of friends of friends [who] believe in what I'm doing," he says. From his most famous series, Kesh Angels or Gnawi Riders that feature women and men on bikes respectively, to his Vogue: the Arab Issue series styled like a fashion magazine spread, we've been witnessing complex compositions - because Hajjaj is thinking of everything himself, and that process can often be time-consuming.
"In my studios in London and Marrakesh I have lots of stuff, I'm always designing collection stuff, backdrops, props, I'm always making outfits. When I have a sitter, I'll work out what I should dress them up with first, I do a few options and make sure they feel comfortable. Once I know what they'll wear I'll work out a backdrop, to clash against what they're wearing. Once that's done, I'll try to find that perfect image to speak with, and then I'll work at the frame, and then work out the product. And so sometimes a piece of work can take months."
And the frames are a story of their own, and are as much a part of the artwork as the photograph within. Looking like shelves of canned products, they are partly an homage to the rich frames that used to be custom-made for paintings from the 1600s. This interested in Arabic products stems from Hajjaj's early work, titled Graffix From The Souk, which featured usually local and recognizable store items like Coca Cola printed on canvas. In the manner of the repetitive Zellige patterns found in Moroccan tiles, these cans come to surround Hajjaj's portraits, providing an additional visual value to the artwork as a whole.
Having had his own streetwear in London from 1984 to 1992, Hajjaj is quite familiar with the world of fashion. These days, he is also known for the Andy Wahloo Apparel, which he describes as "North African hip-hop streetwear." The title is a clever play on words, as it means "I have nothing" in Arabic, and it also recalls a nickname given to Hajjaj by a journalist - "the Andy Warhol of Marrakech."
So how does Hassan Hajjaj view his own work? As Pop art? Fashion photography? Documentary photography? "All of it, but I think the most important thing for me is documenting," he assures me. "If you look at [the work of] Malick Sidibé and all these masters, they captured their country, the society, the style as it was then. I'm the next generation who lives between two countries and I'm taking pictures of my friends who are on the same journey; it becomes a documentation of the journey of all these people who have been scattered around the world like myself."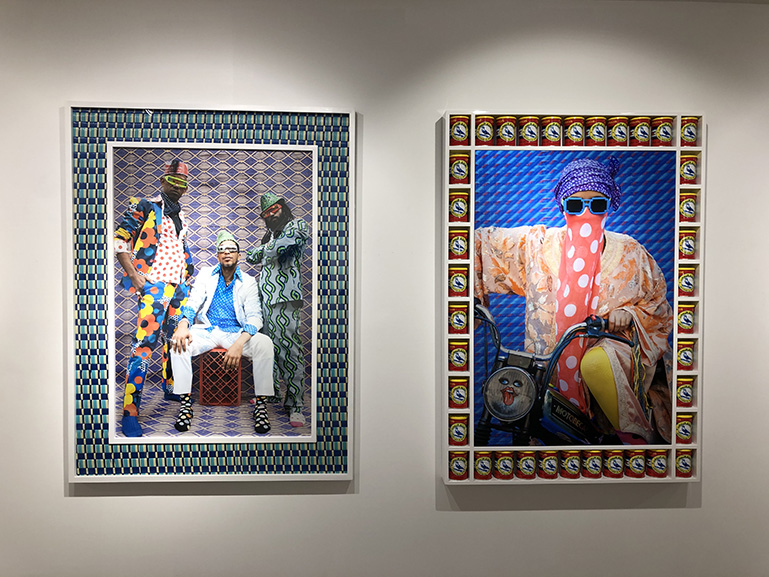 Colors of Africa at 193 Gallery
In the aforementioned group exhibition at 193 Gallery, Hassan Hajjaj is in the company of four other talented African photographers. "I think it's a great moment, it's great for me to be here nearly 25 years later and to be hanging with some of these up-and-coming generations. I'm very honored to be a part of that, because to be an artist long-term is very difficult, both artistically and financially."
Hajjaj too recognizes the spotlight that African art has been in on the international art scene in the last few years. The Colors of Africa show does a good job in further sparking the interest of collectors outside the continent, by putting together bold and striking artworks.
There is the fashion photographer from Kenya, Thandiwe Muriu, who creates Vogue magazine-inspired portraits of women, immersed in the colorful patterns of their outfit fabrics. Her subjects are fierce and free, and are taking social media by the storm.
Hailing from Burkina Faso, Nyaba Leon Ouedraogo is known for his documentary works, perhaps most notably his project called L'enfer du Cuivre (Copper Hell), for which he portrayed a youth in search of employment exposed to chemical poisoning in Ghana. In Paris, the artist gives us a different interpretation of portraiture, using the mask as "the ultimate sign of dialog, and transformation" while also exploring myths and rituals.
The remaining two artists in the show, Derrick Boateng and Ebuka Michael, seem to share a passion for an energetic portrayal of younger generations. Made with an iPhone, Boateng's photography celebrates the Black body, working toward changing the West's perception of African societies. Michael, a young artist from Nigeria, informs his photographs with his other passion, graphic design, as he produces strong, color-imbued portraits of his contemporaries.
Colors of Africa is on view at 193 Gallery in Paris until January 10, 2021.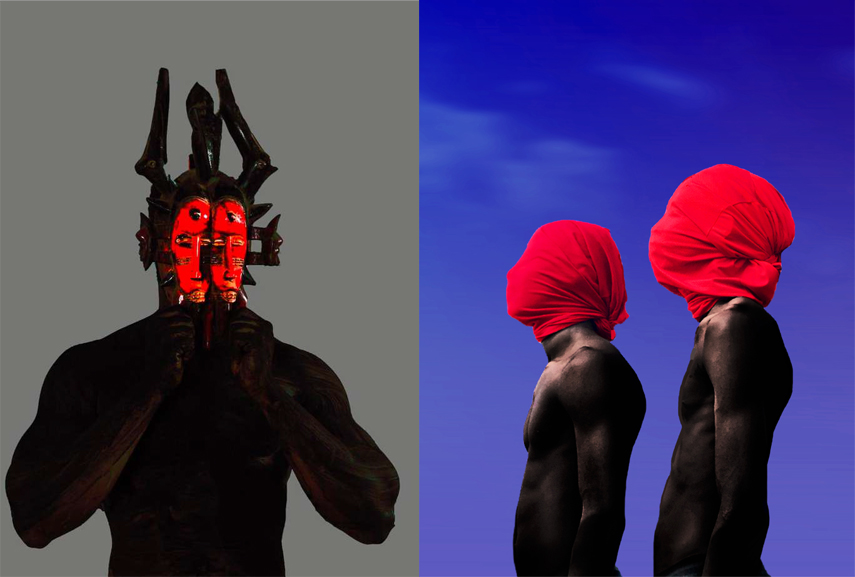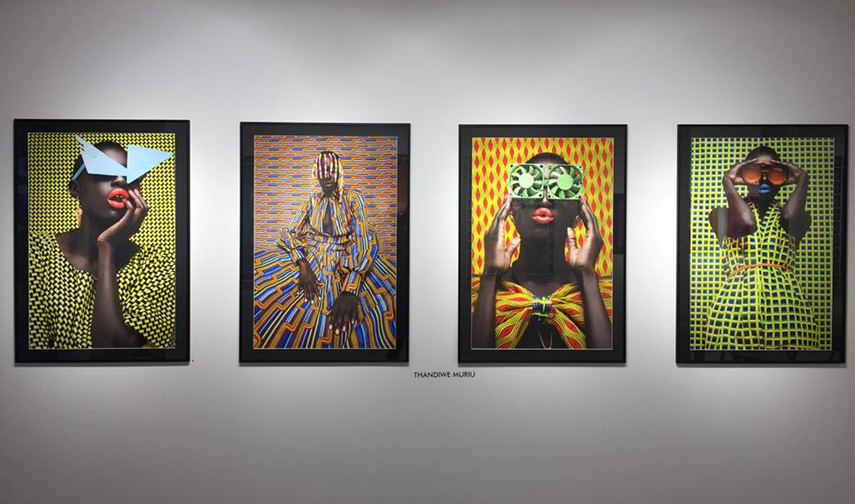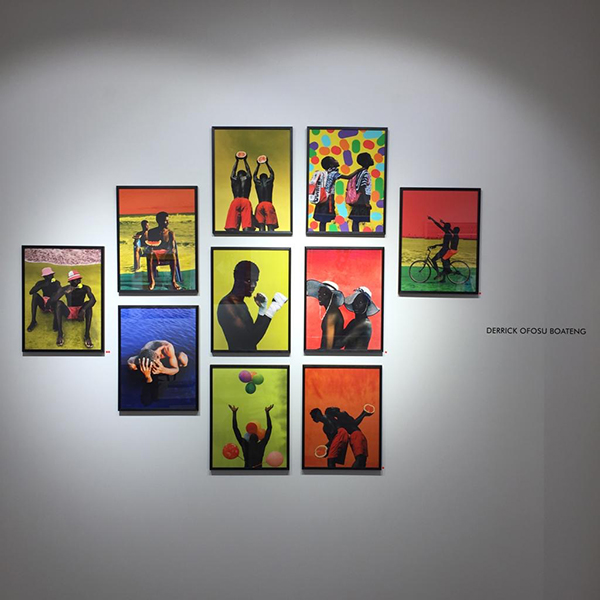 Featured images: Hassan Hajjaj photographs on view at 193 Gallery.