Stone Malone Gallery is welcoming California-based artists Haunted Euth and TS Claire. Working as a duo, Haunted Euth and TS Claire are constantly leaving their visual signatures all over their native LA area. Their contribution to the advancement of Los Angeles art scene is yet to be seen in the times to come, as they surely are one of the most promising talents of the younger generation of urban artists currently working in LA. The Heroine exhibition is one in the series of their collaborative shows, and a highlight of their recent artistic achievements.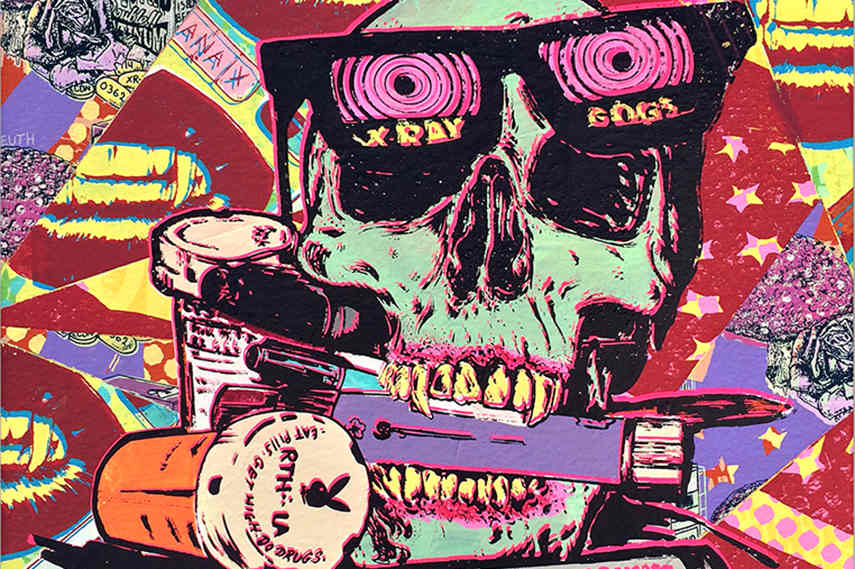 Heroine Dual Exhibition
The upcoming joint exhibition will feature new individual works of Haunted Euth and TS Claire as well as their collaborative pieces. Cleverly titled Heroine, the show brings out themes that are often being explored in the works of these artists. All kinds of addictive behaviors depicted through the consumerist culture symbols and punk inspired imagery of Haunted Euth will be on view side-by-side with some impressive portrayals of TS Claire's Heroines. TS Claire will present her new paintings made with liquid polymer on mylar foundation while Haunted Euth experiments with arches paper in order to achieve 3D visual effects once his works are viewed with the help of 3D glasses.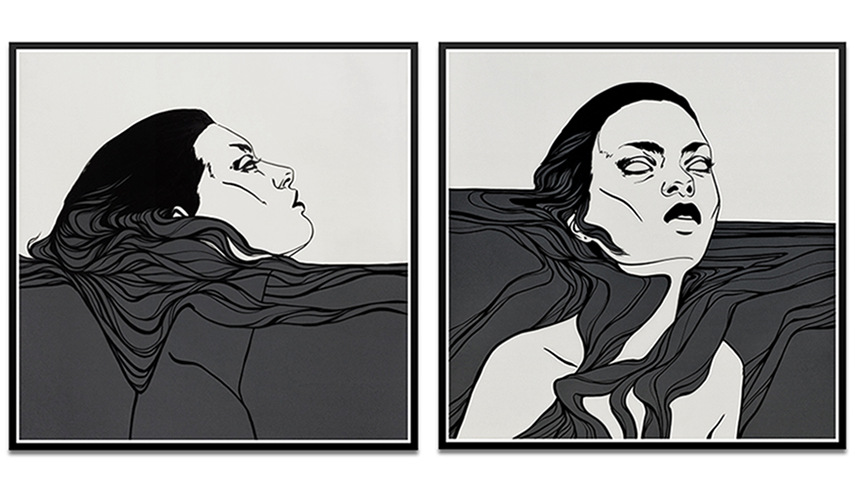 Haunted Euth & Ts Claire Collaboration
Haunted Euth (Haunted Youth in pronunciation) and TS Claire started their collaboration by chance, three years ago, and what started as a coincidence turned out to be a prosperous partnership allowing these artists to establish unique and highly recognizable shared visual expression. Although they create some amazing art together their individual styles can be traced back to their different backgrounds. TS Claire is a self-taught painter whose work explores feminist notions of women empowerment through the energetic imagery of dominant warrior women portraits. And she is a perfect example herself that the urban art scene isn't just exclusive male playground. On the other side, Haunted Euth is painter, designer, muralist and printmaker whose work focuses on the exploration of addictive, self-destructive behaviors and fetishism.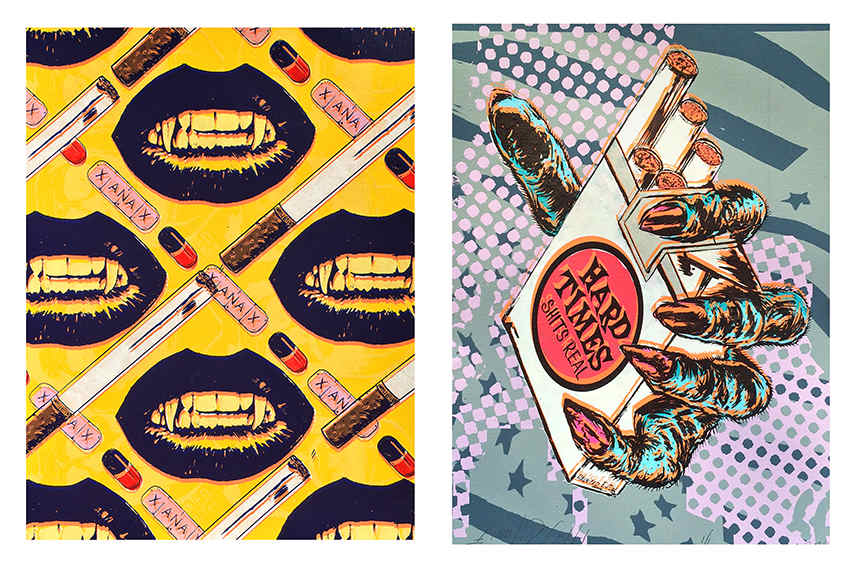 Heroine at Stone Malone Gallery
Support these young and talented urban artists at Stone Malone Gallery in LA. The Heroine exhibition will be on view from July 15th to August 2nd, 2015 with the opening reception scheduled for July 15th from 7 pm to 11 pm. The price of the artworks on display will range from $200 for framed works on paper and up to $8,000 for large collaborative paintings.
Sign up for My Widewalls for free and get your daily supply of art related information!
Featured images:
Haunted Euth and TS Claire Collaboration - Heroine - 2015 - Acrylic on Canvas
Haunted Euth - Joy Bang (Fetishes and Rituals) - 2015 - Acrylic, gold leaf and oil on canvas, detail
TS Claire - Untitled (3-4 view left) - 2015 - Liquid polymer on mylar, detail
Haunted Euth - Hard Times - 2015 - Acrylic and gouache on canvas, detail
All images courtesy of Stone Malone Gallery