From this year's rich and incredibly interesting exhibition program by Long Island's Haven Gallery comes yet another group show you will not want to miss. After a showcase filled with marvellous ink paintings, entitled Permanence and the gallery's participation at the 2016 SCOPE New York with the works of artists Kukula and Zoé Byland, there will now be another art display, this time inspired by the great Frick collection and the seasons-themed paintings by the French Rococo master François Boucher. Expect a lot of things to see, because eight talented artists from different artistic backgrounds will each bring four artworks that pay homage to the marvels of Spring, Summer, Autumn and Winter.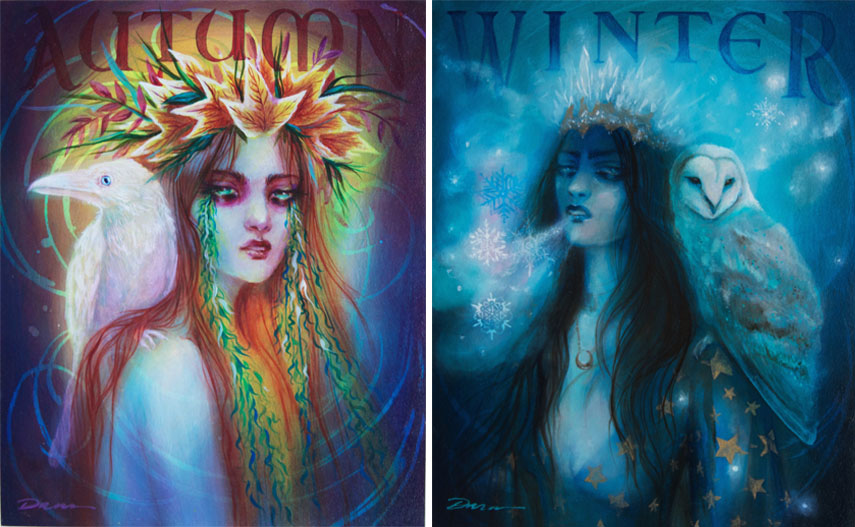 Boucher at The Frick Collection
Considered the most celebrated painter and decorative artist of the 18th century, François Boucher was noted for his unforgettable Rococo-style artworks which usually tackled classical themes, decorative allegories and pastoral scenes. Among his most famous pieces are the portraits of his patroness, Madame de Pompadour, eight of which can be seen as part of the Frick Collection. In fact, the French painter has an entire gallery - The Boucher Room - dedicated to him at this esteemed New York collection. But these portraits are not the ones that have inspired Haven Gallery artists - it was François Boucher's small prints that interpret the four seasons by introducing similar, yet different kind of scenery while keeping the same artwork size for each of them. This is exactly what the eight creatives in this exhibition have done as well, through a variety of mediums and approaches.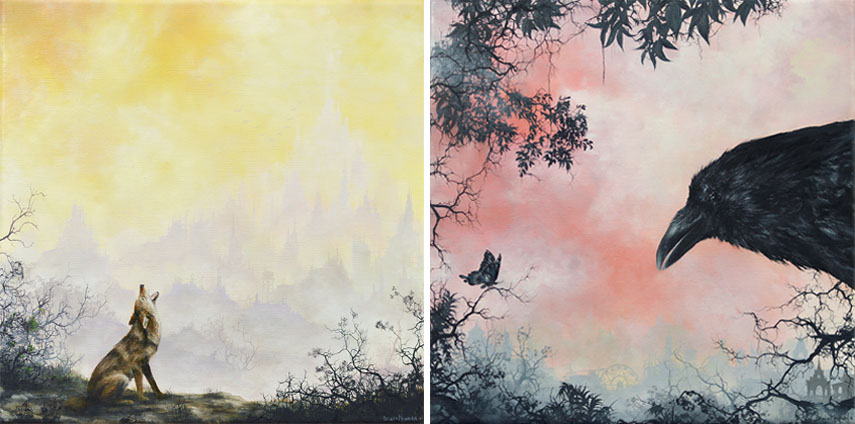 Interpreting Spring, Summer, Autumn and Winter
Varying in palette, subject, mood, symbolism and more, the Haven Gallery artists will demonstrate what each of the four seasons means to them and the kind of visions they evoke to them. For example, Brian Mashburn's paintings offer poetic, lonely landscapes that call to mind solitude; The vivid female portraits of Lara Dann make us think of fantasy worlds just out of reach; through the works of Erich Moffitt, we observe the lives of a cat and an owl and the way they live through the seasons; we're drawn by the elaborate drawings of Stan Manoukian, Kate Zambrano and Cassie Meder, and the beauty in the interpretations of Henry Schreiber's unique panel, or the playful adventures of Shane Scribner's fury protagonists.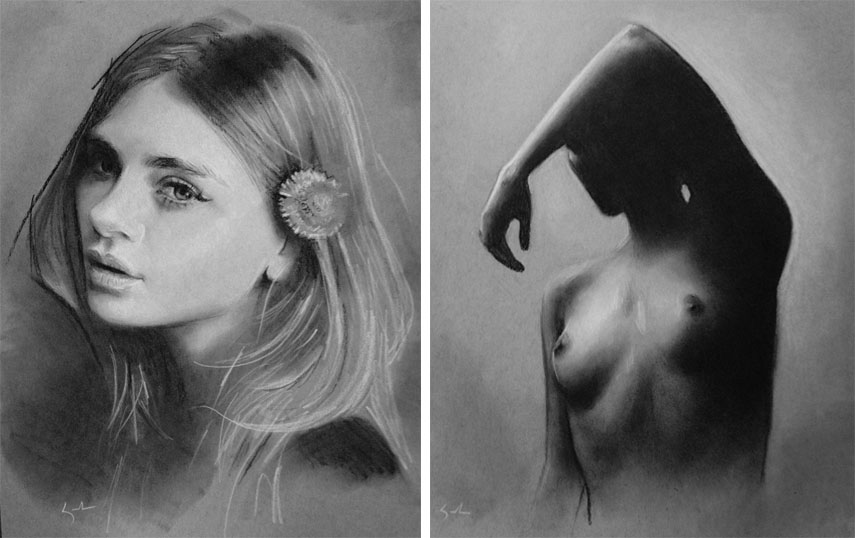 The Four Seasons at Haven Gallery
Through the very personal points of view of these eight curious creatives, the visitors of Haven Gallery will be able to experience something so seemingly ordinary and cyclical in a brand new way. Spring, Summer, Autumn and Winter as we known them will each get new faces and ideas that define them. The Four Seasons group exhibition will be on view at Haven Gallery in Northport, NY, USA, from April 30 through June 19, 2016. The opening reception is scheduled for April 30, from 6pm to 8pm. Prices for the show range from $400 to $1800.
  Editors' Tip: Francois Boucher: Masterpieces in Colour
François Bouches was a remarkable personality and a marvellous artist. In this book, written by Maria Tsaneva, we get an insight into the way these two intertwined, resulting in an unforgettable story. This volume takes us from the painter's childhood and his beginnings at the age of 17, onto his studies in Italy and France to his relationship with Marquise de Pompadour, mistress of King Louis XV, whose name became symbolic with Rococo art and who was the patroness to his work. It tells us how Boucher gained lasting notoriety through such private commissions for wealthy collectors and how, after the ever-moral Diderot expressed his disapproval, his reputation came under increasing critical attack during the last of his creative years. Along with his painting, Boucher also designed theatre costumes and sets, closely parallel his own style of painting, as well as tapestry.
Featured images in slider: Henry Schreiber - Winter; Henry Schreiber - Spring, oil on wood, 5 x 7 in; Erich J. Moffitt - Autumn Encounter; Erich J. Moffitt - Summer Serenade. Acrylic on panel, 8 x 10 in, 14.75 x 12.75 in framed; Shane Scribner - Life Cycle. Oil on panel, 17 x 10 in (on four panels), 19.5 x 12.25 in framed; Left: Stan Manoukian - Spring / Right: Stan Manoukian - Summer. Permanent pen and pencil, 11.6 x 16 in, 13 x 19 in framed; Left: Cassie Meder - WINTER / Right: Cassie Meder - AUTUMN. Graphite, watercolor, and iridescent foil on 140 lb cold press watercolor paper, 6.5 x 4.5 in, 8 x 6 inches in hand painted vintage frame c. 1970s. All images courtesy of Haven Gallery.