A tropical paradise with pristine beaches, stunning landscapes, coral reefs and towering waterfalls removed from any other land, Hawaii is unique, special and unforgettable. The native Hawaiian culture is extremely rich and is characterized by fascinating costumes, music, legends, traditions and values. With its remarkable array of forms and traditions, Hawaiian art has been long considered as distinctive within the broad context of Oceanic art.
Although names of these ancient craftsmen remain obscure, their works are widely praised and included in all comprehensive books on Polynesian and Oceanic art. Discovered and settled by Polynesians in the ancient times, Hawaii was functioning as a kingdom up until the second half of the 18th century.
After Captain James Cook and his crew became the first Europeans to visit Hawaii in 1778, many others soon followed. This has brought a dramatic change to Hawaii, its people, their way of life, culture and art.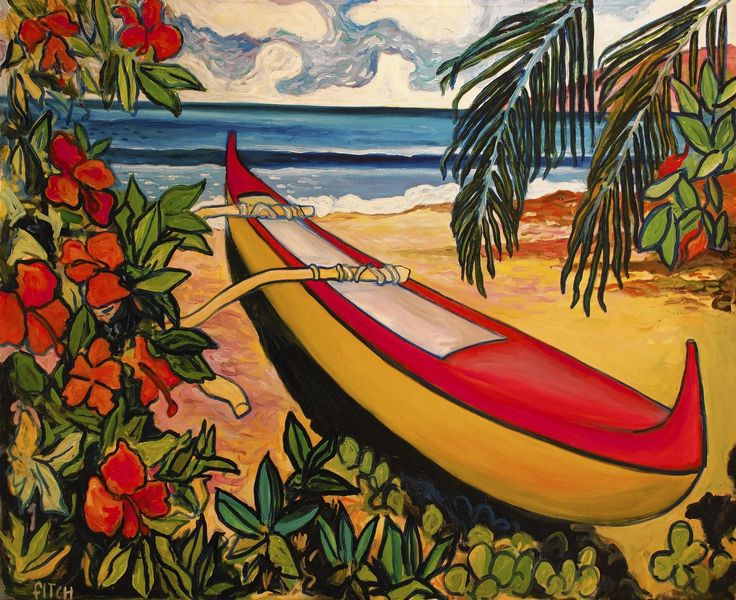 The Pre-Cook Period
The artist occupied an important and special place in the social system of ancient Hawaii. The ancient Hawaiian art included wood carving, feather work, petroglyphs, bark cloth and tattoos. The expression 'na hana noeau', meaning 'wise and skillful works', refers to ancient Hawaiian art that was both functional and beautiful. Ancient Hawaiian artists were skilled craftsmen who had extremely high standards of work. For them, production of art was a test of oneself and a dedication to Hawaiian culture and religion. Ancient Hawaiians employed several aesthetic principals in their arts and crafts. Each work reflects 'mana', meaning 'the power of spirit' an artist possesses previously provided by gods, and 'pono', meaning righteousness. Native Hawaiians didn't use metal nor woven cloth. Their artistic practices involved kapa, lauhala, koa wood and hulu manu.
Kapa is a fine material created by beating the wood of the wauke plant. The inner layers of the plant would be soaked in seawater, fermented, beaten with rocks, and dried in the sun. The whole process would be repeated several times until the material becomes workable. These strips would be sewn together for various blankets or cloths. Intricate geometric patterns were created by natural dyes. The practice of lauhala involved dried and soaked hala leaves that were used to woven various shapes. Hullu manu, intricate featherwork, was used for adornment and uniqueness of the high-ranking Hawaiian chiefs. Skillful Hawaiians would study various exotic birds and their habits and track down ones with the coloured feathers. These featherworks included feather capes, feather standards, gourd rattles and anklets and bracelets. Koa wood was used for a variety of purposes from canoes, diggings sticks, tikis and other religious artefacts. Koa carving involved years of studying.
The Hawaiian sculptural tradition was closely linked to ancient religious practices. Hawaiian sculpture is considered a culmination of historical processes that involved the establishment of the Hawaiians in their island home and the development of their culture separate from Polynesia. After the old gods were overthrown, this tradition came to an end and many sculptures were destroyed by Hawaiians themselves or left to rot. Today, there are only around 150 examples of these human-like sculptures in museums all around the world.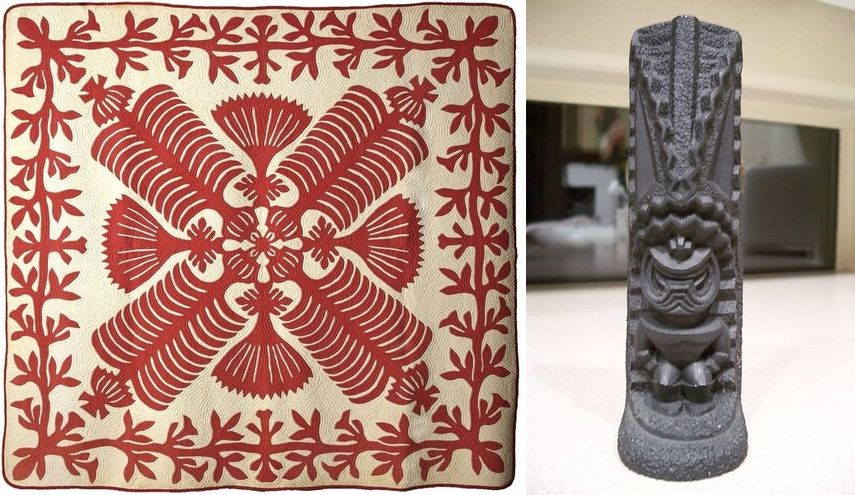 Hawaiian Art After Cook
The production of ancient arts and crafts continued after Europeans discovered the island. Yet, there was a new trend that has emerged – Hawaiian art produced by Westerners.  During the 19th century, many professional and amateur painters visited Hawaii. Fascinated with its stunning beauty, they painted Hawaiian landscapes and people using imported materials and concepts. Night scenes of erupting volcanoes were especially popular due to the emergence of an art movement called The Volcano School. Followed by the rising commercial interest in landscapes, painters such as Jules Tavernier, Charles Furneaux, Ernst William Christmas and Joseph D. Strong travelled to Hawaii to trek across the rugged terrain on multi-day journeys. Although sulfuric gasses and intense heat of the volcano vents made it impossible to paint at the site, they painted dramatic nocturnal and daily scenes of erupting volcanoes from mental images. They painted what they perceived to be natural wonders of the world. Island printmaker Huc-Mazelet Luquiens considered this period 'a little Hawaiian renaissance'. Today, works of The Volcano school are displayed in the Honolulu museum of Art, the Bishop Museum and the Lyman Museum.
After the Westerners came, Hawaiians started incorporated their materials and ideas into works that mainly consisted of painting and quilting. These pieces could be distinctly Hawaiian regarding the subject matter, but also very diverse. Despite Western influence, much of today's Hawaiian art is rooted in ancient cultural practices. The Hawaiian quilting has its roots in the early art of kapa making. Native quilting incorporates patterns and designs inspired by the beauty of the land and the 'mana' of ancestors. These designs include different natural representations such as leaf patterns or flowers. The majority of the earlier Hawaiian quilts have been lost, but today's practitioners are providing a new life to this old tradition.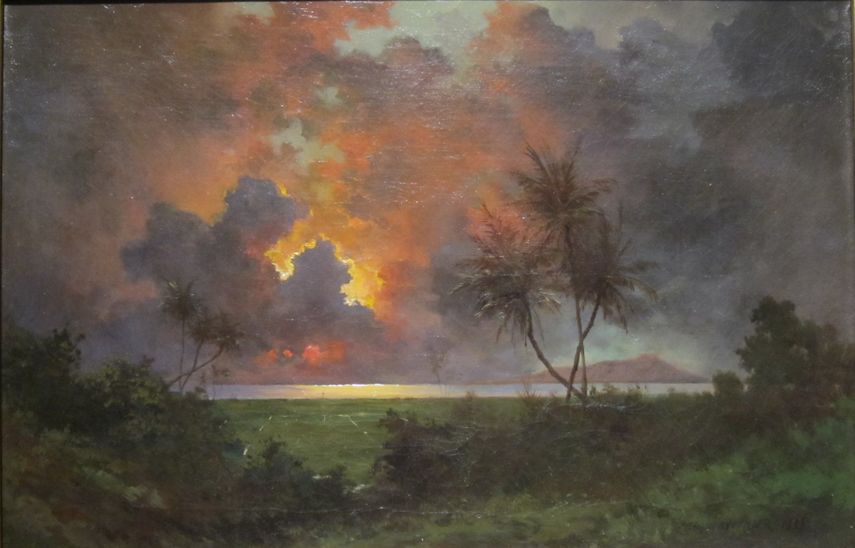 Contemporary Art in Hawaii
In the 20th century, many island-born and newly arrived artists created a modernist tradition often referring to their rich cultural heritage and imagery. For example, between the 1920s and 1940s, Art Deco manifested in Hawaii as a schematized visual language based on the natural beauty and fabled past of the islanders. Today, the art scene in Hawaii is very vibrant. As a Pacific melting pot, Hawaii has a wide range of creatives working in various media and styles. From koa wood carvings, lei making and coconut weaving to surf photography, fine art, painting and printmaking, the varied art scene in Hawaii will please any art enthusiast. While some are working with imagery of Hawaii, others tend to bridge modernity with tradition or abandon the tradition completely. Hawaii is a buyers' market and there are more museum-quality artworks than collectors could ever purchase here. Hawaii has more than its share of museums, celebrating everything from Hawaii's history and culture to its contemporary art. Besides Hawaii State Art Museum, Honolulu Museum of Art, Contemporary Art Museum in Honolulu and Bishop Museum, art lovers should definitely check out Andrew Rose Gallery, Gallery at Ward Center and Kaka'ako pop-ups in Honolulu.
The Honolulu Museum of Art - Spalding House of Hawaii
Hawaiian Artists
Because of such extraordinary landscape, the Hawaiian islands have always been an inexhaustible source of inspiration for those who wanted to transmit its wonders through visual art. Just think - we have the great Georgia O'Keeffe, for instance, who spent time on different islands including Maui and Oahu, where she depicted the remote nature just as mesmerizing as her New Mexico artworks that nevertheless drew much more attention. She wasn't the only artist from the contiguous United States who was fascinated enough to stay and make art out of it: take Robert Lee Eksridge, a painter from Pennsylvania whose murals grace the walls of the Ala Moana Park Sports Pavilion in Honolulu, or Louis Pohl, who taught painting at the Honolulu Museum of Art for 35 years and whose works are part of the Hawaii State Art Museum. Creatives from other continents were also a frequent sight; among them there is Swiss woodcarver Fritz Abplanalp, Japanese artist Masami Teraoka, Danish painter John Ingvar Kjargaard or William Twigg-Smith, who came from New Zealand.
Of course, the native Hawaiian artists also managed to capture the vibrancy and the atmosphere of their land in a unique, perhaps more familiar way. The islands can be proud of a significant number of names in both modern and contemporary context, such as sculptor Bumpei Akaji, whose sculptures can be found in public spaces across Hawaii, painter, muralists and printmakers Juliette May Fraser and Hon Chew Hee, as well as painters Keichi Kimura, Toshiko Takaezu and Tadashi Sato, prominent members of Asian-Americans with ties to Honolulu. We shouldn't forget painters Lloyd Sexton, Jr. and John Ching Young, as well as sculptors Jerry Vasconcellos and Alice Louise Judd Simpich, who also left a strong mark on the history of Hawaiian art. Whether they were painters, ceramists, sculptors or printmakers, or were born in Hawaii or continental United States, all of them contributed to the state's unique cultural and artistic identity over the course of the past century, leaving a legacy that continues to inspire generations of young talents to come.
Satoru Abe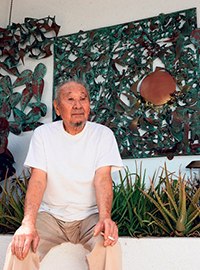 Often called "the godfather of Honolulu art scene", Satoru Abe is one of Hawaii's most renowned creators of fine art. Born in a traditional yet supportive Japanese household, he studied painting in New York City and returned to the island to practice his art. With others like Edmund Chung, Tetsuo Ochikubo, Jerry Okimoto and James Park, he formed important friendships and collaborations which eventually led to the foundation of the Metcalf Chateau group. After a successful show with them, Satoru Abe returned to NYC once again to explore the possibilities of sculptures, which were exhibited at various crucial venues like the MoMA by the 1970s. He has created over 5,000 pieces of art during his prolific career, many of which can be found at the Honolulu Museum of Art and Hawaii State Art Museum, of course. "I hope to die working", said Satoru Abe, now 90 years old and still making pieces of art.
Cornelia Macintyre Foley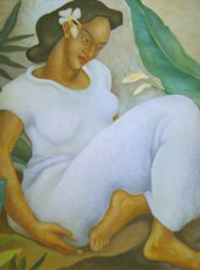 Best known for her voluptuous scenes of Hawaiian women, Cornelia Macintyre Foley was a remarkable painter who worked with oils and acrylics to produce portraits and landscapes. With a great talent for figurative drawing and painting, she combined the sensuous with the mysterious while providing a view on the human essence. A member of Manhasset Art Association as well as the National Association of Women Artists in New York, she painted and exhibited across the country and even had two one-woman shows. Cornelia Macintyre Foley's early works, produced in the 1930s, focus on Hawaiian themes, although they weren't recognized by collectors and galleries until 1992 and the massive retrospective exhibition covering two centuries of Hawaiian art at the Honolulu Academy of Arts. She was also a talented printmaker, having produced a number of linocuts on laid paper and pencil drawings.
Jean Charlot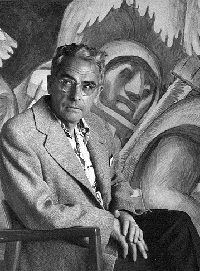 Louis Henri Jean Charlot was a French painter and illustrator who was mainly active in Mexico and the United States. He and his family first arrived in Honolulu in 1949, at the invitation of the University of Hawai'i - Mänoa, to create a fresco in the administration building. The artist was tired of moving around and he chose the island as his last residence, which led him to become one of the most respected creatives working there over the course of the next three decades. Jean Charlot was fascinated by the culture and tradition, in particular the Hawaiian pahu, or drums, of which he created numerous drawings and the iconic Relation of Man and Nature in Old Hawai'i mural he painted in 1949. In fact, the Hawaiian drummer was one of the artist's favorite subjects, interpreted in dozens of variations in all media, such as frescoes, tile murals, painting and prints as well.
David Howard Hitchcock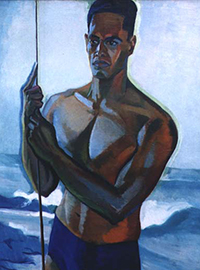 David Howard Hitchcock was a prominent figure during the Golden Age of Painting in Hawaii, between the years of 1880 and 1950, for which he created iconic works between 1905 and 1930. He is best known for being a part of The Volcano School, a group of non-native Hawaiian artists who painted dramatic nocturnal scenes of Hawaii's erupting volcanoes. His incredible impressionistic scenery of the islands that go beyond volcano depictions are still among the most recognized in the world, having been exhibited across the United States. In 1894, he became one of the founders of The Kilohana Art League, Honolulu's first art association, alongside woodcarver Augusta Graham, sculptor Allen Hutchinson and painter Annie H. Park, exhibiting at least twice a year. David Howard Hitchcock is often called the first homegrown artist in Hawaii with international recognition.
John Kelly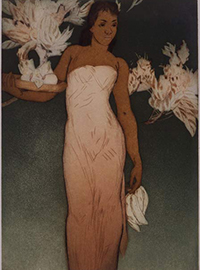 Another story of continental Americans coming to Hawaii and eventually staying is the one of John Melville Kelly and his wife Kate. He worked for fourteen years as an illustrator for the San Francisco Examine before moving to the island in 1923. Although their plan was to stay a year and work for an advertising agency to promote tourism, they fell in love with the area and stayed permanently. Both of them undertook printing while there, and John Kelly's ravishing depictions of Polynesians was, in fact, what distinguished him from other creatives in Hawaii at the time. He produced etchings and aquatints, primarily of human figures, though he occasionally did landscapes as well. In 1943, he authored and illustrated Etchings and Drawings of Hawaiians, as well as The Hula as Seen in Hawaii in 1955.
Arman Manookian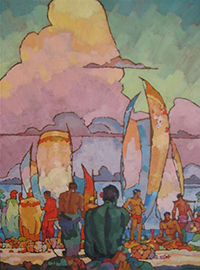 Born into an Armenian family in Turkey, Arman Manookian fled to the US and enlisted in the Marine Corps in 1923. This took him to Hawaii where he eventually stayed, working for the Honolulu Star-Bulletin and creating illustrations for various magazines. The artistic oeuvre of Arman Manookian is not large, but it is highly valuable for the history of the islands: like the 75 of his ink drawings for McClellan's history of the United States Marine Corps, or the rare oil works. Two of his murals, as well as the only examples of his painting practice in the world can now be found at the Honolulu Museum of Art, on long-term loan. According to the State of Hawaii's House of Representatives, he is "known as Hawaii's Van Gogh," and both Armenia and Hawaii were left in mourning when the artist committed suicide, even though his art had celebrated adventure and heroic myths.
Madge Tennent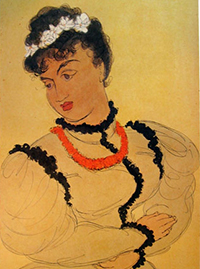 She was born in England, but Madge Tennent can certainly also be considered Hawaiian. As one of the most accomplished painters to have worked and lived in Hawaiʻi, she produced a significant number of drawings, paintings and sculptures of Polynesian figures, and particularly Hawaiian women who ended up being her signature topic, covering enormous canvases which helped promote the diminutive Tiki culture outside the islands. Her formative years in Paris, where she was constantly exposed to the art of Picasso, Cézanne and Renoir, left a deep mark in her artistic practice, as her works ooze with brilliant, swirling hues and harmonious compositions. Madge Tennent's portraits often depict native women engaged in lei-making, dancing and similar island-specific activities, as well as Hawaiian alii, the hereditary nobles, in oils, prints and watercolors.
Maile Andrade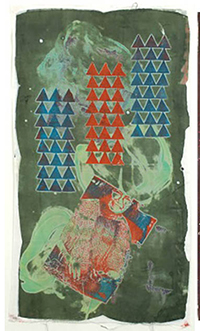 Maile Andrade is a professor of art at the University of Hawai'i and a contemporary native Hawaiian artist who creates mixed-media artwork, fashion and jewelry that explores themes of spirituality, culture, heritage and more. She works with glass, fibres, metal and other natural materials, in order to challenge the use of native stereotypes and to imagine what it really means to be "native Hawaiian". About her art, Maile Andrade says: "I would like to explore and question through contemporary art forms and visual statements the use and perpetuation of stereotypes from many lenses. The questions used in the disciplines of ethnography and anthropology are challenging in the misappropriation of cultural practices, cosmology, and spirituality."
John Koga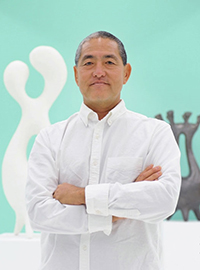 Standing as a synonym for contemporary art in Hawaii today, John Koga is a sculptor, painter, photographer and provocateur who fearlessly incorporates controversial political themes and unorthodox media in his artwork. Whether it's avocado pits, driftwood, tobacco or masking tape, his art is always intriguing and always inspired by the beauty of his native Hawaii. Inspired by Henry Moore and Isamu Noguchi, he creates whimsical sculptures that appear to be the result of a random experiment, but that still carry the quality of a museum item. John Koga's surrealist pieces often recall stones, trees and branches, perhaps those you could find in Hawaii, and they brilliantly mix modernist tendencies with contemporary practices. He is perhaps his state's most successful artist commercially speaking, as his works are selling well in the continental US, particularly in New York.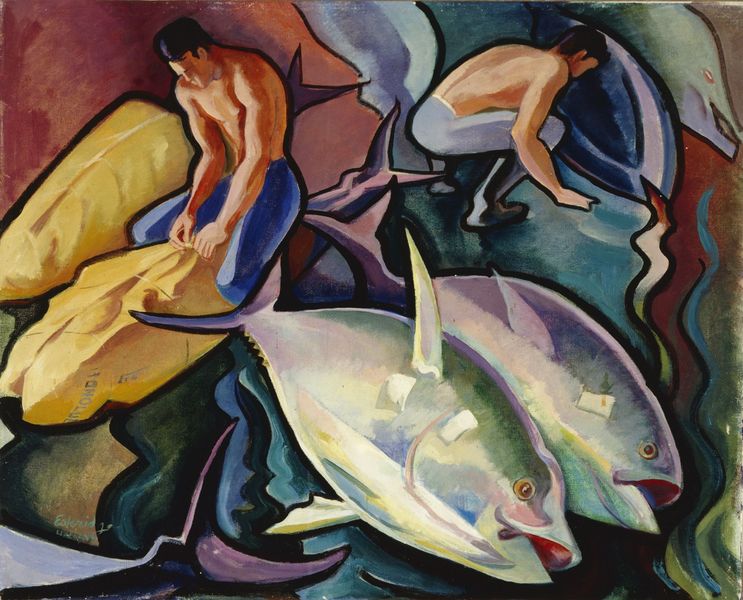 An Everlasting Inspiration
Hawaii's diverse culture, rich tradition, remarkable history and breathtaking landscape continue to attract creatives from all around the world, and not just those working in visual arts, but also music, theater, dance, film. Whether they find themselves in Kauai, Oahu, Molokai, Lanai, Maui or Hawaii's Big Island, they can't help but feel utterly inspired by the extraordinary beauty and incredible spirit. Hawaiian art will always carry that stamp of uniqueness and originality mixed with Western art forms, whether through traditional media of photography, painting and printmaking or through typical techniques of wood carving, lei making, featherwork, coconut weaving, heirloom jewelry - because there's nothing like the Aloha Spirit which takes the very best out of each of its many cultures.
Written by Elena Martinique and Angie Kordic
Featured image: A. T. Manookian - Hawaiian Boy and Girl