A Bronzeville-native living and working in Chicago, Hebru Brantley explores personal and cultural memory through his art practice. Influenced by an array of pop culture icons, comic book heroes, Japanese anime and the bold aesthetics of street art pioneers Jean Michel Basquiat, Kaws and Keith Haring, his work delves into political and social issues with a conscious focus on playful insight and the optimism and possibilities of youth.
Vertical Gallery will soon host the artist's solo show, his fourth solo show with the gallery. Titled Editions, the exhibition will bring together over 80 unique, hand-pulled screenprint variations depicting Brantley's iconic characters Fly Boy, Lil Mama and Phibby, all done in a style reminiscent of Andy Warhol prints. The exhibition also sees the release of Brantley's third portfolio box set, LILAC, following up on the sold-out portfolio sets Phibby (2018) and Smile (2019).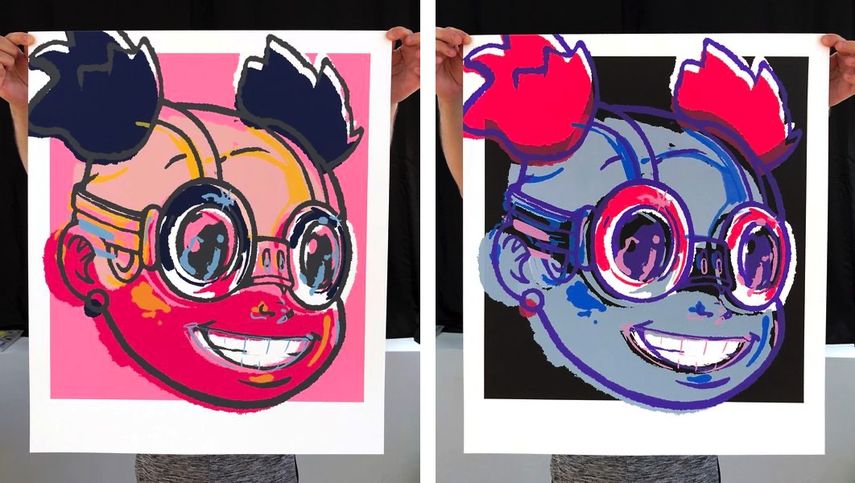 The Practice of Hebru Brantley
Having a background in design and media illustration, Hebru Brantley takes up themes from his 1980's upbringing, using a creative process akin to free-form journaling and a variety of surfaces and media including wood, spray paint, coffee and tea. Defining his style as Afro-Futurist, he often uses spray paint to de-contextualize the levity of cartoon imagery and bring a critical edge into the white cube.
Majorly drawing influence from Chicago's Afri Cobra movement of the 1960s and 70s, he explores his inquiries through mural and graffiti work. Using a range of media, from oil, acrylic, watercolor and spray paint to non-traditional mediums such as coffee and tea, he creates mixed-media paintings and sculptures that aptly reflect the street's energy and aesthetic.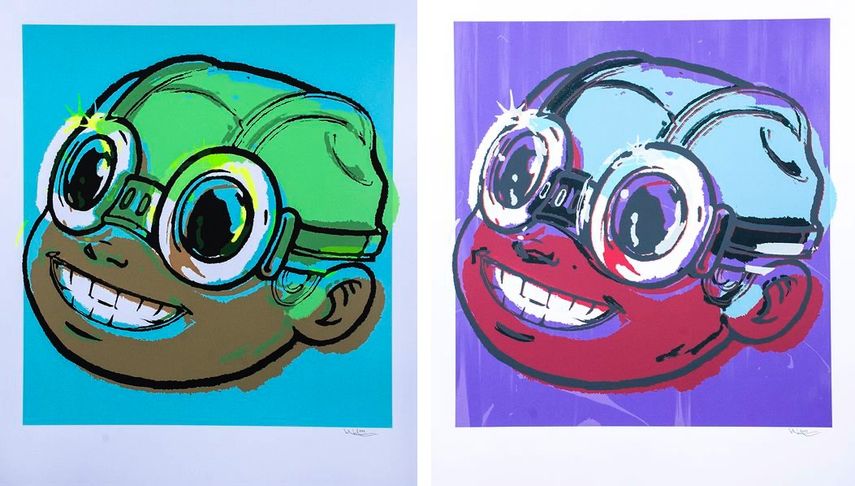 Narrative-Driven Works
In his energetic narratives, Brantley combines moments of reality from his life and the lives of his peers with fantastical fiction, to create a fragmented environment of make-believe. Characterized by unique color palettes and pop-art motifs, his characters address complex ideas around nostalgia, the psyche, power, and hope.
Through his work, the artist seeks to challenge the traditional view of the hero or protagonist, insisting on a contemporary and distinct narrative that shapes and impacts the viewer's gaze. In addition to depicting fictional versions of his younger self, he also portrays pop culture or art historical figures like Keith Haring and Jean-Michel Basquiat.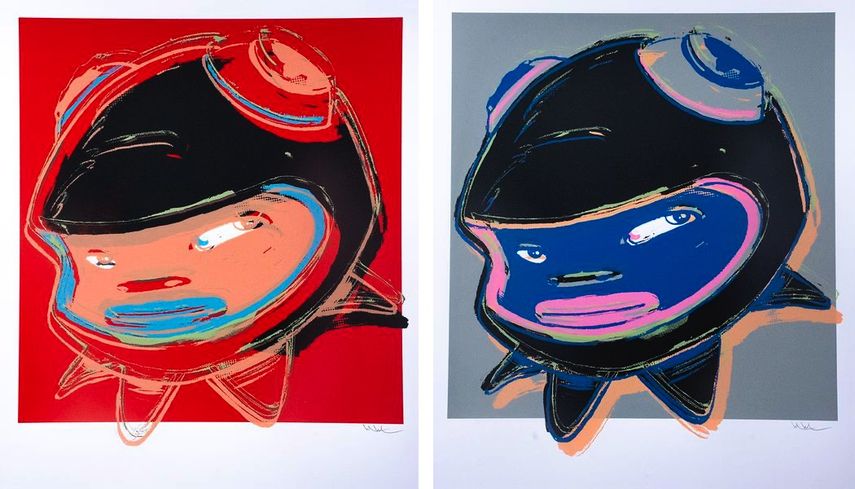 Hebru Brantley at Vertical Gallery
The exhibition Editions will be on view at Vertical Gallery in Chicago from August 8th until August 29th, 2020. It will kick off with a specia opening-day event on Saturday, August 8th, 2020.
Featured image: Hebru Brantley, by Max Schreir. All images courtesy of Vertical Gallery.