Hebru Brantley, a Chicago born artist, draws his inspiration from cultural and personal memory shaped in the forms of comic book characters, pop culture icons, Japanese anime and from the aesthetics of the street art's early days and artists such as Jean-Michel Basquiat, KAWS and Keith Haring. A new series of works called Memoirs of the Minimum Wage, Hebru Brantley will be presenting at Vertical Gallery in Chicago. Works of Hebru Brantley came into light especially with the commission by Nike and with Jay-Z and Beyoncé buying one of his artworks.
Memoirs Of The Minimum Wage By Hebru Brantley
The title of this exhibition suggests a framing of personal, intimate memories within the framework of large scale socioeconomic trends. The invocation of the concept of a minimum wage is particularly relevant now that a series of ballot-measure increasing minimum pay are beginning to sweep across the United States. Most recently, Los Angeles, the nation's second largest city, was the latest to approve a bill which raised the minimum wage to $15 an hour. This announcement comes as workers across the country are pushing and demonstrating for higher wages. The movement has pushed hard enough that several large companies including Facebook and Walmart, have independently taken steps to increase their minimum pay. But this begs the question: what direct relevance, if any, does the concept of labor rights have to the experience of the "middle-class America" which Brantley professes to present?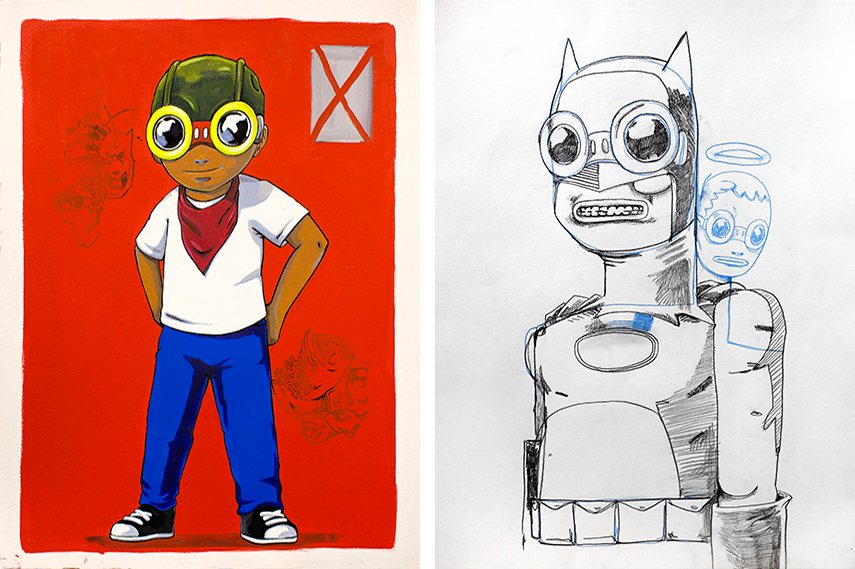 Whimsical Depictions Of Hebru Brantley
At first glance it seems that Brantley's whimsical depictions of aviating youths and floating, profiled heads of superheroes are not even tangentially related to the struggles of an underpaid and underrepresented portion of the population. But on closer inspection, the ideas of flight and of superpower are directly germane to ideas of class mobility and upward aspiration. Just as attempts at flight are often doomed to crash to the ground, an image of an optimistic and eager-eyed youth seated in a beaten aircraft (perhaps assembled in a scrapyard in Brantley's native Chicago, which, incidentally, has recently raised passed a ballot measure to raise it's minimum wage to $13) prefigures a potential crash.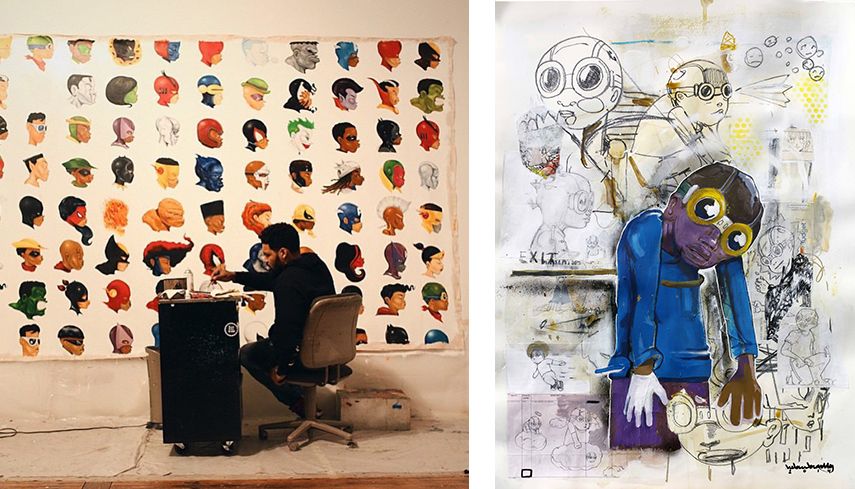 Hebru Brantley at Vertical Gallery Chicago
Aspirations of ascent, whether they are through the stratosphere or through the economic castes of a capitalist society, are as appealing as they are treacherous, and stacked towards defeat. With this in mind, Brantley's works take on a clear and wistful poignancy. Memoirs of the Minimum Wage, solo exhibition by Hebru Brantley, opens on June 6 at 6pm at Vertical Gallery in Chicago, and it will be on display until June 28, 2015.
Keep track of our timely exhibition announcements by signing up for My Widewalls now!
Fetured image: Hebru Brantley - Cage No More, 2015
Also in slider: Hebru Brantley - Plane, 2015
All images are courtesy of Vertical Gallery Chicago.