There is a number of publications out there tackling the feminist art practices of the 1970s, as well as individual artists. When this phenomenon spread globally, other, perhaps lesser known but equally interesting women who pushed the boundaries of traditional (male-centered) art-making, emerged.
Among the most interesting figures from the European context was Heidi Bucher, who made an astonishing body of work based on explorations of corporeality and the environment. To be more precise, her sculptural interventions or rather objects made of latex which Bucher called skinnings, were aimed to underline the implications of the relation between women and the public or private space. The upcoming exhibition at Lehmann Maupin gallery will feature a selection of her most important works in an attempt to confirm the significant place Bucher holds in the art history.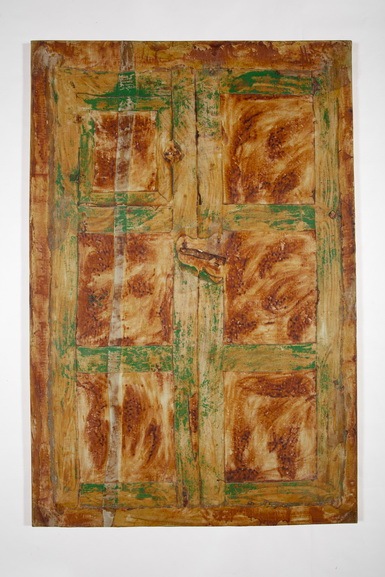 Notes on Heidi Bucher and Femininity
During the 1970s, Heidi Bucher started transforming clothing items and domestic objects into latex casts; those peculiar skin-like object function as artifacts of preserved memory and a critically-charged commentary of the rigid gender restrictions she experienced growing up.
The Swiss artist extended these investigations by casting architectural structures such as walls, windows, floors, or entire rooms; the surfaces were soaked in latex, then dried and peeled, so the final impression was skin consisting of paint, dirt, and rust a coverage fulfilled with signifiers of personal and conceptual liberation from the patriarchy.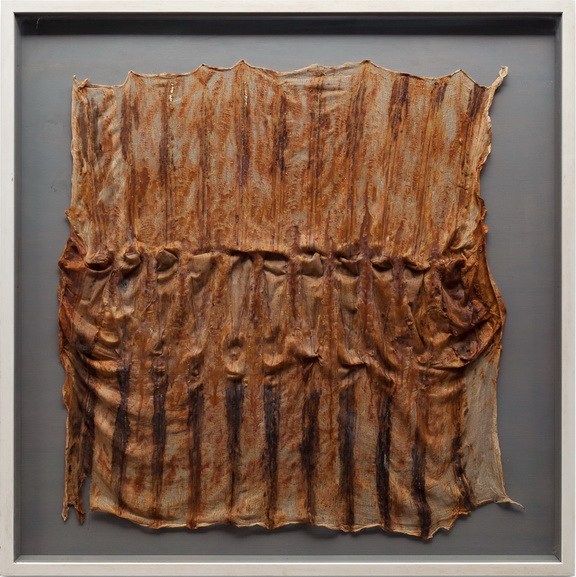 The Selection of Works
The installment features works that Heidi Bucher made in a period from the mid-1970s through the 1980s, among them her most important sculptures such as Borg (1976), the first latex sculptural intervention modeled in the entire cellar of her studio, Untitled (Door to the Herrenzimmer) (1978) and Elfenbornhaut (1982).
On display will also be few works made by Bucher after she returned to Zurich after living in the U.S. and Canada; they perfectly reflect her concerns for status of Swiss women, who were unable to vote until 1971, as well as traces of Post-minimalism (the work of Richard Serra) and the use of specific materials like fiberglass and plastics (the work of Eva Hesse). Here is worth mentioning the works such as Bett (Bed) (1975) and The Hatching of the Parquet Dragonfly (1985).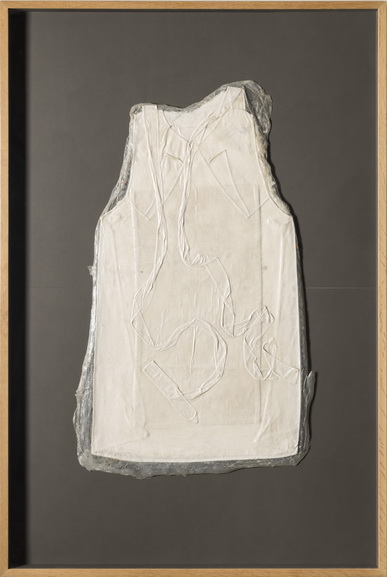 Heidi Bucher at Lehmann Maupin
Besides exemplifying Bucher's innovation in the sense of masterful use of materials, the upcoming exhibition is important in a broader art historical context of bold female practices which explored important subjects. Her working method was not based just on recording the past but creating a time warp, a special space deployed of any constraints which serves only for her personal introspection. Therefore, it is right to state that the practice of Heidi Bucher is timeless and offers a universal and critical interpretation of the female experience which is still relevant today.
The Site of Memory will be on display at Lehmann Maupin in New York from 29 April until 15 June 2019.
Featured image: Heidi Bucher - Decke I (Quilt I), ca. 1979. Quilt, latex, and mother of pearl pigment, 63.78 x 104.33 x 2.36 inches (approximately), 162 x 265 x 6 cm