Brooklyn-based visual artist Hein Koh has been obsessed with drawing, painting, and building structures since she was of preschool age. She has maintained those interests throughout her life. Koh graduated from Dartmouth College in 1998, with a double B.A. in Studio Art and Psychology, and then got her MFA in Painting and Printmaking from Yale in 2004.
But finding her way as an artist in everyday life, after completing her studies, wasn't always a straightforward endeavor.
After I graduated from college, I spent the summer there and realized that once I was done with school, I just wanted to paint all the time. However, I moved to New York City soon after, and the reality of supporting myself and trying to get settled there made it difficult to paint. I was worried about money all the time and hated so many of my jobs.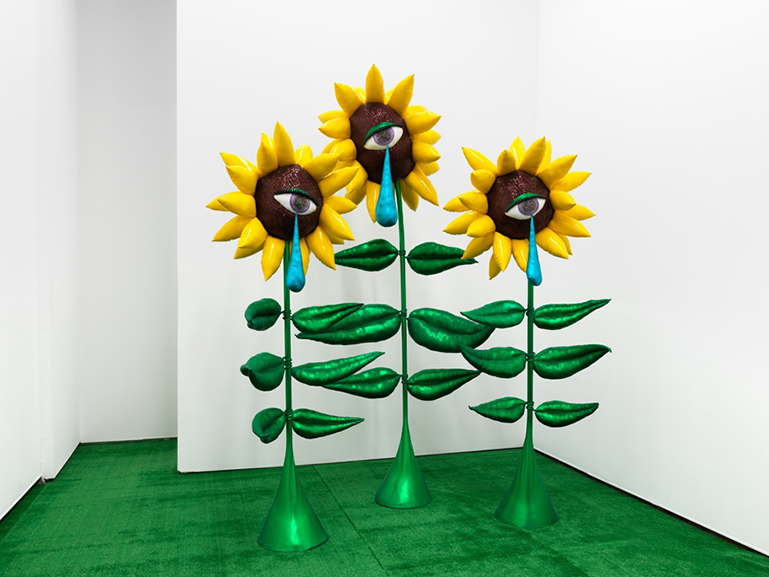 The Story of Hein Koh
Young artists struggling in New York is a story often heard. But Koh's version has a happy ending.
I took a break from painting for about a year and a half while I was sorting out a lot of this stuff, but once I took a full-time job as a web designer, my boyfriend (now husband) and I moved to a new apartment where there was an extra room I could use as my studio, so I started painting again. That's when I knew I had to do it for the rest of my life, because it filled a void I had felt when I wasn't painting, and it made me feel whole again.
That wholeness eventually led Koh to shift her primary mode of expression from painting to sculpture. With this change has come an alteration in the mood of her work. Look at the selections of 2010 paintings on her website and what you see in many instances are dark, eerie atmospheres. Koh's sculptures, by contrast, have more of a loud, splashy, exuberant aura. They're profound, yet playful. She uses materials like metallic spandex, velvet, and satin to create structures such as hamburgers with legs, crying flowers, and suns, moons, and rainbows with an array of expressions emanating from them. All of the sculptures have the feel of images that might be seen in a kaleidoscopic dream experienced by a child (or child at heart).
"I am always open to discovering new materials for my work, and I've worked with so many," she tells. "However, I've stuck with metallic spandex for a while because I love the stretchiness of it, the corporeality, as well as the glitzy surface. I love the whole process of cutting fabric and sewing, the drawing and cleanliness of it. I find sewing to be very relaxing and satisfying."
As to the transformations in her art, Koh, who gave birth to twin daughters in 2015, says, "My work has always reflected whatever I was feeling or thinking at the moment, and for sure I have gone through some dark phases. Becoming a mother definitely infused my life and work with a newfound joy. However, motherhood is also dark, hence my work has many layers to it, such as the tears."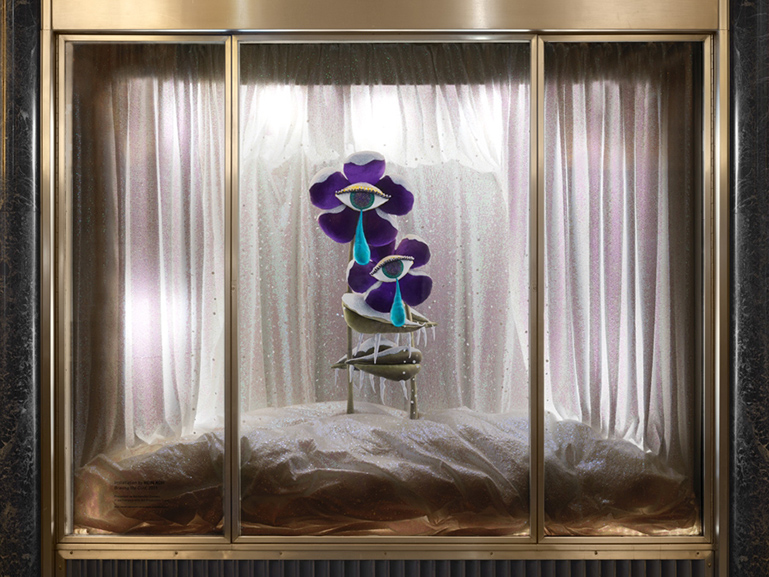 The Eyes
One continuum throughout Koh's body of work has been the use of eyes as a means of expression. Eyes sometimes appear on the canvases of her old paintings, and they are frequently aspects of the relatively recent drawings she has up on her site. And eyes absolutely dominate her sculptures. Koh attaches globular organs to various types of food items and a variety of flowers and other objects in these works, often with tears flowing out.
"When I started making sculptures in 2011, eyes just started coming up in my work," the artist elaborates. "I'm not sure why, but I think I was just drawn to the idea of engaging with a central form, a portal into another realm. I like the spiritual associations with eyes, and the idea that 'eyes are a window to the soul'. They disappeared from my work for a while but returned, and lately I've had a desire to anthropomorphize my work. I like the idea of making creatures, making inanimate objects animate. Also I'm sure my daughters have influenced me and have made my work more cartoony."
Koh's work has often contained tension between the physical and emotional spheres. Recognizing this calls attention to the fact that she earned a bachelor's degree in psychology, at the same time that she was an undergrad art student. Her background in the study of the human mind oftentimes shows through in her artwork, enhancing its themes.
I've always been interested in psychology because of my own struggles with depression," she relates. "Studying it helped me be more self-aware and develop coping skills for my depression. So I thought about becoming a psychologist. However, as soon as I graduated, I realized that I just wanted to paint all the time, although I'm still very interested in psychology and read a lot about it. I definitely like to view visual art through a psychological lens, so I tend to be drawn to work that is more about inner world and content, than formal issues."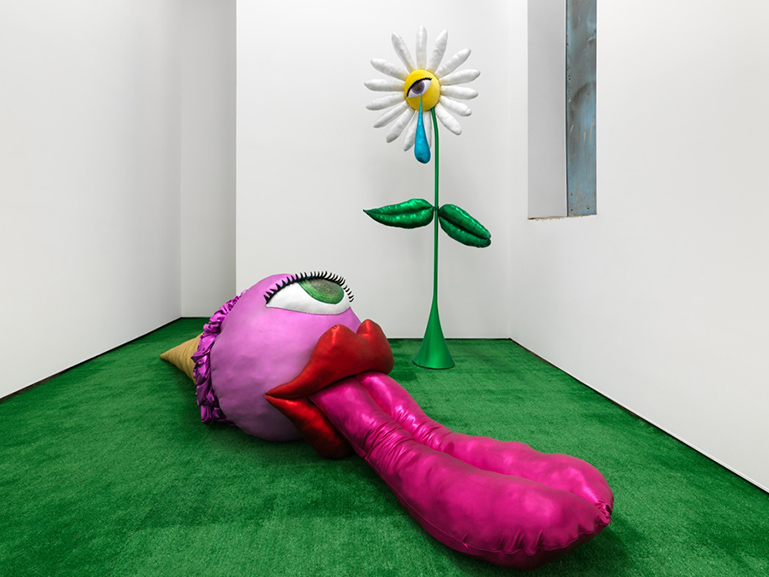 Looking Into The Future
A recent and notable commission Koh received, was an installation of a variety of her works that were scattered over different parts of Rockefeller Center in NYC. Titled Braving the Cold, the exhibit was created in conjunction with the Art Production Fund and included sculptures of the kinds described above, as well as digital drawings of similar styles and moods. Taken as a whole, the pieces create the feel of a brightly colored dream sequence in a surreal film.
"I had done a studio visit with Casey Fremont, the Executive Director of the Art Production Fund, so she had me in mind for future projects," Koh explains, when asked how she came to attain this impressive gig. "When the Rockefeller project came up over a year later, she thought I would be a good fit, so she reached out to me after they had reached out to her. I thought it was a great experience, although it was stressful because the deadline was so tight. However, I felt it was an honor to show at such an iconic New York City landmark with so much history. I liked that it was an atypical but prestigious venue - it broadened my audience and commanded new respect for my work."
And Koh's work continues to be active and in demand. Current and upcoming projects include a major commission for the Bronx Children's Museum, this a massive installation of an underwater scene with fish, ocean animals, coral and seaweed. Those 30 or more sculptures will hang in a 40-foot-high atrium in the lobby of the museum, beginning in spring of 2020. She also has a few group shows coming up, one co-curated by Shrine and Sargeant's Daughters in their joint space, Jack Hanley Gallery, and Allouche Benias Gallery in Athens, Greece.
Written by Brian Greene.
Featured images: Hein Koh, Splendor in the Grass, Marvin Gardens, 2018; Braving the Cold, Rockefeller Center, 2019. Photos by Dan Bradica. All images courtesy the artist.