British artist living and working in Brighton, Helen Beard explores themes set within a broader context of relationships and sex. Her recent color filed oil painting of cropped sexual images are drawn from pornographic material but subverted into colorful joyous works, seeking to take back ownership of sexual imagery from the predominately male gaze.
The artist is now bringing her largest solo exhibition to date to Unit London. It's Her Factory brings together a new body of Beard's large-scale, vibrant works – including the artist's first sculptural piece – that examines contemporary portrayals of sexuality. Featuring graphic depictions of explicit sex acts and entwined bodies, these painting force the audience to engage with the scenes on the artist's terms.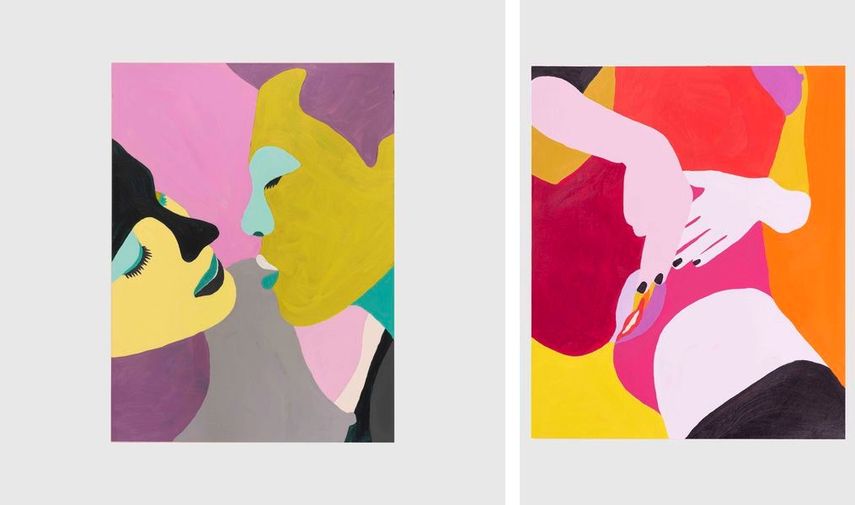 The Practice of Helen Beard
A multifaceted artist, Helen Beard has been working in various mediums including paint, collage and needlepoint, as well as making sculptures and installations. Characterized by polychromatic forms and shapes, her paintings employ an abundance of images and colors. Setting pornographic sources against abstract and complex arrangements, the artist invites the viewer to engage with the human body.
Depicting close crops of the body, these paintings draw from the artist's 15-year career in the film industry and her studies of ways of framing the shots to imbue an image with tension and sense of narrative. Through an expressive painterly language, the artist creates a dialogue with the sexual desire and female viewepoint, but also brings up important notions of body positivity.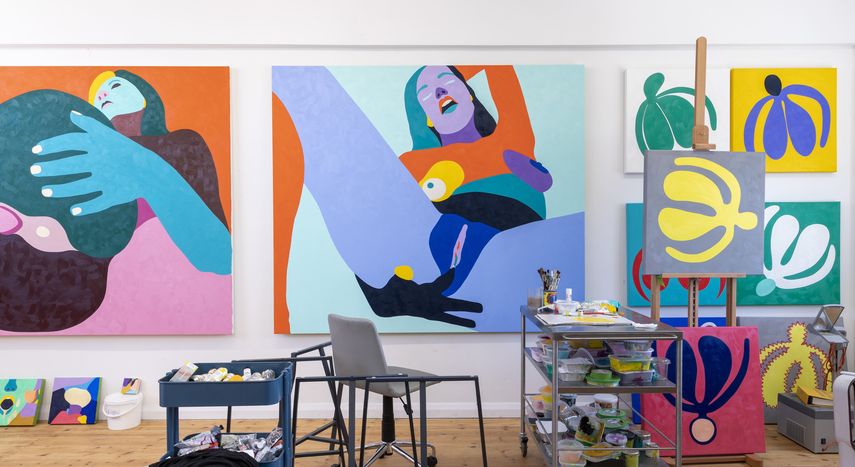 Female Empowerment and Self-Pleasure
With her latest body of work, Beard challenges contemporary ideas of sexuality and examines the individual's agency in controlling their own bodies. These works focus primarily on female self-pleasure, body positivity and empowerment. Most particularly, the works The Seducer and Poetry in Motion substitute chauvinistic representations of lust with intimate portrayals of the female form.
This feeling of intimacy and desire is further enhanced by a unique texture created with her brushstrokes which is supposed to mimic the ripples and suppleness of human flesh. As she explains, this creates an effect which evokes "fingers stroking
In recent years, the artist has been working to create an openness surrounding all types of sexualities, including imagery of queer intimacy through vibrant color-blocking. Employing images which are often censored by the media, she aims to encourage a sense of openness around our bodies.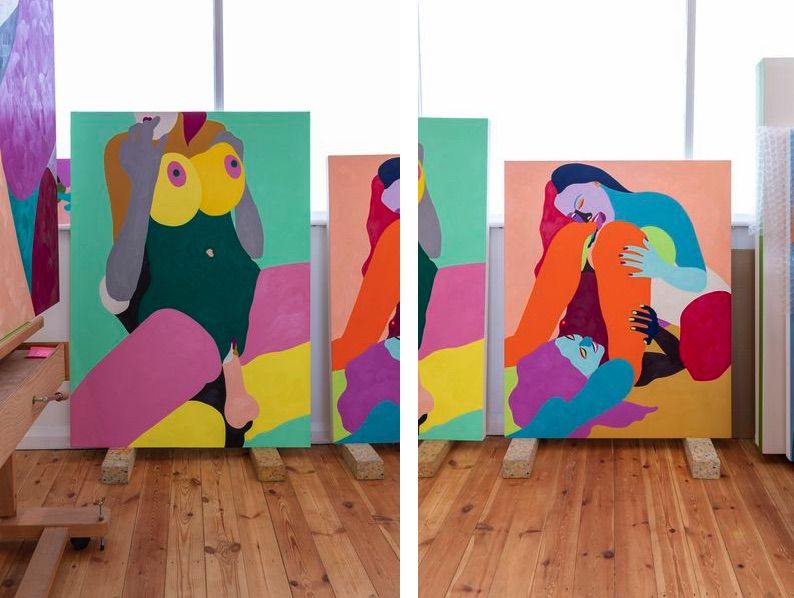 Helen Beard Exhibition at Unit London
It's Her Factory will be on view at Unit London from September 7th until October 6th, 2019.
The exhibition follows Helen Beard's inclusion in last year's critically-acclaimed Unit London group exhibition, 21st Century Women, and exhibited True Colours at Damien Hirst's Newport Street Gallery.
Featured images: Helen Beard Studio. Credit Lucy Emms. All images courtesy Unit London.