Hendrik Beikirch a.k.a. ECB opened a new exhibition at Gallery Wolfsen in Aalborg, Denmark. The show is entitled Monochrome Matters and it represents his latest series of black and white portraits characterized by his signature style. ECB is known for vast murals he keeps scattering around cities, which usually depict monochromatic portraits of picturesque men. Over the years, he accomplished the astounding mastery of the medium, while his transitions between black and white are vitalized with millions shades of grey, giving the work depth and realistic appeal. Meticulously painted works will be on view at the Wolfsen Gallery until the 24th of May, 2014.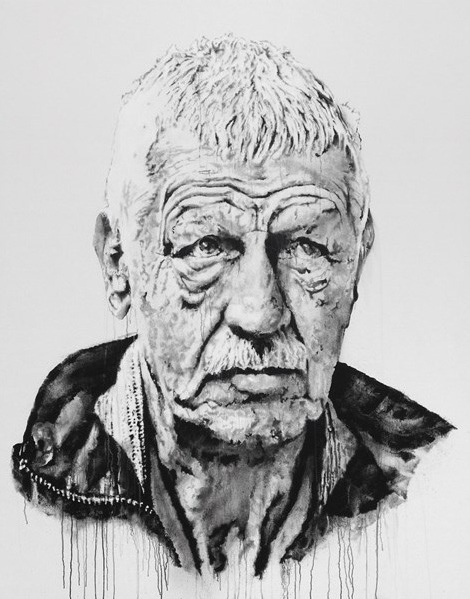 Monochrome Matters
Another artist is having a show at the same space and the same time, as the complete contrast in color and creative process to ECB. His name is Doppeldenk, and both of these creatives come from the amazing world of street art, already known among their followers and collectors across the world.
Even without knowing the behind of the ECB's paintings, they allure and touch the viewer. However, their true meaning lies in the fact they are portraits of people living in the street and on the go. The less fortunate homeless people are regular dwellers of cities and each of us encounters them often, almost daily. Expectedly, they appear shabby, dirty or worn, not inspiring many to approach them, let alone take them as inspirational muses. ECB, however, found something true and enchanting in these characters who have had lives we know nothing about, trying to tell their story by picturing all of the complex emotions in wrinkles and creases of their facial expressions. The supposed tale is so colorful in the imagination, the actual color seems redundant. The only thing needed to paint their destinies correctly is a drawing, which ECB mastered and executes it fantastically.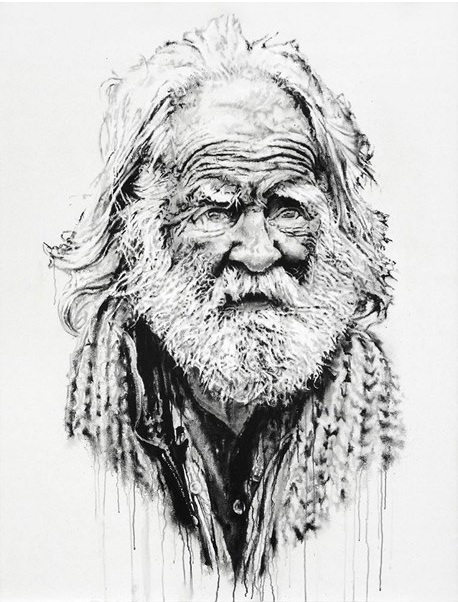 Hendrik Beikirch
ECB is a German artist whose fame is currently on the rise. His monochromatic portraits make part of many prominent collections that have works by luminaries as Warhol or El Mac. He won acclaim for his great portrait murals that shared common pictorial excellence and the imposing, but impressive, absence of color. ECB is constantly working, collaborating with big companies such as Jaguar, or executing murals on different parts of the planet, in Korea for example.
Although he chooses to portray ordinary, street people, ECB adorns them with ethereal beauty, extracting the best of their character on the surface. His work is climbing on the international scale and is definitely worth the attention, since he convinced everybody that Monochrome does Matter.