When thinking about today's technological developments, we can't help but notice their rapidity and immediacy; almost as if they happen too quickly for us to grasp their real impact and the consequences they will inevitably bring on.
Yet with his large wall sculptures, Hendrik Czakainski manages to freeze time for a moment and to transform urban phenomena into a visual language like no other. Carefully and painstakingly crafted, these works are both imaginary and very real at the same time. They will now be presented as part of the artist's third solo show with Berlin's Urban Spree Galerie, in an exhibition titled SWITCH-OVER.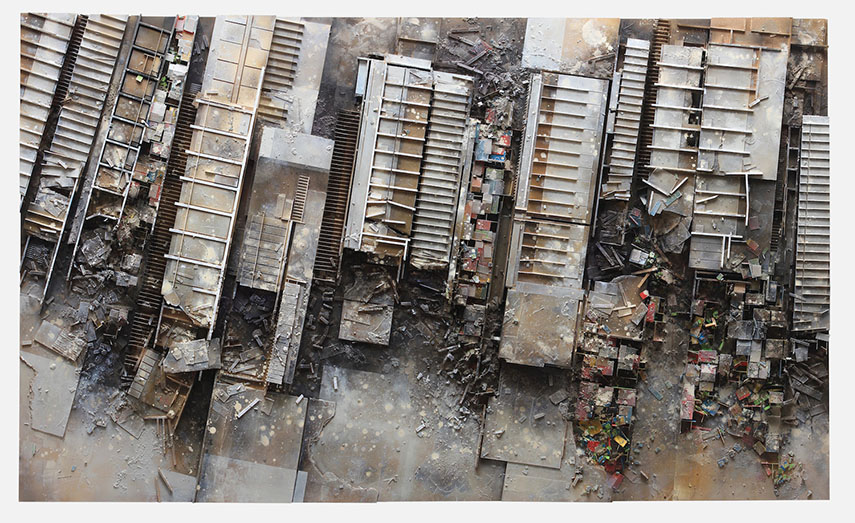 Portraying the Urban Body
At first glance, when looking from afar, Hendrik Czakainski's art appears to be the result of a gesture of geometric abstraction. Upon a closer examination, we see an entire three-dimensional landscape seen from a bird's perspective that features reliefs and structures in impressive detail.
His inspiration comes from the man-made artifacts, which he used to discover in his early years while skateboarding around, and later while traveling the world. He would witness the decomposing and the recomposing of architecture, which he would then transform into a complex dialog between construction and painting.
Based on actual satellite images yet drawing from imagination as well, Hendrik Czakainski's compositions depict creations of the humankind devoid of humankind, where their grand-scale impact is presented on a very small scale.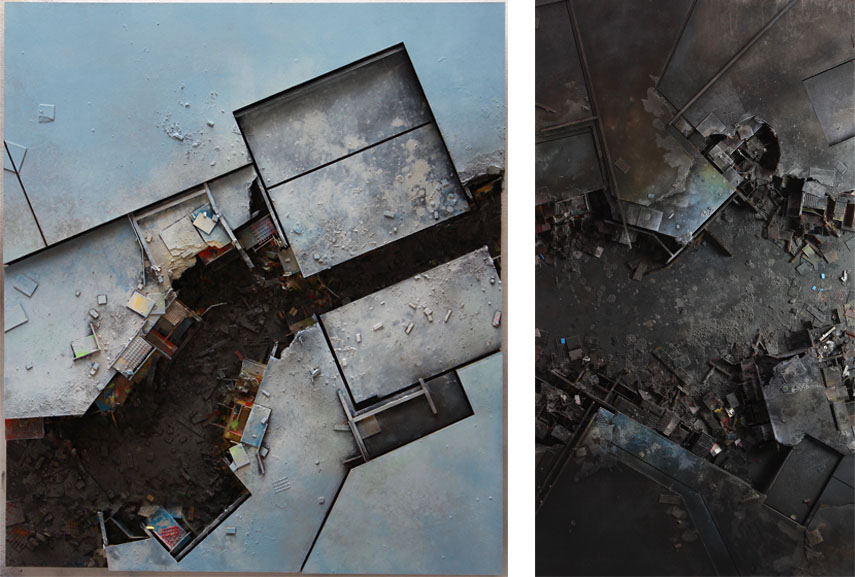 SWITCH-OVER
In SWITCH-OVER, Hendrik Czakainski invites the viewers to go behind his precarious pieces and realize the narratives hidden in plain sight.
Is humanity still a part of the global equation or has the tipping point for us already been reached? Will we ever be able to go back?
Czakainski becomes a genuine forensic architect, collector of evidence of disasters - those that happened and those upon us - an investigator who uses a poetic, yet eye-opening way of storytelling. In the words of Urban Spree's Pascal Feucher, "his creations bring us to a state of contemplation and fascination, owing to the combination of shape and color."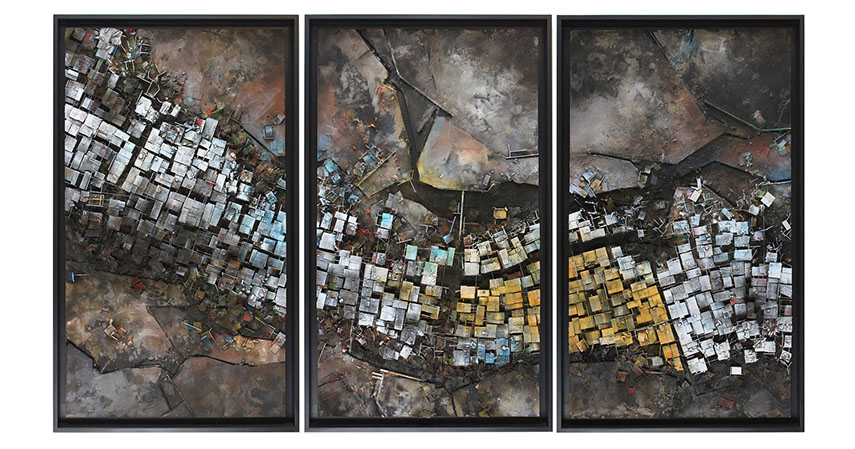 Hendrik Czakainski at Urban Spree
SWITCH-OVER, an exhibition of works by Hendrik Czakainski, will be on view at Urban Spree Galerie in Berlin, Germany, from October 26 through December 8, 2018. The opening reception is scheduled for October 26 at 6.30 pm.
Most of the works on view are consisting of two or three parts, where each of them carries its own value and impulse while giving life to a bigger picture.
The exhibition will be opened with a welcome speech and tour by the art and music critic and friend of the artist Max Dax.
Hendrik Czakainski SWITCH-OVER Exhibition at Urban Spree - Trailer
Featured image: Hendrik Czakainski - o.T, 2018, detail. Mixed media, each panel: 160 x 96 cm. Photos by Hendrik Czakainski, courtesy Urban Spree Galerie.