The development of modern art was very much marked by the presence of great artists who were constantly trying to broaden the horizons of their creativity by getting involved with various media. One of them was no other than one of the founding fathers of modernism - Henri Matisse.
This outstanding art figure appeared to be highly innovative and until the end of his life, the artist was tempted by new solutions and approaches. Much was written about the immense body of work he released during an almost five-decade-long career, yet certain aspects are still to be examined and re-evaluated in accordance with the contemporary art history tendencies.
Aside from simple and colorful painting, Henri Matisse actively worked with other media such as print and was extremely good at drawing as well. Throughout the years, he produced quite a number of prints which were an actual extension of his drawn pieces. As a matter of fact, printmaking enabled Matisse to get back to his favorite compositions like seated or reclining female and re-adapt them in a different manner.
A new insight into this specific part of the great production of modern master  will be accentuated with the current and wide-ranging exhibition simply titled Matisse prints at Bernard Jacobson gallery, which archives a comprehensive collection of the same.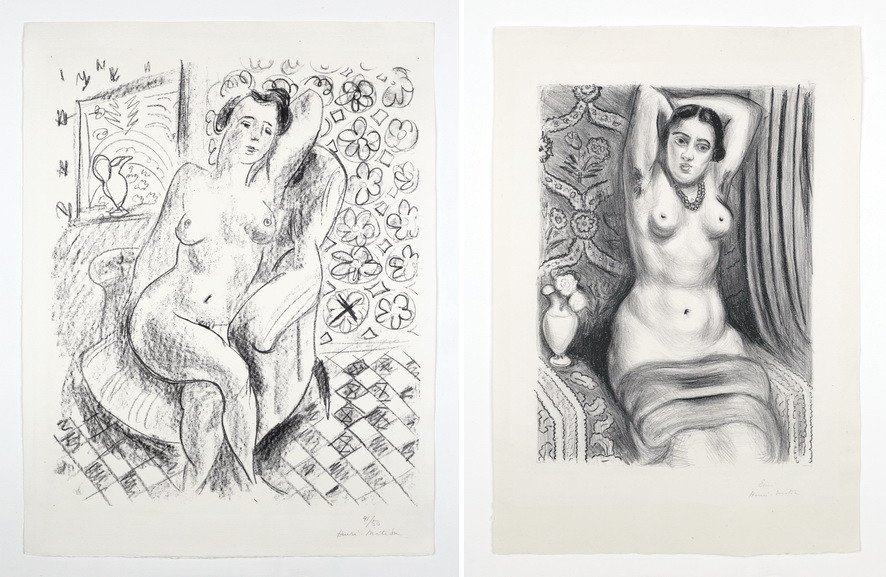 The Multidisciplinary Approach of Henri Matisse
Henri Matisse is known for being quite a connoiseur of color, but also of the line, and both of these skills he encompassed wisely in the process of printmaking. As it was mentioned, the artist used print as an extension of drawing and an opportunity for experimentation, so it is not wrong to conclude that his largely monochromatic and slightly abstract works have somehow anticipated later art movements, especially Pop Art.
In Notes of a Painter written in 1908, Matisse tried to describe what he called the process of visual editing:
I know that I must give it something more. I will concentrate the meaning of the body by seeking its essential lines. The charm will be less obvious at first glance, but it must eventually emerge from the image... (it) will have a broader meaning, and one more fully human.
It is important to mention that Matisse was fascinated by the female form, so it is not strange that this motif is very present in the prints in this exhibition. This representation of women expressed through print reflects a different kind of intimacy, in comparison to the one depicted in his paintings. The relation with the model seems to be more apparent, as well as his peculiar interest in patterns rotted in his family descended from French weavers.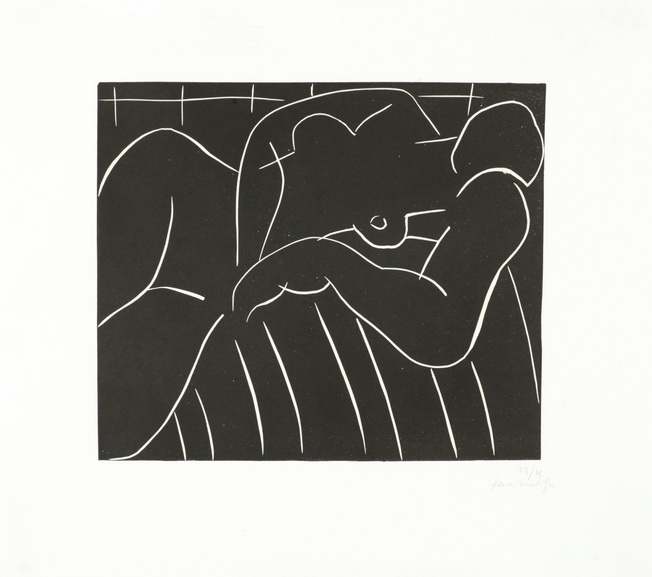 The Installment
The exhibition features a selection of more than sixty rare and important works ranging from etchings, lithographies, to woodcuts, linocuts, drypoints and aquatints. These six different approaches tell much about Matisse's process and provide a certain chronological insight since the earliest works date from the 1900-03 while aquatints date from the late 1940s.
The installment begins with an auto-portrait of the artist in drypoint titled Henri Matisse Gravant, depicting the artist in the intense act of observational drawing. Three woodcuts made in the period from 1906 to 1907 are the only ones Matisse ever did, and one of them titled Petit Bois Clair is displayed.
The artist created linocuts as well which enabled him to finally deal with the lines, so four works from 1938 which are displayed represent the best how Matisse treated the line, while on the other hand, he used lithography in order to accentuate interest in patterns.
The process of etching allowed Matisse to somehow ease up the depictions in order to render the subjects and simple lines. The artist used aquatint in his later years and was attracted to this technique so he achieves simplified and graphic qualities, these works are quite rare so their place in the selection is of specific importance.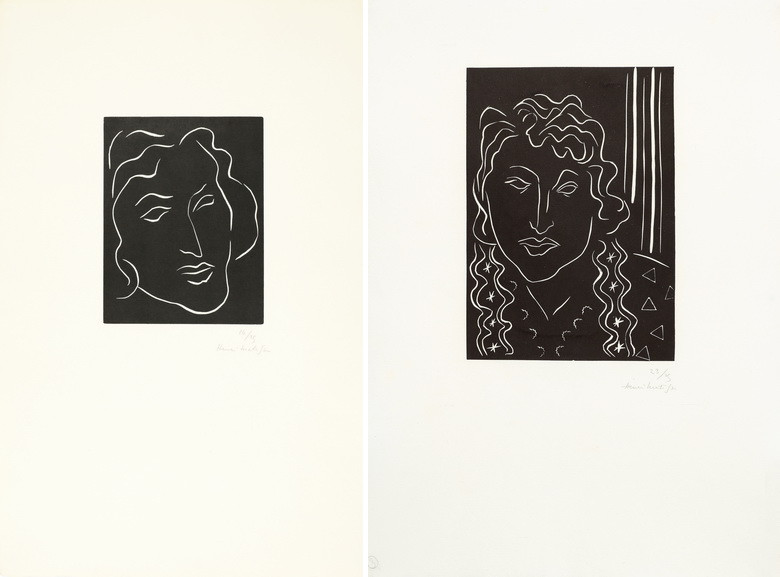 Matisse Prints at Bernard Jacobson Gallery
This amazing chapter of art history on the creative impulse of one of the most celebrated artists of the 20th century expressed through print will be additionally emphasized through an illustrated catalog featuring an essay by John Yau.
Matisse prints are on display at Bernard Jacobson Gallery in London and the audience will be able to see it until 15 September 2018.
Featured images: Henri Matisse - Figure endormie, châle sur les jambs, 1929. Lithograph on Arches Vellum, Edition of 50; Left: Henri Matisse - Grande Masque, 1948. Aquatint on Marais paper, Edition of 25 / Right: Henri Matisse – Patitcha. Masque, 1947. Aquatint on BFK Rives paper, Edition of 25. All images courtesy of Bernard Jacobson Gallery.