New York born artist Henry Mandell is having his new artworks on display at Judith Charles Gallery. The exhibition entitled weightless is the artist's most comprehensive presentation so far. Being a traditional painter and printmaker, Mandell has been familiar with computers and software for years. He used the knowledge he had and started building elegant abstract paintings. His works are digitally painted by hand and are composed of thousands of words and data from scientific and literary texts. The process of creating the artworks is very precise: each colored line is a separate letter, which has been pulled, stretched and altered in vector space one at a time. From idea – computer – HTML code – vector space – transformation – the finishing result is beautifully crafted and very subtle and simple. At the same time, works are very energetic and intuitively convey the essence of the text embedded within the lines.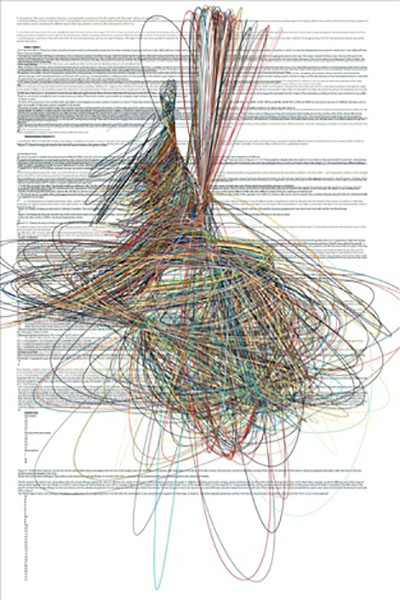 Technology in our Lives
Mandell's paintings are products of his ongoing exploration of digital technologies, contemporary artistic practices, scientific principles and their merging effect on our lives. Astrolabe, Astrolabe (State 2), Maelstrom and Study for Ten Dimensions include research on string theory, astrophysics and dimensionality. Plumb 9 and Plumb 12 are more introspective incorporating sonnets from Walt Whitman's Leaves of Grass. In tandem with his text-based paintings, the exhibition also features works comprised of simple shapes and patterns drawn into complex harmonic concerts further displaying Mandell's acute eye for color and texture – a strength the artist attributes to his extensive research on Mark Rothko while establishing a digital archive of the artist's work for the Estate of Mark Rothko. Mandell primarily uses an Epson 9800 or 11000 inkjet printer. His works are printed directly on canvas or paper, and sometimes mounted on aluminum. For Weightless exhibition that opened November 13th at Judith and Charles Gallery, Mandell also used an HP 3000 latex inkjet printer that has a ten-foot wide media feed.
On Weightless
A statement from the artist on the meaning of weightless:
I assume the Soul is weightless. Never the less it displays a pull on the path of our lives as surely as the mass of all things radiates the force of Gravity. Whether or not the Soul actually exists, it feels to me like it does. In my pictures I create a space where the mysteries of Nature and the intuition of the Soul find a kind of order out of chaos. I include the influence of facts as we know them, tools as we make them, gifts of living in the age of deep knowledge. I believe the path to enlightenment is illuminated by our understanding of how the forces of Nature actually work and how these unseen forces effect our perception of being alive.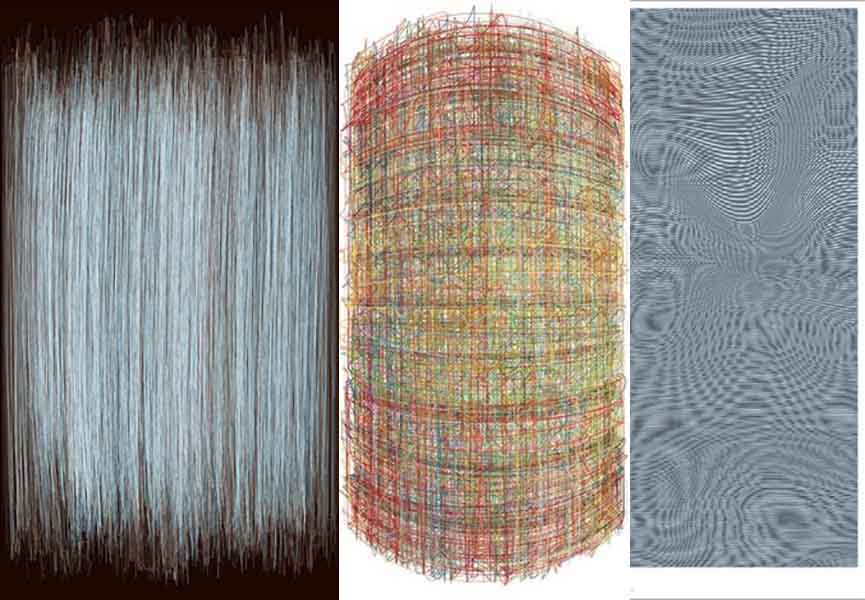 About Henry Mandell
Born in New York City Mandell received a BFA from Ithaca College then studied painting, graphic design, vector graphics, photography and filmmaking at The School of Visual Art and Parsons The New School for Design. His works are included in several private and public collections including the Museum of Fine Arts, Boston, the Columbia Museum of Art, Columbia, SC, Collection of Christopher and Lori Rothko and the Michael and Anne Spalter Digital Art Collection. The artist lives and works in Westchester County, New York.
Weightless will be on view until January 10, 2015 at Judith and Charles Gallery, New York.
If you like the art of Henry Mandell and would like to be informed about his upcoming projects, sign up for My Widewalls today!