Even though theirroots take us back almost two hundred years ago, comics didn't flourish until the mid-20th century, especially in the United States, western Europe and Japan (read about the current exhibition at Cell63 featuring Japanese art based on comics). Despite the lowbrow reputation comics have had for much of its history, everything began to change and find greater acceptance towards the end of the 20th century thanks to mass media. Comic strips and their characters became famous worldwide, they inspired books, television shows, movies and numerous artists who based their work of art on superheroes, villains and their memorable lines (for our article on Superheroes in Urban Art, click here). For all the fans of comics and street art, Chicago based Vertical Gallery prepared a special treat in an exciting group exhibition entitled Heroes & Villains.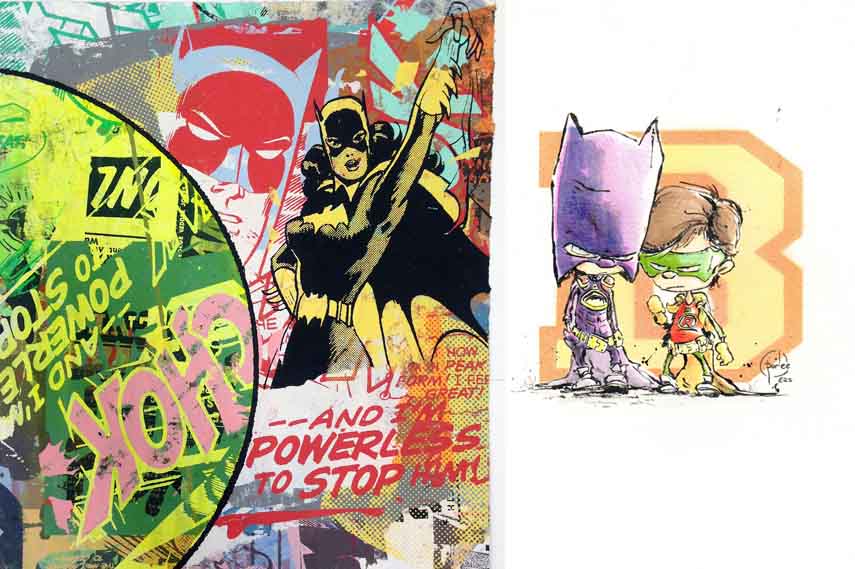 A Personal Take on Comic Characters
Artists have a rather unique and wonderful privilege of having the opportunity to express themselves in every way their imagination lets them, and give insight into their creative minds. In Heroes & Villains, eleven talented international street artist are showing their take on comics and its characters (check out our 10 Superhero Themed Artworks). Presenting a great array of works on paper, canvas, and found materials, this group exhibition allows artist a platform to share their unique interpretations. The show will feature new work from: Chris Cunningham (Dublin, IE), Cept (London, GB), Steve Seeley (Chicago, US), Parlee (London, GB), Grégoire "Léon" GUILLEMIN (Paris, FR), Adam Lister (New York, US), Cieu (Paris, FR), Greg Gossel (Minneapolis, US), E LEE (Chicago, US), Brad Novak (Auckland, NZ), and The Thomas Brothers (Bristol, GB).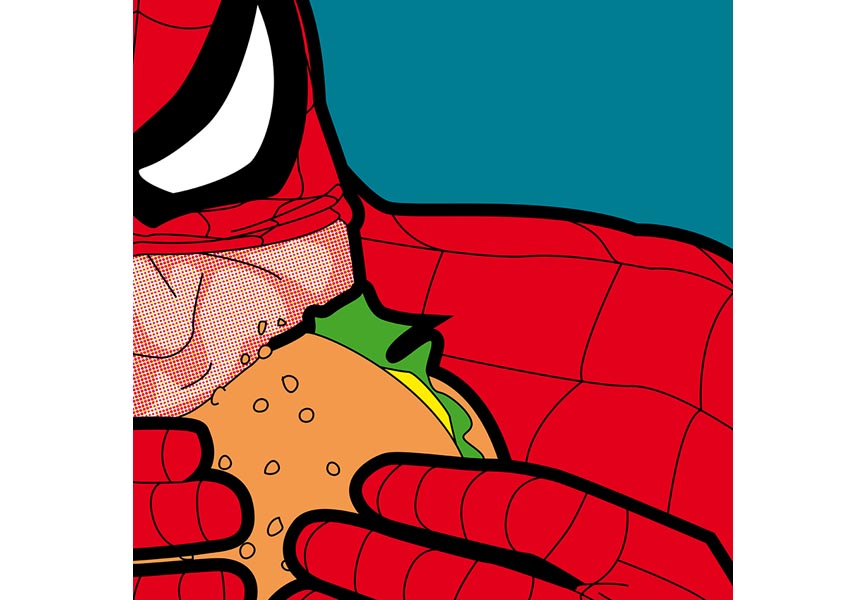 About the Artists
In his exploration of ideas of contemporary pop culture and mass media as they affect and shape how we operate in our daily lives, artist Chris Cunningham uses spray paint and stencil works. Cept is making his Chicago debut with his famous paintings that mix psychedelia with pop art and graffiti. These will be Cept's final paintings in this style. For Parlee, Heroes & Villains will be his USA debut in which he will present a new collection of his iconic kids as heroes & villains – all are spray paint, ink and watercolor on paper. Another Chicago debut comes from Adam Lister with a new collection of his 8-bit inspired watercolor superheroes, while The Thomas Brothers make their USA debut creating distinctive mixed-media work exploring themes such as duality, nostalgia, good vs. evil, fairy tales and childhood through comic book imagery.
Vertical Gallery's Heroes & Villains will be special for artist E. LEE since he'll bring his largest work to date with intricate stencil and hand painting on found materials. Gregoire Guillemin will be featuring new work form his wildly popular Secret Life of Superhero series, while Greg Gossel returns to the gallery with a new series of mixed-media collage works on paper. Steve Seeley has created a new collection of his brilliant re-interpretations of famous comic and cartoon imagery. Cieu combines graffiti, portraitures and collage to compose dramatic paintings. Brad Novak makes his USA debut with one-of-a-kind, hand-collaged and stencil-spray-painted works involve the layering of popular imagery.
Heroes & Villains opens Saturday, March 7th at Vertical Gallery, 1016 N. Western Avenue, Chicago, IL 60622. The show will stay on view until March 28th, 2015.
For more exciting exhibition announcements, sign up for My Widewalls today!