VinZ
Fish Tank
Opening: September 6
SOON Galerie
As the time changes and becomes more and more complex, so does VinZ's repertoire of characters. VinZ constantly introduces new hybrids. For example, fish are symbols of consumerism. His upcoming solo exhibition "Fish Tank" at Soon Gallery in Bern will present VinZ's works for the first time in Switzerland. By satirical examination of billboards, the new body of work questions the consumer behavior and suggests to think about how much our perception is conditioned and deluded in this regard. VinZ's nudes with fish heads refer to the use of human bodies and sexuality in the advertising industry. Although VinZ's work has many philosophical layers conveying strong socially engaged messages, his eye-catching collage pieces carried out with the artist's unparalleled artistic sensibility are inevitably characterized by beauty and sensuality. "Fish Tank" show opens on September 6 and will run through October 11.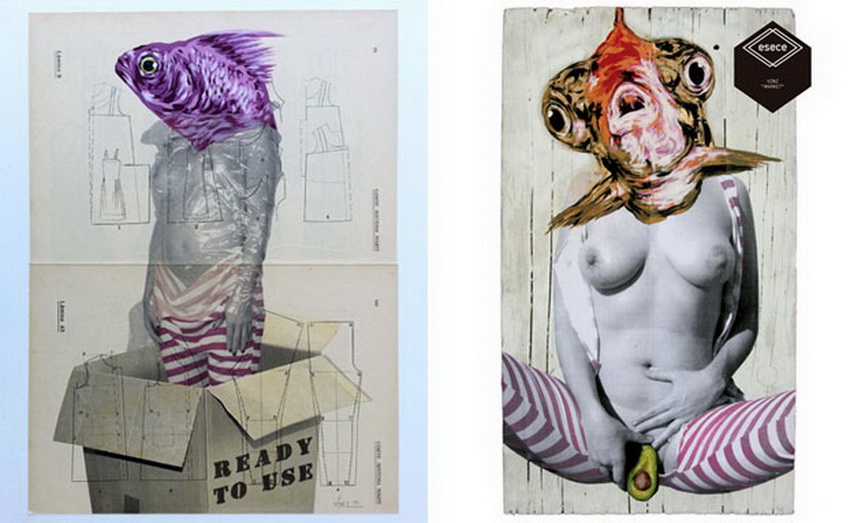 Stefan Strumbel
What the Fuck is Heimat?
Opening: September 6
Circle Culture Gallery
This German term "Heimat" cannot be translated word-for-word to other languages, as the content of this term is of wide nature. The meaning concerns the notions of homeland and heritage and for Strumbel it is a specific tool of reflection. The artist interprets and reinterprets this term as a metaphor for existential identity questions which are in close relation to the understanding of oneself's "essence." These are, in fact, the questions concerning the ways of defining oneself. Through space and temporality? Or is it the question of the social or cultural self? All of these questions, and more, become present in the works of Stefan Strumbel and are going to be available for examination and contemplation during the period between September 6th and November 1st in Berlin, at Circle Culture Gallery. What The Fuck Is Heimat? is Stefan Strumbel's grand solo exhibition and it will include a number of installations which represent a synthesis of the notions so innate to the creative process of the artist.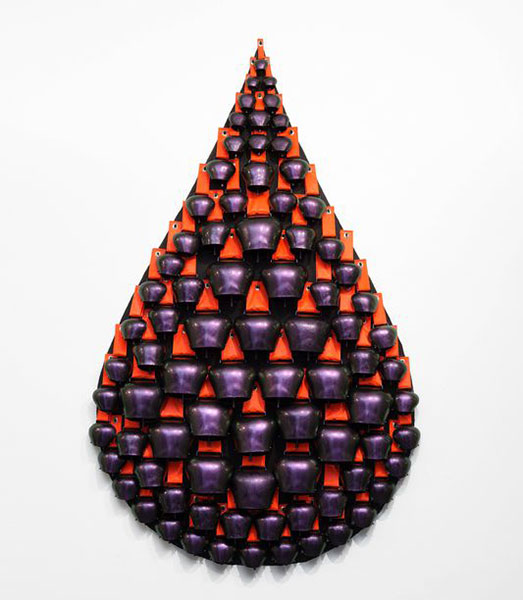 Insight
Group Show
Opening: September 6
Magda Danysz Gallery (Shanghai)
During the period between September 6th and October 4th 2014, the Magda Danysz Gallery in Shanghai will present a collective exhibition of internationally renowned artist. The show titled Insight features work of Stéphane Bisseuil, Liu Bolin, Gael Davrinche, Huang Rui, JR, Wang Keping and Sten Lex. An inspirational and mesmerizing amalgam of different styles and techniques will be available to the public, from devotion to street art and photography to the artistic expressions of sculptures and characteristic performance art. It is a rendition of the artists' vision of aspects of existence we sometimes tend to overlook in day-to-day life…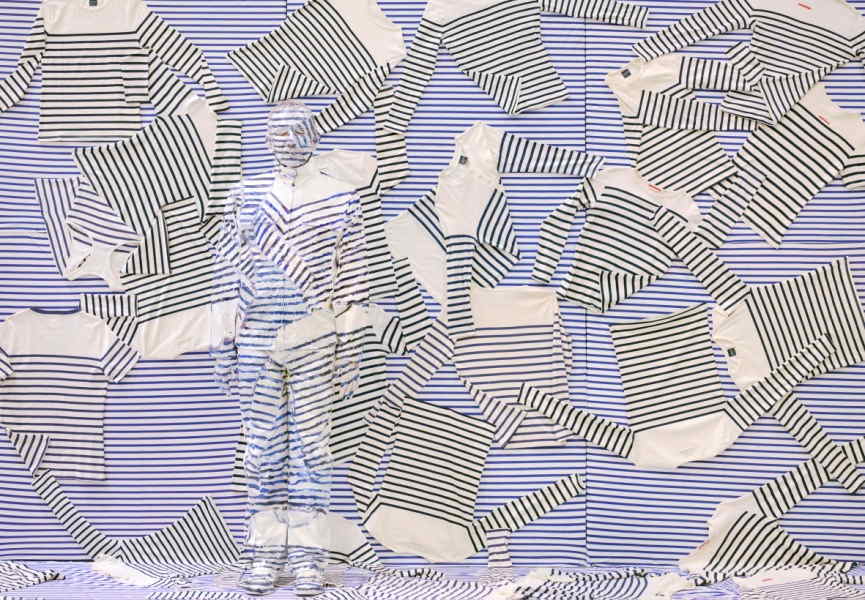 My Dog Sighs
Lost and Found
Opening: September 6
Vertical Gallery
Having recently participated in Urban in Ibiza Festival, the latest endeavor of My Dog Sighs will be his US exhibition, hosted by Vertical Gallery in Chicago, through which this original British artist will bring his ideas to the American soil for the first time. His urban interventions and animated objects will be showcased under the title Lost and Found, evoking the nature of Free Art Fridays, where art connects with the people on an emotive plane alone, gaining new owners. Examining the concept of loss, the artist keeps visible his found materials, reflecting the melancholy and nostalgia lying behind the idea. Lost and Found is scheduled to open on September 6 at Vertical Gallery, remaining on show through September 27, 2014.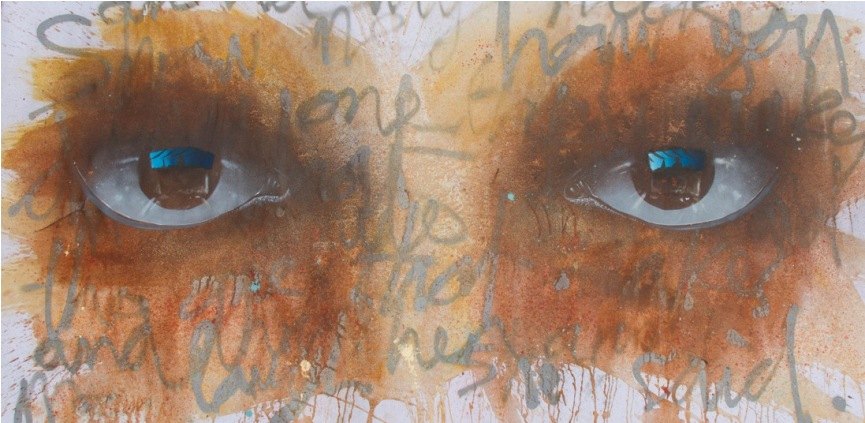 Wayne White
Invisible Ruler
Opening: September 6
Joshua Liner Gallery
It is always an inspiring experience to appreciate artists who immerse themselves in different artistic expressions, but it is also refreshing and tought provoking to explore the methods of said artists and the interdisciplinary ways on which they are able to lead an art admirer. During the period from September 11th to October 11th 2014, the public will have a chance to interact with the aesthetics of Wayne White, who will be in attendance at the opening reception of his New York exhibition Invisible Ruler. Apart from the show, there will be a screening of the documentary on White's career, called Beauty is Embarrassing.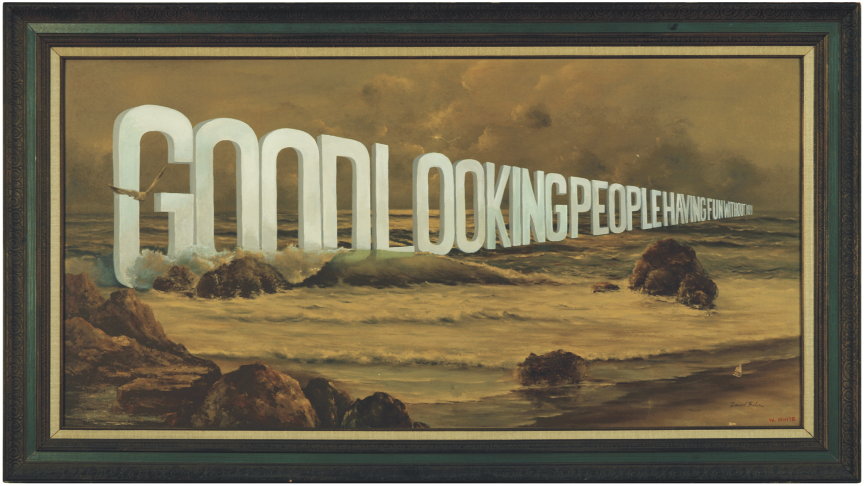 José Parlá
IN MEDIAS RES
Opening: September 12
Bryce Wolkowitz Gallery
IN MEDIAS RES, the second solo exhibition of Brooklyn based artist José Parlá, is ready to be installed in the Bryce Wolkowitz Gallery. The exhibition will feature new paintings, sculptures and a large-scale mural installation starting September 12 to October 18. IN MEDIAS RES is a chronicle of Parlá's life, beginning with his childhood and including his extensive travels around the world. The painting is his diary. Through choreographed, painterly works, the artist creates impressions of life-altering moments that have impacted his art making process.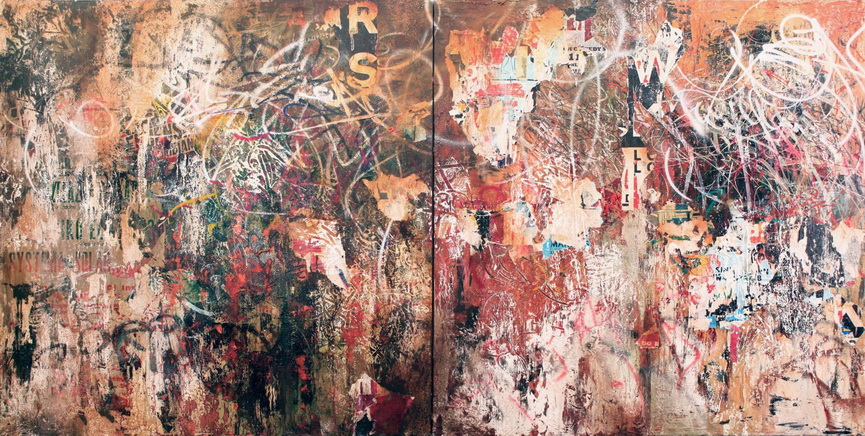 KAWS
Untitled
Opening: September 13
Honor Fraser Gallery
KAWS returns to Los Angeles with new drawings, paintings, and sculptures for his third exhibition at Honor Fraser Gallery. The exhibition will open on September 13 and will run until October 31. Stylistically, the latest work shows a new stage in combining abstract forms and cartoon-like imagery so characteristic of KAWS. In a new body of work, what appear to be non-representational images are variations on small details of Charles M. Schulz's iconic drawings of characters from his Peanuts series. Original Peanuts comic strips appeared in American and international newspapers every day from 1950 until Schulz's death in 2000, establishing the characters as significant figures in the American pop cultural vernacular for generations of young people.