Is there any hope in the world today? Can people find relief in their lives? Would death release them from destruction and demise? In a new body of Hikari Shimoda art, the Japanese artist tackles these gloomy topics in a rather glittery and symbolic way however, presenting as many as twenty oil and mixed media paintings at Corey Helford Gallery. To understand the human condition is something that has always been her scope, and through the sparkling works she managed to capture the metamorphosis of innocence and a dying planet that awards rescue by a cast of unlikely heroes: fantastic magical girls and peculiar, big-eyed children with horns and wings. The new body of artworks promises to showcase a mature artist who has stayed true to her rich imagination in a recognizable way.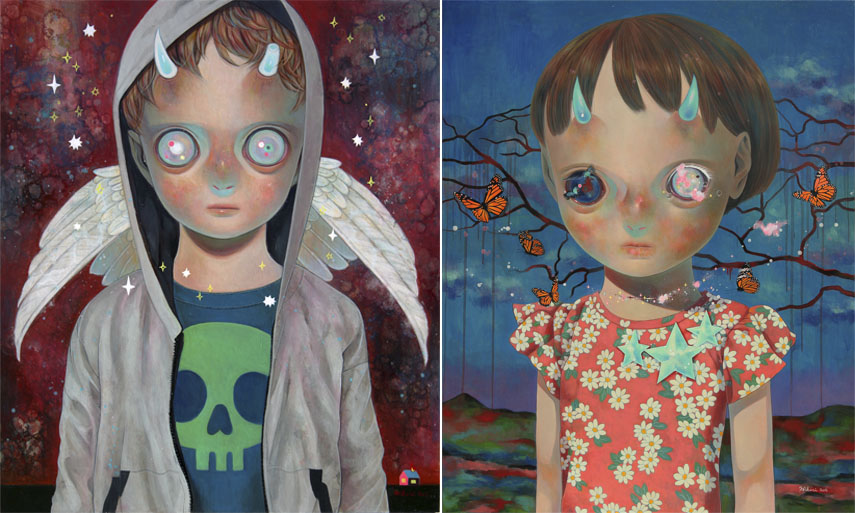 Memento Mori
The most recent Hikari Shimoda art continues to expand her vision of the world after the tragic Great East Japan earthquake that struck Japan along with the Fukushima nuclear accident in 2011. Her hopeless landscapes are yet again infused with stars, skulls, rainbows and glitter, referencing religion and its role at a time of despair. Her portrait series Whereabouts of God is now accompanied by five new bodies: Whereabouts of God - Nobody, Our God, I Do Not Know My Enemy, Manga and Death and Angel, all obviously relating to the high spirit. These paintings are populated with brilliant Buddhas, dark angels and mixed-race children with bright eyes and sparkling, slit throats. Inspired by the manga comics and the dark emotions they also reflect, Hikari Shimoda applies her own ideas of the world in curious compositions that ask for numerous interpretations.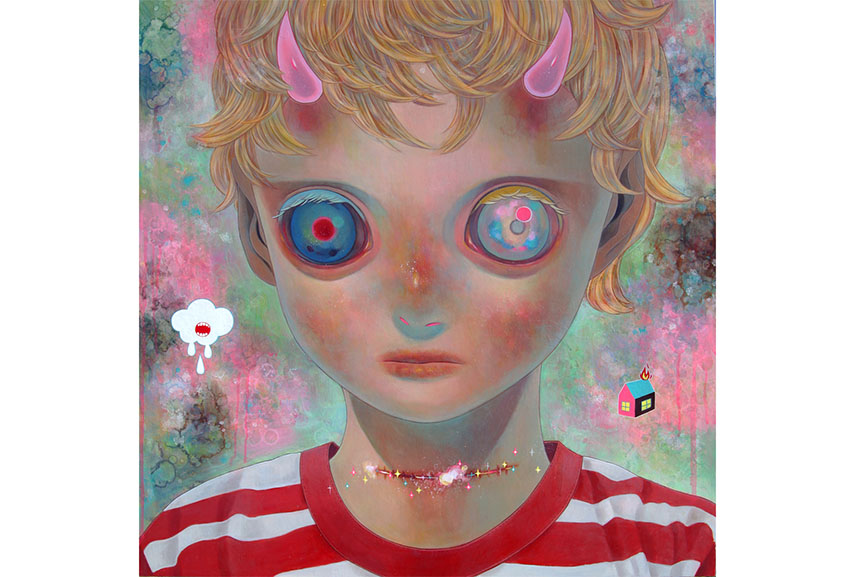 Finding Hope in Demise
Whether she adopts or borrows the famous action heroes like Sailor Moon and Ultraman, or reflects on humanity at large, Hikari Shimoda tells the story of a Messiah created by the human race, only to eventually destroy it, leaving two lone survivors. In her eyes, and those of her young characters, we are to find hope, as these represent god-like figures who offer us relief. The artist uses the Buddhist Kannon as an inspiration to describe this constant relationship between life and the end of it, the relationship between humans themselves, the attacks we carry out on each other and thus creating an environment of angels of death. By painting children of various races, Hikari Shimoda points out that the problem does not relate to one race or country, but to all of us, the whole world, and that we're all involved in it, perhaps without even knowing it at this point.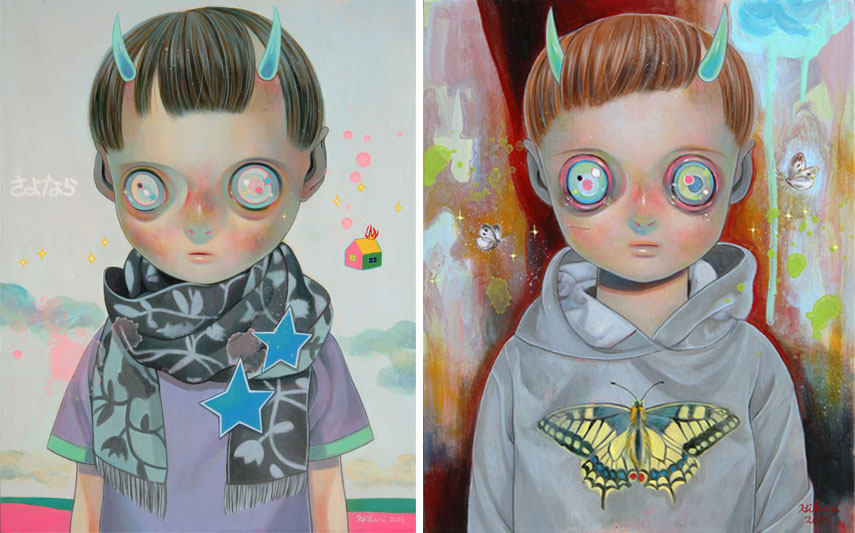 Hikari Shimoda Art at Corey Helford Gallery
Memento Mori, an exhibition of Hikari Shimoda art, as well as Michael Page's Nostalgia Kills, will be on view at Corey Helford Gallery in West Hollywood, USA, from January 21st through February 18th, 2017. The opening reception is scheduled for January 21st, from 7pm to 11pm. The showcase will once again prove to us that there is a world where cuteness and horror, harmony and dismay, the East and the West, coexist and function together.
Featured image: Hikari Shimoda - Our God - Nyoirin Kannon Bosatsu. Acrylic, oil, stickers, medium, mounted on panel, 36 x 46 in. All images courtesy Corey Helford Gallery.