The enchanting and disarming world of Hikari Shimoda is a perfect balance between cuteness and horror. Drawing from the Japanese manga and anime, this world is populated with starry-eyed children dressed in heroic costumes resembling Superman and magical girls. However, these works speak to problems and struggles in contemporary society.
On the other hand, Millo's world is populated by friendly inhabitants exploring their urban setting. Known for his consistently simple, monochromatic style matched with bits of color, he attempts to portrait the purest part of humans, enjoyment and play.
Welcoming the summer season, Dorothy Circus Gallery will present the double solo show dedicated to these talented artists. Titled Hikari Shimoda: Stand Up, Savior and Millo: Where the Streets Disappear and taking place in Rome and London, the exhibitions will bring together Shimoda's colorful and disarming artworks and Millo's emotional and poetic street art. These two artists will engage in an intense dialogue, highlighting their unique representation of adolescence and modern youth.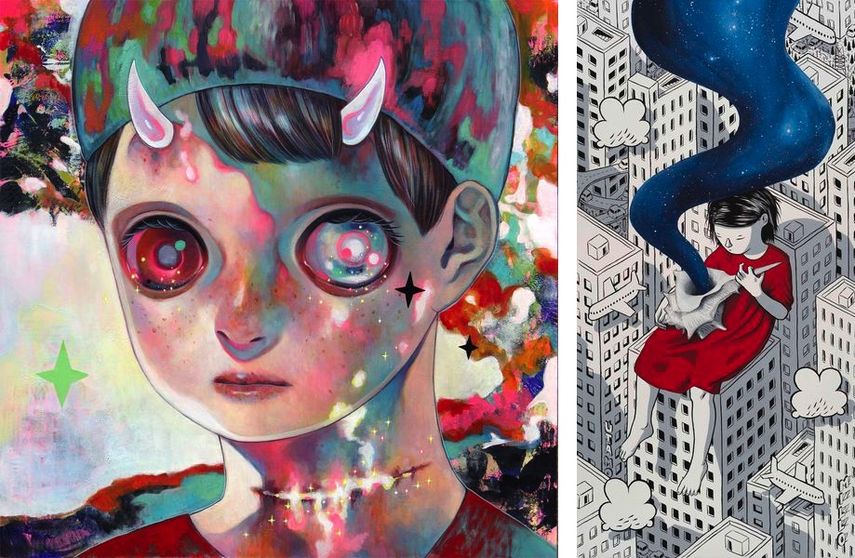 Modernity and Youth
The exhibition brings together between 10-12 canvases by each artist, executed in various formats. In their distinct visual language, they will address the theme of modernity and youth, telling stories, expectations and fragility of timeless generations—today's teenagers and of their parents, yesterday's eternal children.
At the same time, the show will engage the visitors in a direct and open dialogue between British, Italian and Japanese cultures despite the uncertainties of the present. The audience will have an opportunity to contemplate the similarities and differences of these seemingly disparate worlds.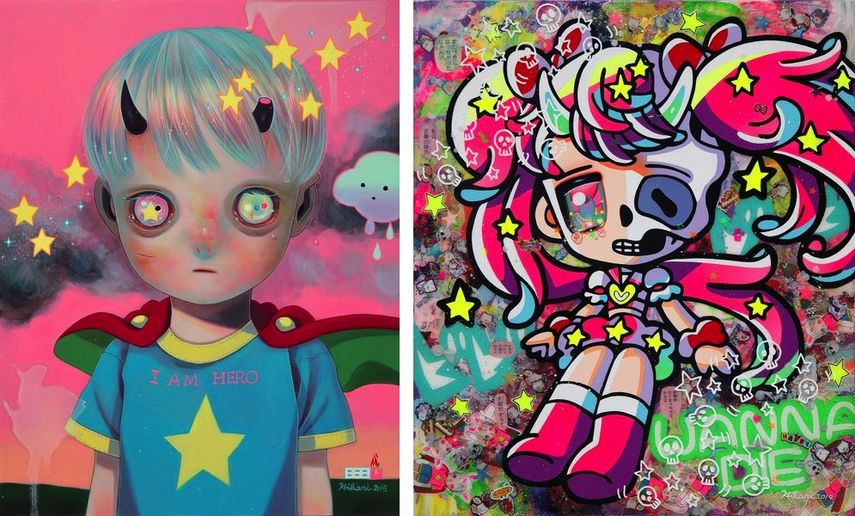 Hikari Shimoda and Millo
Using bright colors and illustrative techniques which combines brushstrokes, lettering and collage, Hikari Shimoda juxtaposes horror and sweetness, perfectly reflecting today's society. Her star-eyed children are guided by a desire to grow to protect all the children of the world from violence and loneliness. At the same time, the uncertainty and fragility of their own future and that of a tainted and lost childhood is revealed.
Similarly, Millo deals with the fragility of human existence and the importance of each individual's personal growth, especially in the context of their urban and social environment. Constantly investigating our surroundings, the place and time we live in, our space in the world and within the walls of our homes, the artist creates works which act as portals into the human mind and heart.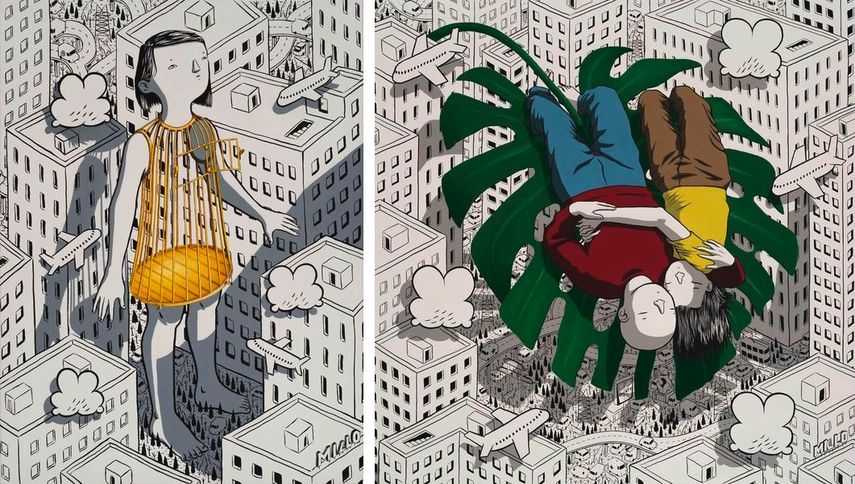 At Dorothy Circus Gallery
The exhibitions Hikari Shimoda: Stand Up, Savior and Millo: Where the Streets Disappear will be on view at Dorothy Circus Gallery in London and Rome from June 14th until July 13th, 2019.
The Private View will be held on Friday, June 14th from 6:30 to 8:30 p.m. in London and on Saturday, June 15th, from 6:30 to 8:30 p.m. in Rome.
Featured image: Millo, Safi, 2016; Hikari Shimoda - Stand Up, Savior, 2019. All images courtesy Dorothy Circus Gallery.