A contemporary Japanese artist, Hiro Ando's work conflates traditional and present-day Japan. He recontextualizes his country's icons such as the maneki-neko (lucky cat), samurai warriors, sumo wrestlers, and koi fish, by reformatting them as colorful sculptures. His sculptures are characterized by the use of monochrome colors and the smooth, shiny materials including resin, porcelain, bronze, and even diamonds, making his works representative of the contemporary Neo-pop art.
Inspired by Battle Royale, the groundbreaking Japanese novel written by Koushun Takami, Ando created the quartet of sculptures depicting the characters from the bestseller. The artist rendered these characters as delicate, feminine and graceful, but also regal, heroic, and deadly.
The Groundbreaking Japanese Bestseller
The first novel by the Japanese author Koushun Takami, Battle Royale was completed in 1996, but it wasn't published until 1999, becoming one of Japan's best-selling and most controversial novels.
This dystopian, futuristic horror story takes place in an alternate timeline, where Japan is a police state, known as the Republic of Greater East Asia. It tells of an authoritarian government which, from time to time, takes fifty randomly selected classes of secondary school students to a small isolated island and forces them to take arms against one another and fight to the death until only one student in each class remains. This radical practice is aimed at making people paranoid and divided, preventing an organized rebellion.
The book was quite controversial for its brutal themes and depictions of violence, not to mention Takami's vivid imagining of the Japanese government as a police state with a sadistic streak. At the same time, it gained great popularity, subsequently inspiring a manga series and a feature film.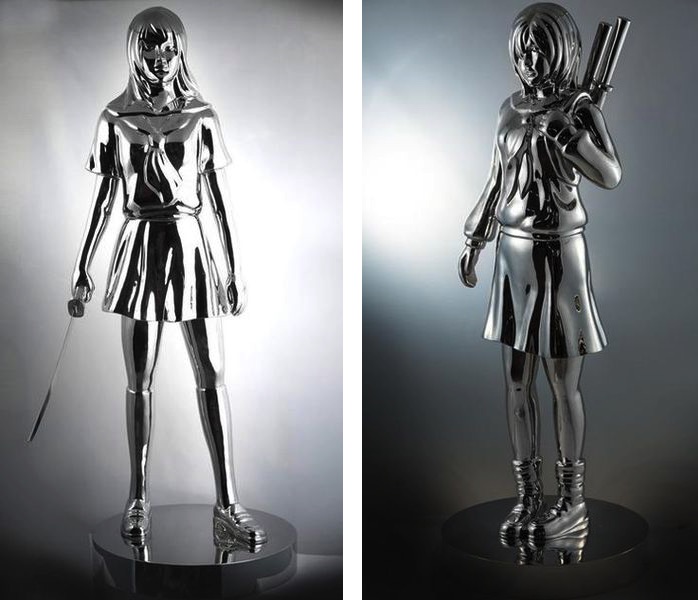 School Girls by Hiro Ando
It's no wonder that Battle Royale, often described as a Lord of the Flies for the 21st century, served as a stimulating force for Hiro Ando, a Japanese artist frequently inspired by pop culture, manga, and the streets of Tokyo.
Titled School Girls, these four sculptures depicts four characters from the novel - Yuki U, Chisato M, Haruka T, and Satomi N, just a few of the young students battling to the death on a remote island. Over the course of these three days, the story of these four girls intertwines and evolves; they go from being allies to co-conspirators, later inevitably turning against one another.
These stunning pieces are executed in gleaming stainless steel, highly polished to play with ideas of luxury, status, tradition, kitsch and high versus low art in a fresh and exciting manner. Despite the horror and brutality of their stories, the artist provided his sculptures with dignity and grace, depicting them as calm as they bravely brandish their swords in the face of death.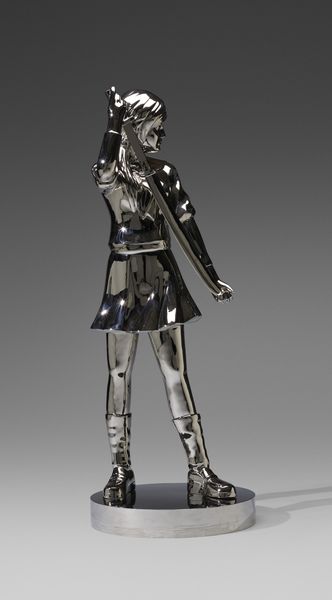 The Practice of Hiro Ando
Drawing on ideas of collectability and fantasy, works of Hiro Ando combine tradition with contemporary culture. Mainly monochrome and glossy, these sculptures showcase a lighter side of neo-pop, highlighting that contemporary art can be both fun and have wide appeal.
This is why School Girls are an awe-inspiring collectible. These works are available for purchase from Galerie Jacob Paulett and the artist's studio.
Featured image: The Scene from the film Battle Royale. All the images courtesy of the artist.