Fueled by endless happenings and rich diversity only a world-class metropolis like Tokyo can offer, Hiro Ando is a Japanese artist celebrated for his unique sculptural work that is not quite like anything else currently on the market.
As one of the founding members of the CrazyNoodles collective studio, Hiro Ando and his work represent the entertaining side of the Japanese Neo Pop culture.
A star representative of Galerie Jacob Paulett, this multidisciplinary artist creates artworks that facilitate a special conjunction of the old and new. Ando mostly does this by relying on the traditional maneki-neko, standing for "lucky cat" within the Japanese mass culture, a motif Hiro constructs in figures of various forms, such as those of samurai, sumo wrestlers or robots.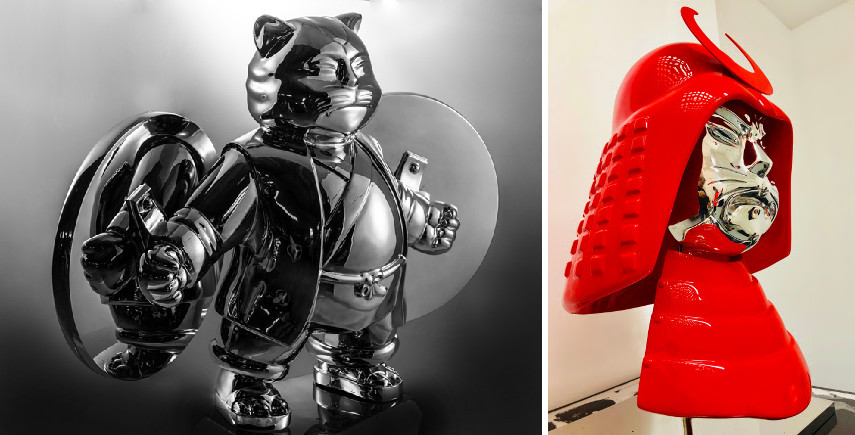 Meet Hiro Ando, the Uncrowned King of Japan's Neo Pop Scene
Hiro Ando initially set down the path of professional art-making in 1995 in Tokyo. Back then, he made a practice out of depicting nighttime urban landscapes.
However, over time his art has shifted in various directions as the artist experimented with video materials, digital support and sculpture.
Eventually, Hiro Ando found a true calling in making sculptures as this medium provided the most freedom to draw on ideas of collectability and fantasy, as well as combine traditional motifs with contemporary culture.
Once his work reached its peak, Ando's sculptures began resembling enlarged toy cartoon characters. Accompanying the playful visuals were interesting names of artworks, like SumoCat, Samurai Cat, UrbanCat and RobotCat.
These pieces are mainly monochrome and glossy, and only a few of them are enrobed in rhinestones or hand-painted. Their style very much reminds us of Japanese modern Manga, a visual feature which is only enhanced by the use of smooth, shiny materials like resin, porcelain, bronze and even diamonds.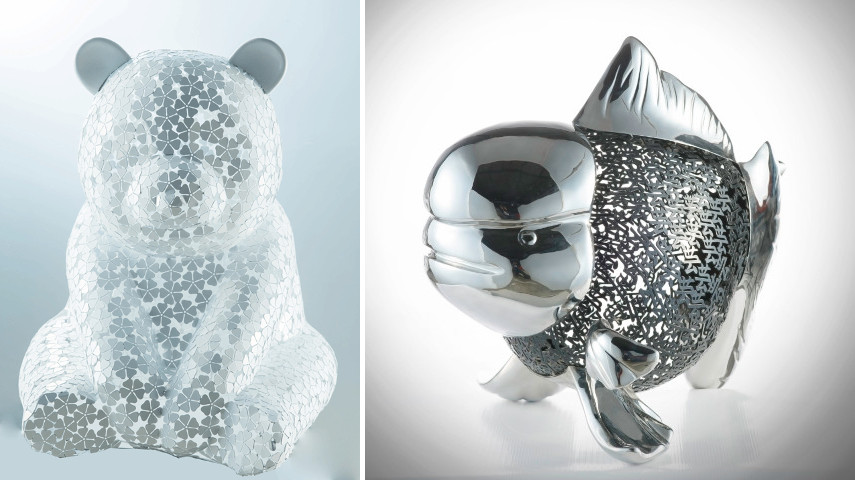 Ando's Most Notable Projects and Milestones
The Israel Museum is the largest cultural institution in the State of Israel, so it was a great honor for Hiro Ando when the museum decided to feature his SamuraiCat Red sculpture within its permanent collection. In a way, more than that single piece is currently displayed at the Israel Museum - SamuraiCat Red very much embodies Hiro's entire body of work as his cat figures, reminiscent of maneki-neko, are almost a trademark at this point.
Probably the artist's most unique series of sculptures that does not feature cats of any kind, Ando's School Girls is an interpretation of Batoru Rowaiaru (Battle Royale), the groundbreaking Japanese novel written by Koushun Takami in 1999. Essentially Huger Games before the actual Hunger Games, this book, which was later turned into a full feature film, had brutal themes and depictions of violence between teenagers. For School Girls, Hiro created a quartet of sculptures, depicting four characters from Takami's bestseller classic.
Finally, the popular CrazyNoodles Studio should also be mentioned. Created in Tokyo in 2005 by Saori Nakamishi and Hiro Ando, CrazyNoodles Studio has the goal of organizing and promoting the creative activities of young artists of the new Japanese pop wave.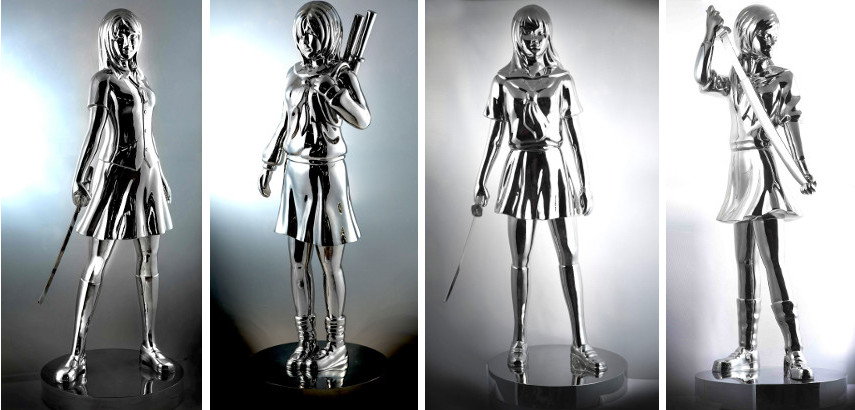 A Modern Samurai of the Japanese Art
Fueled by manga, pop culture and the spirit of modern-day Tokyo, Ando's work is the creative fruit of Japanese mass culture. He may somewhat share the spirit of Jeff Koons' balloon dog figurines and Takashi Murakami's otaku works, but his sculptures do not convey overt eroticism and dark states of mind.
Instead, Hiro Ando expresses a lighter side of Neo Pop, proving that contemporary art can be both fun and have wide appeal.
Featured images: Hiro Ando - Hellopandasan, 2015; SamuraiCat Red, 2006, displayed at The Israel Museum. All images courtesy of Galerie Jacob Paulett and the artist.