One of the most famous contemporary Japanese artists, Hiro Ando creates work that conflates traditional and present-day Japan. Drawing on ideas of collectability and fantasy, he combines tradition with contemporary culture in his sculpture work, facilitating special conjunction of the old and new.
Representing the light, fun side of the neo-pop culture, Hiro Ando's work shows that contemporary art can be both fun and have wide appeal. He recontextualizes his country's icons such as the maneki-neko (lucky cat), samurai warriors, sumo wrestlers, and koi fish, by reformatting them as colorful sculptures characterized by monochrome colors and the smooth, shiny materials including resin, porcelain, bronze, and even diamonds.
Among his most famous cat-like figures is samuraicat, where maneki-neko is constructed like a samurai. Evoking the modern Japanese Manga, a world that influenced the youth of the artist profoundly, his rendition of these works makes them representative of contemporary neo-pop art.
The Practice of Hiro Ando
Emerging as an illustrator in 1995, Hiro Ando quickly shifted his focus to works executed in a variety of different media including painting, digital media, sculpture, and video, creating a dialogue between the traditional past and present culture. In 2005, he and the artist Saori Nakamishi founded the neo-pop artist studio collective Studio CRAZY NOODLES, which organizes and promotes the creative activities of young artists of the new Japanese pop wave.
With their shiny finish, smooth materials, bright colors, sharp but rounded shapes, Ando's works are the creative fruit of Japanese mass culture. Posing a new view on the traditional norms, the artist has been described as a modern samurai of Japanese art.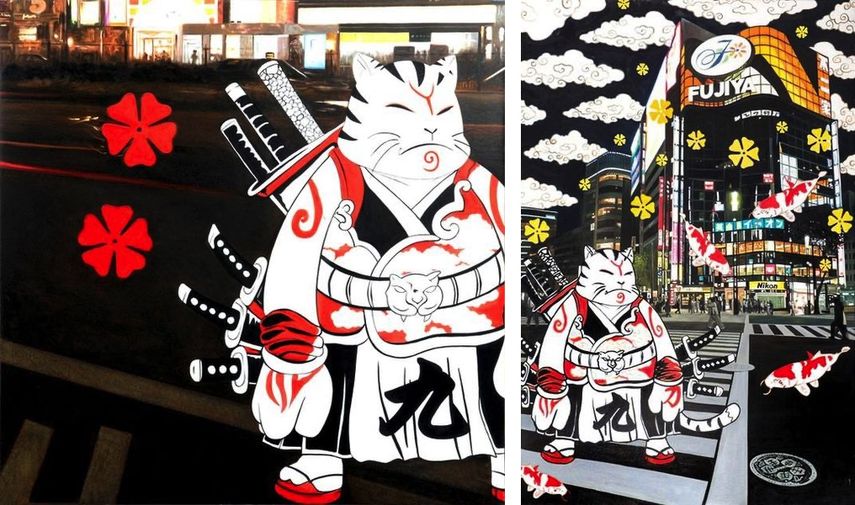 Samuaricat
In Japan, the cat is a lucky charm in the form of Maneki-Neko, a talisman that is believed to attract good luck and fortune for its owners. Literally translating to "beckoning cat," Maneki-Neko first appeared during the Edo period in Japan, becoming an important part of both tradition and popular culture.
Ando has always seen felines as the samurai warriors of Japanese tradition. For him, they share the same elegance, the same strength, the same power discrete, the same attitudes. His friendly, anthropomorphized animal figurines are a contemporary take on traditional Maneki-Neko (lucky cat). Ando depicts the cat in a fresh and contemporary manner, dressed as a samurai warrior, clearly referencing his generation's obsession with Anime.
The Popularity of Samuraicat
Samuraicat is an exciting, highly sought-after Pop Art piece. Large-scale pieces from the series can also be found in public spaces and museums all around the world, including Paris, Athens, Tel Aviv, Jerusalem, Hanoi, Tivat, New York, Las Vegas, Milan, etc. It's definitely a piece that is a valuable asset in any contemporary art collection.
Featured image: Hiro Ando - Fashion Therapy, 2010. All images courtesy of Galerie Jacob Paulett.