If there is one thing we can say for certain at the moment is that the year 2020 has been vastly lost to coronavirus. Business-wise, the pandemic has has a tremendous effect, urging numerous instant changes and imposing difficult decisions on many, the art market being no exception.
The yearly Hiscox Online Art Trade Report, which traditionally and thoroughly explores the fluctuations of the market, is taking a slightly different approach to doing so in 2020 for these very reasons. Due to the Covid-19 crisis, they have decided to launch the report in 3 parts, to ensure the findings remain relevant in this fast changing and fluid situation.
Released on July 7 is the first part of the Hiscox Online Art Trade Report 2020, revealing the initial findings of The Online Art Trade. In particular, the report examines the way Covid-19 has influenced the market so far, and whether it will be the catalyst to finally ignite a spluttering online art market.
Here are the report highlights.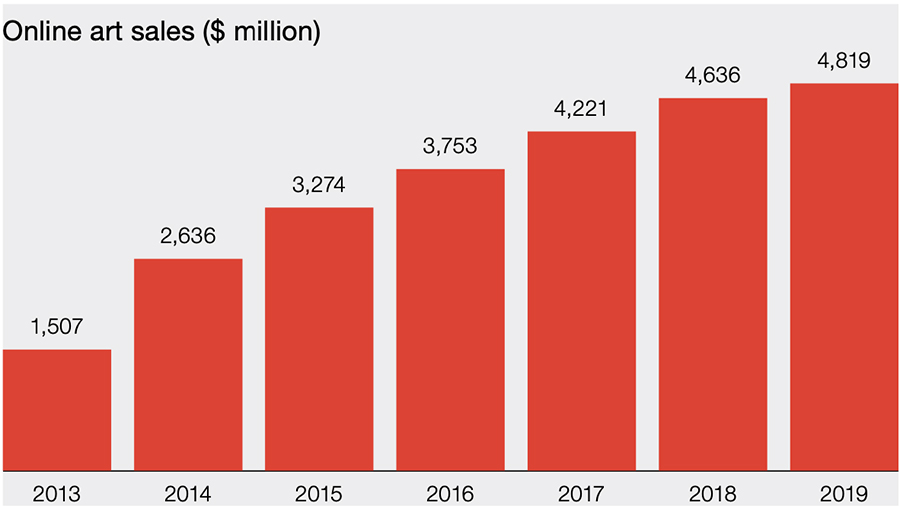 The Hiscox Online Art Market Report 2020 - The Sales
As the COVID-19 crisis forced the art world into an abrupt lockdown and with little warning, online became the sole promotion and sales channel for much of the industry. While online art and collectible sales stalled in 2019 generating an estimated $4.82 billion, pure online-only auction sales by Christie's, Sotheby's and Phillips generated $370 million in the first half of 2020, which was more than five-times higher than the same period in 2019.
In 2019, fine art accounted for 32% of online art and collectible sales from the platforms surveyed. Among 41 online platforms surveyed, 31 say fine art is their most popular sales category, with 13 (42%) attributing more than 90% of sales to this. When it comes to traditional auction houses, such as Christie's, Sotheby's and Phillips, fine art accounted for around half of sales (an average of 51% across all three houses) in 2019, significantly more than other categories.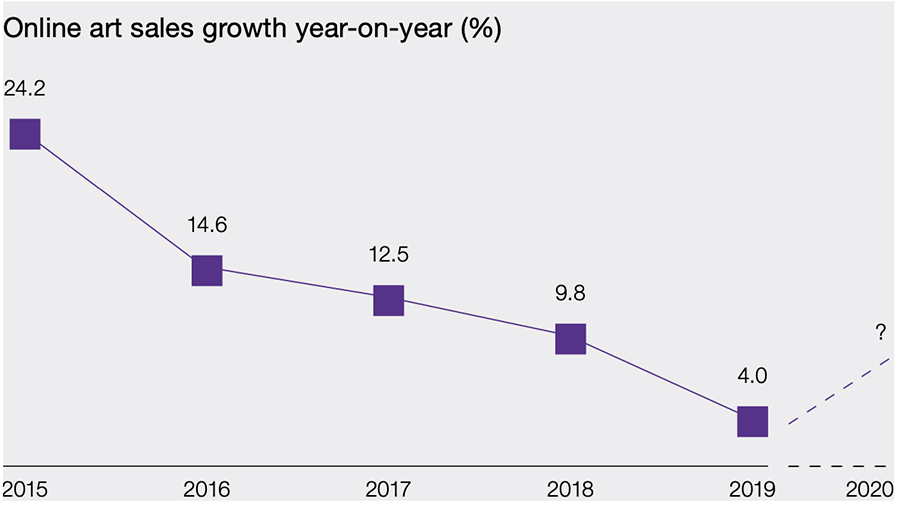 The Auction Houses
Sales at Christie's, Sotheby's and Heritage saw a 58% increase in the last four years - from $636 million in 2015 to $1.0 billion in 2019. Online sales have been significantly accelerated in 2020 due to COVID-19, with Sotheby's reporting a 131% increase in the number of lots sold online until May this year and a 74% increase in average price compared to 2019 and Heritage Auction reporting a 10% increase in online sales for the same period.
Since Patrick Drahi's acquisition of Sotheby's in June 2019, the auction house has continued to restructure in order to meet client demands and expectations. This includes developing new sales channels such as marketplaces, e-commerce and even retail. In 2019, online-only sales increased to 129 as compared to only 17 in 2016. In 2020, this growth has accelerated, with 37 dedicated online sales since lockdown (20 March 2020) raising $53.8 million, compared to only $6.3 million for the same period in 2019. Spanning all categories, these sales introduced innovative new formats, such weekly online watch auctions and a new digital marketplace for blue-chip galleries, called "Sotheby's Gallery Network."
A relatively early adopter of online-only sales, Christie's has hosted between 85 and 88 sales per year, and these sales generated $86.1 million in 2019, out of the $270.4 million online total (online-only and online bidding). The auction house has already announced a relay-style auction concept for July, titled ONE: A Global Sale of the 20th Century which would present masterpiece-level works of 20th century art together in a curated live-online hybrid sale, blurring category boundaries and bringing clients from all around the world together in an unprecedented way.
Known for one of the strongest online art and collectible businesses in the world, Heritage Auction reports that online sales accounted 58% of auction house's total sales in 2019, compared to Sotheby's at 4.4%. It seems that there could be significant scope for online growth among many of the traditional auction houses if they are prepared to embrace digital technology.
The Outlook
While the pandemic will have a negative impact on the overall industry, it is believed that it will be a positive influence and sales driver for the online market in the coming 12 months, as stated by the majority of online platforms.
The large majority (80%) of online art and collectibles platforms maintain a positive outlook for the online art market in the coming 12 months, as compared to 74% in March when the World Health Organization (WHO) declared COVID-19 a pandemic. The majority of the platforms are actually reporting increased traffic and sales, as online remains the only viable sales channel.
The question is, will this digital enthusiasm last in the post-pandemic period? The majority (65%) of online platforms are very positive about it, stating that the crisis will result in a permanent and transformative shift towards online. Several platforms however fear that the benefit from the current crisis will not be felt equally, as the likely prospect of a prolonged economic downturn could hurt online platforms with higher overheads.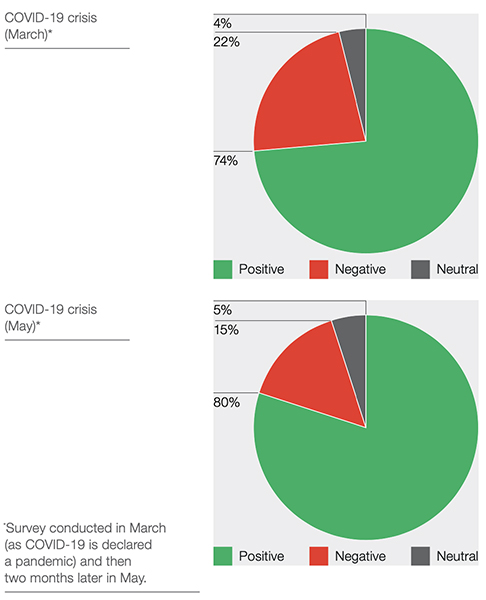 The Future
So, where will we go from here? "The current crisis presents new opportunities, but also short-term threats," cites the report.
One of the key factors might be the industry consolidation, with major online art market players converging towards one or only a few global online platforms. Already the ten biggest platforms on the global scale account for approximately 68% of the total online art market, and the Covid-19 crisis could help accelerate the trend.
The crisis has also forced art galleries to embrace technology faster than they perhaps would have otherwise, probably best reflected in the surge of online viewing rooms. The concept of the online viewing rooms is certainly not new, having already been implemented by David Zwirner in 2017 and then by Gagosian in 2018. While very simple and straightforward at the moment, requiring only the name and the email address of those entering, the online viewing rooms will probably be further developed to enhance the experience within. Smaller galleries with much smaller budgets, on the other hand, will likely not build the rooms themselves. The Hiscox Online Art Trade Report 2020 predicts that the partnerships with technology companies that provide third-party exhibition platforms might become crucial, meaning a shift from providing e-commerce solutions to more traditional advertising platforms, in order to drive traffic to galleries' own online viewing rooms.
The online transformation under Covid-19 and new social distancing measures might influence all parts of the art world, not just galleries. For the majority of traditional art world operators, the pandemic has exposed an over-dependence on certain traditional sales and promotional channels (physical art fairs, gallery exhibitions, auctions etc.).
Museums, for instance, have already been at the forefront of the art industry when it comes to the use of technology to engage with the audience and deliver content. Virtual tours, exceptional video and audio guides, as well as Zoom panel discussions and social media content sharing have all brought invaluable experiences to people around the globe. Furthermore, the Google Arts and Culture platform offers the tours of over 5000 museums and galleries from the safety and comfort of your home.
The pandemic has reinforced a different reality for Art fairs as well. The first to get cancelled was Art Basel Hong Kong, which then swiftly replaced the physical edition with one inside an online viewing rooms, which were visited by over 250,000 visitors in a week. The fairs to follow with a similar system were the Dallas Art Fair, Art Dubai, and Frieze New York. Art Basel continued with the web fair presentations for their Basel edition as well, and will likely do so for the Miami one, in December.
Last but not least - the artists. The Hiscox Online Art Trade Report 2020 cites the #artistsupportpledge hashtag, launched by artist Matthew Burrows in March as a result of artists moving their art selling process online. Burrows used Instagram to request artists to post pictures of their work for sale under £200, and each time their sales reach £1,000 they promise to buy another artist's work for £200. As of June 2020, there are over 70,000 posts and rising. An estimated £15 million in sales has been generated through the pledge so far. During the crisis, artists are also turning to online crowd-funding platforms to generate income. If the trend continues, it might push for a more transparent market and prices that are displayed at all times, with buyers buying art for the sake of art, not financial and reputational gain.
Read the full report here.
Featured image: Ann Craven - Heart of Gold #1, 2009, detail. Zerox Print Edition for White Columns, 11 x 8 1/2 inches. © Edition #10 of 50 plus 10 APs. Courtesy of the artist Southard Reid, London and White Columns, New York. All images taken from the Hiscox Online Art Trade Report 2020.