Recent years have shown an increasing activity of online auction houses. This kind of an approach to the art market has proven to be beneficial and with numerous positive perspectives for at lest two reasons: 1. online auction houses have a chance to articulate the activities of dealers and collectors from different geoeconomical art markets and 2. some research studies have shown proliferation of payment methods. However, this time we will focus on aspects which don't necessarily apply exclusively to online auction houses. In this rundown of the Hiscox Online Art Trade Report we will present the key findings through three groups of interesting questions. Firstly, we will focus on the general tendencies and aspects of the practice of online art trading activity. Secondly, we will provide a short overview of buyer's aspirations and habitual activities. Finally, we will discuss the various forms of online art transaction platforms.

Some General Tendencies
The research has shown that the new generation of buyers, namely those individuals between 20 and 30 years of age, are likely to make their first purchase of artwork online. In addition, more than one fifth (specifically 22%) of the surveyed individuals have never bought an art piece from a physical gallery space. Among other indicators, this shows an important signal of the approach to the online platforms. However, it must be said that it is unlikely that online art trade will replace the gallery experience. The report states that 90% of all online buyers covered in the research have bought from a physical gallery and more than a half actually prefer the physical space. With all of this in mind, we have to turn our attention to that which buyers consider the greatest challenge of online acquisition. Namely, 82% of online art buyers have said that not being able to inspect the object itself represents the biggest hurdle. In this regard, the report asserts, detailed information and certificates of authenticity should play a more significant role in confidence increasing between participants of the process. With this in mind, let us turn to the buyers themselves, and the certain important aspects of their activity…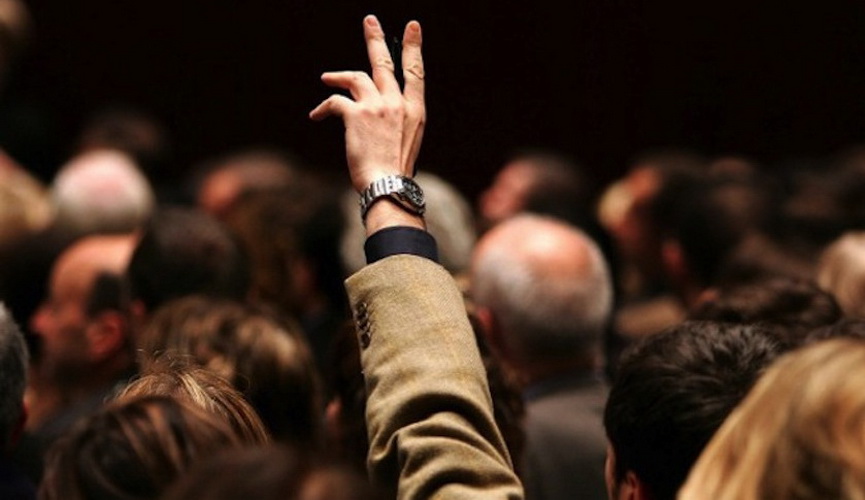 What the Buyer Needs and What Makes the Buyer Happy
First of all, it has to be said that there is a high level of satisfaction from the buyers. Almost all of the surveyed subjects, namely 92%, have stated to be satisfied with the experience of buying art pieces online (65% have said that they are "extremely or very satisfied"). This kinds of levels of contentment surely correlate with the expected rapid growth of the online art market in the years to come. The research has also shown that there is a strong preference for unique artwork. Although this might sound as a hollow truism, it points to significant information – 61% of online fine art buyers have one or more painting online in the period of the previous year. Finally, light should be shed on a particular important instance in the eyes of buyers – for establishing confidence within the practice of online art trade, return policies represent a significant encouragement factor. This, in turn, raises other issues of technical nature, but the role of this factor remains to be a policy of high interest…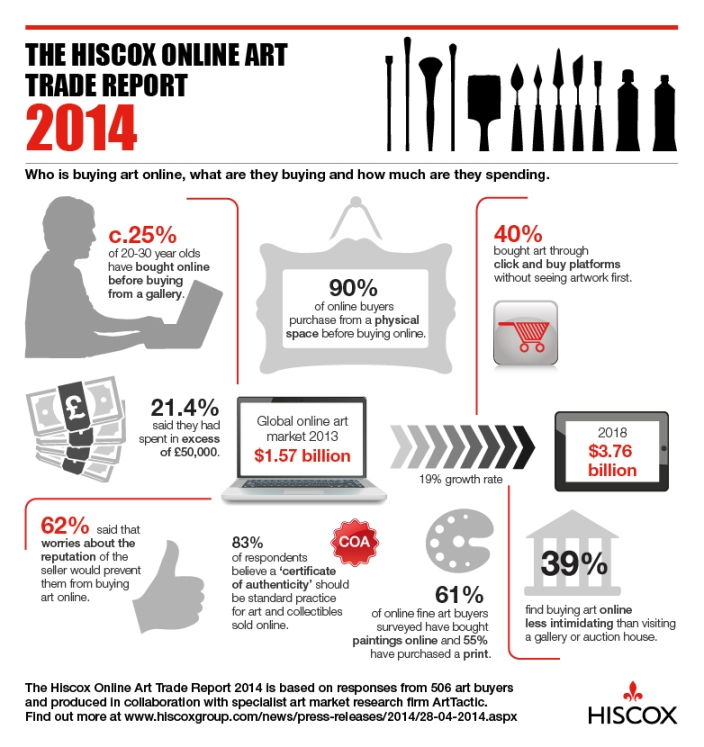 Online Art Transaction Platforms
In the end, let us turn to some of the interesting platforms which shape and/or will shape the nature of the online art transaction process. The series of the possible and existing models are likely to go through a period of transformation in the years to come. Let us point to some of those which are expected to increase market activity and represent sustainable models. First of all, there is a high expectation to see growth of peer-to-peer interaction, an opportunity for both collectors and dealers to share inventory without the intervention of third parties. We have already mentioned the importance of online-only auction houses (read more about an interesting example in our article Winklevoss Twins Invest In Paddle 8). Moreover, online auction aggregators are likely to see growth – these platforms serve as online bidding option for traditional bricks and mortar auctions. Finally, it should be mentioned that there is a lot of open space and possibilities for inquire to buy platforms. These mediums are versions of online galleries which provide an intricate inquiry system, but do not provide an e-commerce function. In any case, the horizon of online art trade shows extraordinary possibilities and it is surely going to be exciting to see where the transformation our today's story will lead us.
Stay up to date with all things related to art with a free sign up for My Widewalls!