As globalization gave its contribution to development of the art market in the form of global art fairs, so did communication and internet. We are talking about the growth of buying and selling art online. It seems like some art collectors prefer to shop on-line (as I said before, art market is becoming more similar to retail marketplace). Therefore, Hiscox online art trade report 2016 is a long-awaited report that is revealing us the secrets of online art trading. Hiscox online art trade report states that the online art market grew 24% when compared to 2015 (reaching USD 3.27 billion), during which global art auction sales had decreased, therefore bringing forth the doubts of the its slowing down. A more interesting fact is that lower end artworks are selling better and their demand is more elastic than high- and mid-end artworks'.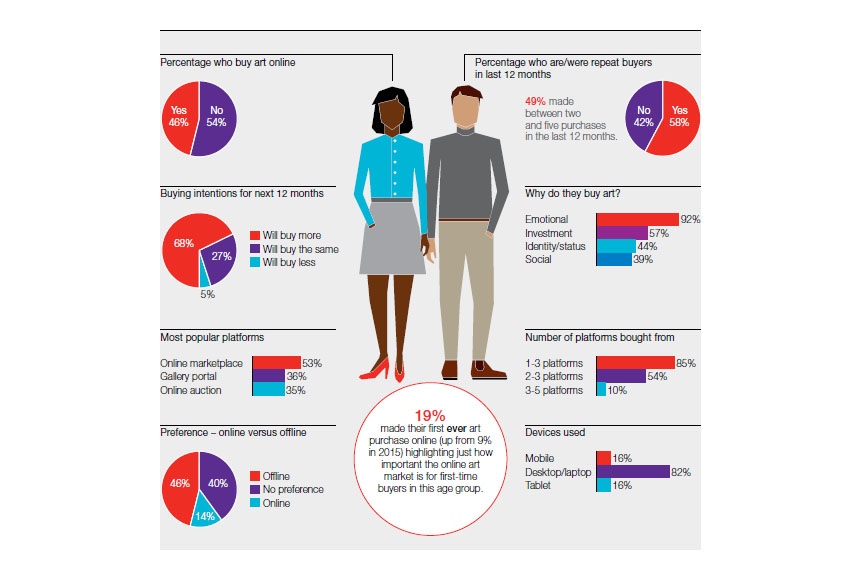 Virtual Insanity
While the amount of online art buying and selling grows, Hiscox Online Art Platform Ranking claims that there is a well balanced mix of old and new online players. Funny thing is that, not even great auction houses, such as Christie's (no. 1 online platform) and Sotheby's (no. 4 online platform) can escape the rising trend of inevitable digital marketing strategies. They are investing in their digital marketing, catching up with the rising competition, and it seems they are doing well. Their competition is quite strong, as Artnet, Artsy, Paddle8, Auctionata and others, which are pure-play online companies, are more than doubling their sales growth when compared to 2015, and continuously increasing their client base.
I don't know whether you trust any kind of survey or not, but 92% of current online art collectors/buyers suppose they will shop more or the same number of artworks online in the following 12 months. Yet, can you really feel the art or sense the uncanny just by watching artworks online? Maybe artworks should now be called artsy merchandise – it seems to fit the mold.
It is not enough for people to shop online, while using their laptops or desktops, they now want to shop while walking. Literally. A great deal of online art platforms is launching, or already has, mobile applications for online art shopping (yes, shopping – not buying). But Hiscox online art trade report brings us a breath of fresh air claiming that 81% of respondents still like to actually see something, and thus use a laptop or desktop computer while buying artwork online. There is also social media, whose popularity is growing rapidly (Instagram's popularity rose from 34% to 48% year-on-year, and there is no need to mention Facebook). It turns out, younger buyers are using Instagram more frequently for art-related purposes in 2016 (an increase from 48% to 65% year-on-year). Since we are talking about younger buyers, 19% made their first artwork purchase online, while that percentage was only 9% in 2015. Reasons behind online art buying are the quality of the artworks and searchability. Whatever our opinion is regarding online platform and virtual life, this report suggests its incredible importance.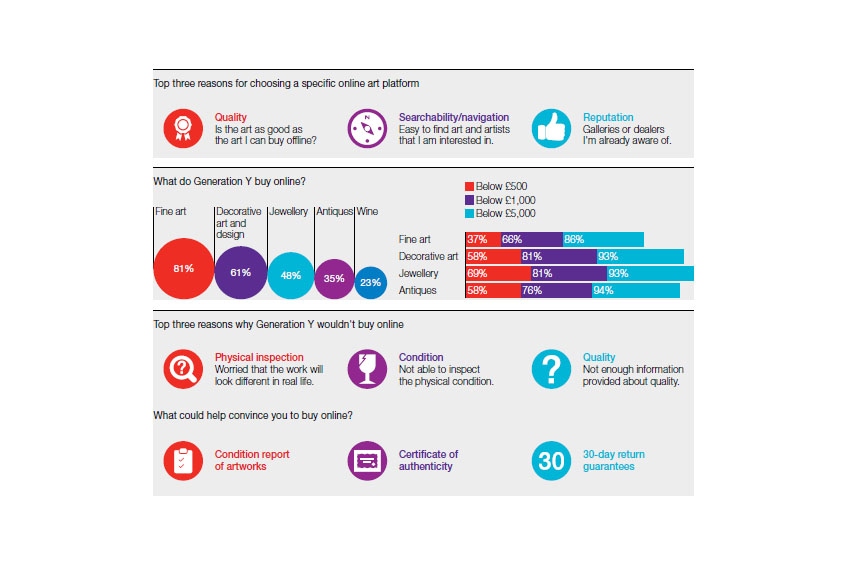 Galleries – Only a Few Still Standing
Although some galleries are facing great problems regarding the growing number of art fairs, other galleries are trying to catch-up with the rising trend of doing business online, and are now offering online purchasing and paying options to their clients (an increase from 22% in 2013 to 28% in 2016).
Despite the expanding possibilities for communication, the online click-and-buy model usually provides insufficient or no correspondence between the buyer and the seller. Some galleries' managements caught up with the trend. Hence, 41% of them now generate online sales through Artnet, Ocula, Artsy and 1stdibs, and as it turns out, they have influenced other galleries – 26% of them cited they're planning on doing business through a third party online platform. On the other hand, 39% (which was 41% in 2013) of them have no intent to extend their business online.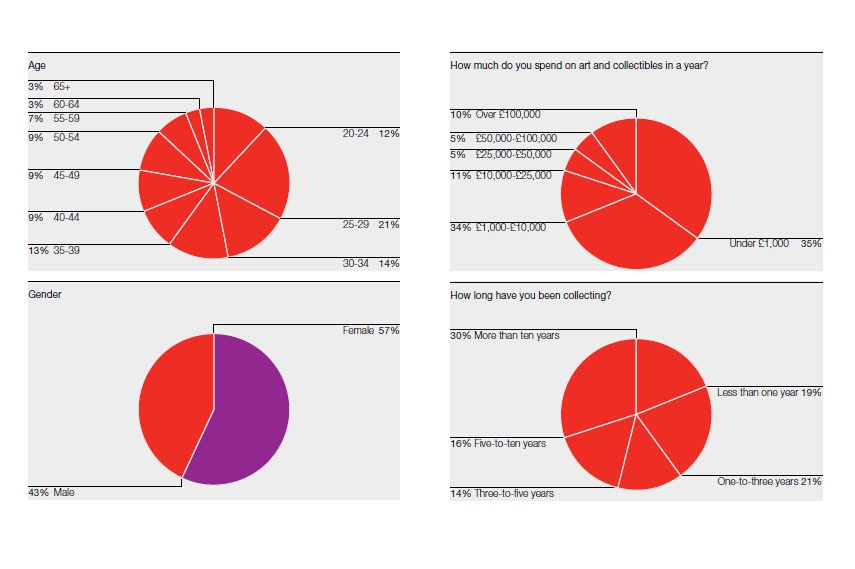 Hiscox Online Art Trade Report Prophecy – the New Wave of Mass Culture
As we assumed while discussing the art fairs' influence on the art market, artworks are no longer reserved just for high-end consumers/collectors, and a large number of different artworks is available nowadays. According to the Hiscox online art trade report, increase in sales of the lower end artworks (works sold for USD 10,000 or less) on the online art market – mostly representing the lower end pieces on the art marketplace – will come from completely new art buyers. Does this mean that lower-end artworks are becoming necessities in the modern world?
Not all hope is lost. Hiscox online art trade report shows that, 51% of art buyers are still resisting the temptation of buying art online. According to the statistics, the trend of online artworks buying is not as popular as it was in 2015. Younger art collectors are seeing business opportunities in buying art, stating that financial motivation, economic uncertainty and the slowing down of the art market are affecting their decisions to purchase artworks. Maybe it's better to just buy TV screens, and hang them on the wall while playing 'art' (damn it, we already do that). But does everything have to be digitalized? Do you think this is good for art? Is art losing its soul, or is it simply being reprogrammed?
Hiscox Online Art Trade Report 2016
Featured image: The Hiscox Online Art Trade Report 2016 - Courtesy of Hiscox.
All images courtesy of Hiscox.